The Socialist 21 October 2020
Health before profit - work or full pay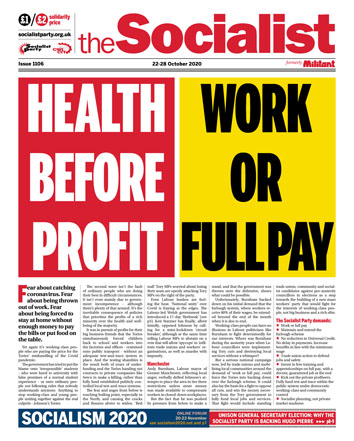 ---
Health before profit - Work or full pay
Wales 'firebreak' lockdown fails to protect workers
Liverpool lockdown: suspicion and anger
Newcastle lockdown: stress and breakdowns
Leicester lockdown: disillusionment and anger
---
Why the Socialist Party is backing Hugo Pierre for Unison general secretary
---
Nigeria protests: 'This movement needs to fight the whole rotten capitalist system'
Horrific murder in Paris: fight intolerance and racism!
South Africa: Mass day of action for permanent jobs and a living wage
---
Tories reduce winter homeless funding: reverse the cuts,use the empty homes!
World capitalism's terrified strategists abandon austerity - for now
---
Test and Trace U-turn on stopping local case reporting
Oxbridge gets private Covid tests: pool resources to test us all!
Millennials disillusioned with 'democracy'
---
RMT: Programme to fight redundancies and cuts
Action on Covid transmission in schools now
FCC dismiss Unison activist Tony Smith
Optare workers strike over pay broken 'promise'
Solidarity with Deliveroo Couriers in York
---
Students: Give us our money back
Fight for your future at the online rally
Southampton: Coxford community condemns racist attack
Socialism 2020: Will you help our finance appeal?
Selling the Socialist: increase in NHS anger
Truth about Zane: Cover-up Tories crack
Kent: Chaotic privatised asylum process
Teignmouth hospital closure threat ... again!
---
Books that inspired me: For Whom the Bell Tolls
Beware the billionaires bearing gifts
Disabled students let down by "rotten education system"
PO Box 1398, Enfield EN1 9GT
020 8988 8777