The Socialist 4 November 2020
Our lives, our jobs - not safe in Tory hands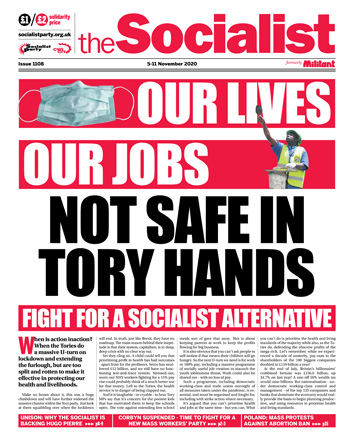 ---
Our lives, our jobs - not safe in Tory hands
Corbyn suspended - Time to fight for a new mass workers' party
Socialism 2020: Mass workers' voice needed
---
Why the Socialist Party is backing Hugo Pierre for Unison general secretary
---
A lockdown that doesn't include education?
Testing is failing - it's a privatised mess
Furloughed worker speaks out: Let down by insecure contracts
---
Transport for London given funding stop gap
Usdaw needs a fighting leadership
Birmingham NHS porters' 48-hour strike against shift changes
Optare strikers escalate their action
---
Chile: A defeat for the right!
Poland: Mass protests against abortion ban
---
Save St Andrews mental health ward
Leeds protesters demand "Buhari must go!"
Building Bangor Socialist Students
Maybe now they will listen - Refund the fees!
Donate now to the Socialism 2020 appeal
Corbyn suspended: Join the fightback, join the socialists
---
PO Box 1398, Enfield EN1 9GT
020 8988 8777