The Socialist 16 December 2020
Unemployment and Covid rising - The crisis is not over - Fight for jobs and safety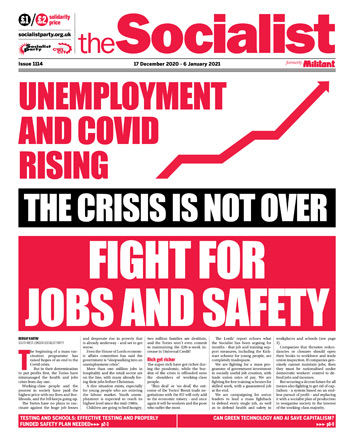 ---
Unemployment and Covid rising - the crisis is not over - Fight for jobs and safety
Mass testing - we need trade union oversight and full pay for all
Rich countries hoarding vaccine is danger to us all
No to Tories' new anti-protest law
Maternity unit deaths - democratic, public ownership needed
Met police investigate British mercenary war crimes against Tamils
No surprise, poverty is rising
---
Cancel exams for class of Covid
Welsh schools close for safety after union pressure
Effective testing and properly funded safety plan needed in schools
East London shows the way: strikes are how to fight for state education
Determined strikers at Leaways school
---
Openreach and EE: Massive vote for action
PCS union conference stripped of powers by NEC
Unite launch ballot over sacked London bus rep
Christmas redundancy shock at L&Q housing association
Stop 'fire and rehire' at British Gas
---
Can green technology and AI save capitalism?
---
'Socialism - Utopian and Scientific' by Engels
---
Protests in solidarity with Indian farmers
Book: The national question - a Marxist approach
School boy assaulted by police in Tottenham
TUSC relaunch in the north west
Protest against immigration enforcement centre in Newham
Tremendous fighting fund reflects confidence
---
PO Box 1398, Enfield EN1 9GT
020 8988 8777

Link to this page: https://www.socialistparty.org.uk/issue/1114/31751
Home | The Socialist 16 December 2020 | Join the Socialist Party
Subscribe | Donate | Audio | PDF | ebook
Coronavirus
Mass testing - we need trade union oversight and full pay for all
Katrine Williams, Socialist Party national committee
The Tory government is ploughing enormous resources into mass testing, promising £100 billion for 'Operation Moonshot', equivalent to 70% of the usual annual NHS resource budget. The majority of funding is being funnelled into private companies carrying out the tests.
Mass testing, sufficiently accurate and used effectively, could be an important tool in the response to the pandemic. But how effective are the tests, and how does mass testing fit with the rest of the government's Covid strategy?
Having been trialled in Liverpool, the government's version of mass testing is being rolled out to further communities, including the possibility of workplace testing. So far, there has not been a proper evaluation of the effectiveness of the programme in Liverpool made public.
The lateral flow test used as part of the scheme needs a swab that has been pushed up both nostrils from each individual. In the main, swabbing is done by the individuals themselves. Meanwhile, the testing process is being carried out by what the government call "experienced" staff, but who, in reality, have had just an hour's training by video.
Despite assertions about the accuracy of the test, the accuracy of results fall within a very wide range. In Liverpool, tests captured just 58% of those with Covid-19. Accuracy of testing is much higher when the samples are obtained, and the tests are done, by clinical experts. Accuracy rises to 79% when done by laboratory scientists.
The government and bosses want to use mass testing as a means to get workers back to work as soon as possible, cutting self-isolation times, and maintaining the fiction that workplaces are 'Covid secure'.
There is a danger that mass testing can give the illusion of safety and false reassurance to those who test negative. All safety measures including social distancing, face coverings, good ventilation and good hygiene continue to be vital for safety, and are often absent from workplaces.
Mass testing in Liverpool had a varying degree of take up. The lowest take up was in the poorest communities, where workers cannot afford to self-isolate because of the impact on their pay. Self-isolation is an effective way to stop the spread and must not be curtailed. All workers, including those on limited-hours contracts, must receive full pay and face no detriment from annual leave or sickness absence recording.
More accurate testing, carried out by trained professionals, as part of a publicly owned system, and under the democratic control of workers and the trade unions, could play a vital role in tackling the pandemic. But it also needs to be combined with full pay for those isolating, and resources provided to ensure all safety measures are carried out in our workplaces and communities.
The Socialist Party demands:
Full funding to local authorities and NHS to deliver test, track, trace and protect
Improve the testing of symptomatic people with full resourcing to public services so that individuals can get results promptly
Testing in the workplace should focus on stopping the spread of Covid-19 by identifying those that need to self-isolate. Any testing must be carried out by clinical experts, with the oversight of workplace trade unions
Mass testing to be part of the public sector. No more lining the pockets of big business
Community screening of asymptomatic people should be properly piloted and systematically evaluated under trade union supervision
For trade union struggle to demand what is needed to tackle Covid-19. For jobs, full pay, and health and safety at work
---
In this issue
---
News

Unemployment and Covid rising - the crisis is not over - Fight for jobs and safety

Mass testing - we need trade union oversight and full pay for all

Fight for NHS pay and funding

Rich countries hoarding vaccine is danger to us all

No to Tories' new anti-protest law

Maternity unit deaths - democratic, public ownership needed

Met police investigate British mercenary war crimes against Tamils

No surprise, poverty is rising
---
Education

Cancel exams for class of Covid

Welsh schools close for safety after union pressure

Effective testing and properly funded safety plan needed in schools

East London shows the way: strikes are how to fight for state education

Determined strikers at Leaways school
---
Workplace News

Openreach and EE: Massive vote for action

PCS union conference stripped of powers by NEC

Unite launch ballot over sacked London bus rep

Christmas redundancy shock at L&Q housing association

Stop 'fire and rehire' at British Gas
---
New Technology

Can green technology and AI save capitalism?
---
Engels

'Socialism - Utopian and Scientific' by Engels
---
Reports & campaigns

Protests in solidarity with Indian farmers

Book: The national question - a Marxist approach

School boy assaulted by police in Tottenham

TUSC relaunch in the north west

Protest against immigration enforcement centre in Newham

Tremendous fighting fund reflects confidence
---
Quiz

Quiz 2020
---
Home | The Socialist 16 December 2020 | Join the Socialist Party