The Socialist 16 December 2020
Unemployment and Covid rising - The crisis is not over - Fight for jobs and safety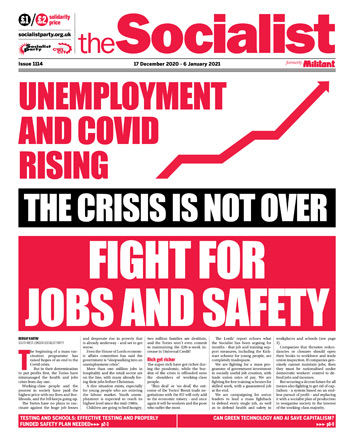 ---
Unemployment and Covid rising - the crisis is not over - Fight for jobs and safety
Mass testing - we need trade union oversight and full pay for all
Rich countries hoarding vaccine is danger to us all
No to Tories' new anti-protest law
Maternity unit deaths - democratic, public ownership needed
Met police investigate British mercenary war crimes against Tamils
No surprise, poverty is rising
---
Cancel exams for class of Covid
Welsh schools close for safety after union pressure
Effective testing and properly funded safety plan needed in schools
East London shows the way: strikes are how to fight for state education
Determined strikers at Leaways school
---
Openreach and EE: Massive vote for action
PCS union conference stripped of powers by NEC
Unite launch ballot over sacked London bus rep
Christmas redundancy shock at L&Q housing association
Stop 'fire and rehire' at British Gas
---
Can green technology and AI save capitalism?
---
'Socialism - Utopian and Scientific' by Engels
---
Protests in solidarity with Indian farmers
Book: The national question - a Marxist approach
School boy assaulted by police in Tottenham
TUSC relaunch in the north west
Protest against immigration enforcement centre in Newham
Tremendous fighting fund reflects confidence
---
PO Box 1398, Enfield EN1 9GT
020 8988 8777

Link to this page: https://www.socialistparty.org.uk/issue/1114/31755
Home | The Socialist 16 December 2020 | Join the Socialist Party
Subscribe | Donate | Audio | PDF | ebook
No to Tories' new anti-protest law
Current undemocratic laws already used against Bristol statue protesters
Tom Baldwin, Bristol Socialist Party
Demonstrations of more than two people were banned for the first time last month. Unable to keep this draconian rule in place beyond the end of lockdown, the Tories are now looking at other ways to restrict the right to protest. Home Secretary Priti Patel has unveiled a raft of curbs on democratic rights expected to be put forward in a bill next year.
Gatherings outside parliament and judicial hearings would be outlawed, as would those that block newspaper distribution. Demonstrations outside 'critical infrastructure' such as power plants would also be banned, possibly including picket lines by striking workers. It is not clear how 'critical' will be defined, potentially giving ministers and the courts even greater leeway to try and silence protesters.
In the worst economic crisis for 300 years, capitalist representatives are clearly not confident in the support for their system. Earlier this year, they announced schools would be banned from using anti-capitalist teaching materials. Now they're looking to strengthen the powers of the state in order to protect the power and wealth of the bosses.
We are already subject to repressive laws that restrict the democratic rights of ordinary people. The area around parliament is currently a 'controlled area' where protests require permission now they could be banned altogether.
Four Black Lives Matter protesters are being charged with criminal damage after a statue of slave-trader Edward Colston was pulled down in Bristol in the summer (see 'Oppose racist symbols and the racist system' at socialistparty.org.uk). Five other people have already had conditional cautions relating to the incident.
Drop the charges
The charges against these protesters should be dropped. For decades councillors had dithered over what to do with the hated statue it was direct action which resolved the issue.
A series of anti-trade union laws already restrict workers' ability to organise and strike. Last year a 97% vote for strike action by Communication Workers Union (CWU) members in Royal Mail was overturned by an unelected High Court judge. Many protesters around the country could share experiences of how the current laws are already used against them.
Priti Patel has hypocritically tried to justify the new laws on the grounds of protecting democracy. In reality this is about protecting property and profit.
Newspaper distribution is considered a vital 'democratic' function when it means spreading the ideas of billionaire press barons. Yet the privatisation of public spaces makes it ever harder to sell a workers' paper like the Socialist. We have many examples of successfully winning the right to sell the Socialist (see 'Waltham Forest: Campaigners score a victory').
These laws are an attack on democratic rights from a weak government sitting at the head of a weak capitalist system. This attack must be fought, and the workers' movement must be willing to break unjust laws to ensure the voice of the working class is heard.
---
In this issue
---
News

Unemployment and Covid rising - the crisis is not over - Fight for jobs and safety

Mass testing - we need trade union oversight and full pay for all

Fight for NHS pay and funding

Rich countries hoarding vaccine is danger to us all

No to Tories' new anti-protest law

Maternity unit deaths - democratic, public ownership needed

Met police investigate British mercenary war crimes against Tamils

No surprise, poverty is rising
---
Education

Cancel exams for class of Covid

Welsh schools close for safety after union pressure

Effective testing and properly funded safety plan needed in schools

East London shows the way: strikes are how to fight for state education

Determined strikers at Leaways school
---
Workplace News

Openreach and EE: Massive vote for action

PCS union conference stripped of powers by NEC

Unite launch ballot over sacked London bus rep

Christmas redundancy shock at L&Q housing association

Stop 'fire and rehire' at British Gas
---
New Technology

Can green technology and AI save capitalism?
---
Engels

'Socialism - Utopian and Scientific' by Engels
---
Reports & campaigns

Protests in solidarity with Indian farmers

Book: The national question - a Marxist approach

School boy assaulted by police in Tottenham

TUSC relaunch in the north west

Protest against immigration enforcement centre in Newham

Tremendous fighting fund reflects confidence
---
Quiz

Quiz 2020
---
Home | The Socialist 16 December 2020 | Join the Socialist Party