The Socialist 16 December 2020
Unemployment and Covid rising - The crisis is not over - Fight for jobs and safety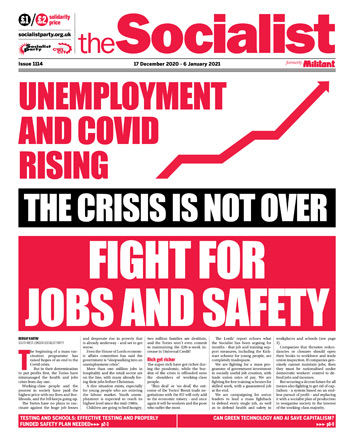 ---
Unemployment and Covid rising - the crisis is not over - Fight for jobs and safety
Mass testing - we need trade union oversight and full pay for all
Rich countries hoarding vaccine is danger to us all
No to Tories' new anti-protest law
Maternity unit deaths - democratic, public ownership needed
Met police investigate British mercenary war crimes against Tamils
No surprise, poverty is rising
---
Cancel exams for class of Covid
Welsh schools close for safety after union pressure
Effective testing and properly funded safety plan needed in schools
East London shows the way: strikes are how to fight for state education
Determined strikers at Leaways school
---
Openreach and EE: Massive vote for action
PCS union conference stripped of powers by NEC
Unite launch ballot over sacked London bus rep
Christmas redundancy shock at L&Q housing association
Stop 'fire and rehire' at British Gas
---
Can green technology and AI save capitalism?
---
'Socialism - Utopian and Scientific' by Engels
---
Protests in solidarity with Indian farmers
Book: The national question - a Marxist approach
School boy assaulted by police in Tottenham
TUSC relaunch in the north west
Protest against immigration enforcement centre in Newham
Tremendous fighting fund reflects confidence
---
PO Box 1398, Enfield EN1 9GT
020 8988 8777

Link to this page: https://www.socialistparty.org.uk/issue/1114/31758
Home | The Socialist 16 December 2020 | Join the Socialist Party
Subscribe | Donate | Audio | PDF | ebook
Rich countries hoarding vaccine is danger to us all
Nick Hart, Black Country Socialist Party
The Covid-19 pandemic has been truly global in character, with every nation reporting cases. Why is it then, that as the first vaccine shipments leave the factories, your ability to access it will depend largely on what country you're living in?
Scientists have overcome the medical problems of creating usable Covid vaccines. But getting it administered to enough of the world's population to wipe out the virus will be an economic problem as much as a logistical one.
Vaccines from Pfizer/BioNTech and Moderna had barely cleared trials before it emerged that wealthy nations had bought up 96% and 100% of their initial run respectively. Despite having a population of only 32 million, Canada now has enough doses on order to treat over 150 million people!
The ceiling on the number of doses that can be provided shows the limits of the pharmaceutical industry being organised on the basis of capitalist competition. Instead of the drug companies pooling their research, manufacturing capacity, and supply chains to get the maximum amount of any effective vaccines produced as quickly as possible, they are left to negotiate individually with governments.
The result is that as many as 67 low-income countries are unlikely to get enough doses to inoculate more than 10% of their population in 2021. This is added to the relative lack of healthcare infrastructure in many neocolonial countries, resulting from decades of economic suppression by richer counterparts.
Vaccine nationalism
Public health advisers are now warning that the rise in 'vaccine nationalism' could leave Covid in circulation for much longer than necessary. As we saw at the start of the pandemic, the persistence of the virus in one corner of the globe could be the basis for it spreading to other countries once again.
The chaos of the free market is proving unable to efficiently stamp out Covid. To truly protect the working-class majority of the world's population from this and other diseases, we need the development and supply of medicine to be run on the basis of need, not profit, with democratic planning on an international scale. In other words, we need socialism.
---
In this issue
---
News

Unemployment and Covid rising - the crisis is not over - Fight for jobs and safety

Mass testing - we need trade union oversight and full pay for all

Fight for NHS pay and funding

Rich countries hoarding vaccine is danger to us all

No to Tories' new anti-protest law

Maternity unit deaths - democratic, public ownership needed

Met police investigate British mercenary war crimes against Tamils

No surprise, poverty is rising
---
Education

Cancel exams for class of Covid

Welsh schools close for safety after union pressure

Effective testing and properly funded safety plan needed in schools

East London shows the way: strikes are how to fight for state education

Determined strikers at Leaways school
---
Workplace News

Openreach and EE: Massive vote for action

PCS union conference stripped of powers by NEC

Unite launch ballot over sacked London bus rep

Christmas redundancy shock at L&Q housing association

Stop 'fire and rehire' at British Gas
---
New Technology

Can green technology and AI save capitalism?
---
Engels

'Socialism - Utopian and Scientific' by Engels
---
Reports & campaigns

Protests in solidarity with Indian farmers

Book: The national question - a Marxist approach

School boy assaulted by police in Tottenham

TUSC relaunch in the north west

Protest against immigration enforcement centre in Newham

Tremendous fighting fund reflects confidence
---
Quiz

Quiz 2020
---
Home | The Socialist 16 December 2020 | Join the Socialist Party