The Socialist 16 December 2020
Unemployment and Covid rising - The crisis is not over - Fight for jobs and safety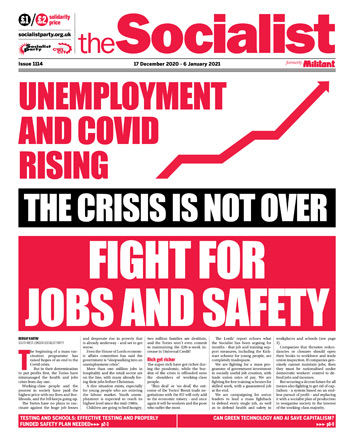 ---
Unemployment and Covid rising - the crisis is not over - Fight for jobs and safety
Mass testing - we need trade union oversight and full pay for all
Rich countries hoarding vaccine is danger to us all
No to Tories' new anti-protest law
Maternity unit deaths - democratic, public ownership needed
Met police investigate British mercenary war crimes against Tamils
No surprise, poverty is rising
---
Cancel exams for class of Covid
Welsh schools close for safety after union pressure
Effective testing and properly funded safety plan needed in schools
East London shows the way: strikes are how to fight for state education
Determined strikers at Leaways school
---
Openreach and EE: Massive vote for action
PCS union conference stripped of powers by NEC
Unite launch ballot over sacked London bus rep
Christmas redundancy shock at L&Q housing association
Stop 'fire and rehire' at British Gas
---
Can green technology and AI save capitalism?
---
'Socialism - Utopian and Scientific' by Engels
---
Protests in solidarity with Indian farmers
Book: The national question - a Marxist approach
School boy assaulted by police in Tottenham
TUSC relaunch in the north west
Protest against immigration enforcement centre in Newham
Tremendous fighting fund reflects confidence
---
PO Box 1398, Enfield EN1 9GT
020 8988 8777

Link to this page: https://www.socialistparty.org.uk/issue/1114/31759
Home | The Socialist 16 December 2020 | Join the Socialist Party
Subscribe | Donate | Audio | PDF | ebook
Cancel exams for class of Covid
Reece Miller,Nottingham Socialist Students
Education secretary Gavin Williamson has refused to follow Scotland and Wales in cancelling exams, justifying his decision with: "Exams are the best form of assessment we have".
This suits the Tory minister perfectly, as there is a correlation between exams and a student's family income. Professor Ira Shor remarked that universities should simply enter students' family income instead of their grades.
Williamson has shown some leniency to students. Grading will be more generous. What does this mean?
Students will be told in January some of what is on the exam. Students will be given exam-aid worksheets, to reduce the amount of content that needs to be memorised.
And there will be back up exams in July if students miss assessments. In other words, they are doing everything but cancel exams.
Students in worse conditions get worse grades. These conditions have only been compounded by the coronavirus crisis, which has laid bare the inequalities of capitalism.
Comparing the 2020-2021 budget to 2017-2018, the increases in per-pupil funding for children on free school meals was only two-thirds the rate of other students.
More funding means students get more support in school. More family income means students are more likely to access help out of school - help from university-educated parents, access to individual laptops, or even personal tutors.
Poorer students are disadvantaged, both in and out of school. This is especially pertinent when we have been through a period of schooling at home. Exams would be an extra burden on both students and teachers, who have had more than enough stress this year.
The National Education Union (NEU) already calls for an end to "the over-reliance on exams", and instead proposes school-assessed grades based on teacher assessment.
This system provides a fairer and just as accurate - if not more accurate - measurement of knowledge and abilities compared to exams.
This government has already U-turned on the disastrous exam algorithm. With coordinated action, they can be forced to cancel exams this year.
---
In this issue
---
News

Unemployment and Covid rising - the crisis is not over - Fight for jobs and safety

Mass testing - we need trade union oversight and full pay for all

Fight for NHS pay and funding

Rich countries hoarding vaccine is danger to us all

No to Tories' new anti-protest law

Maternity unit deaths - democratic, public ownership needed

Met police investigate British mercenary war crimes against Tamils

No surprise, poverty is rising
---
Education

Cancel exams for class of Covid

Welsh schools close for safety after union pressure

Effective testing and properly funded safety plan needed in schools

East London shows the way: strikes are how to fight for state education

Determined strikers at Leaways school
---
Workplace News

Openreach and EE: Massive vote for action

PCS union conference stripped of powers by NEC

Unite launch ballot over sacked London bus rep

Christmas redundancy shock at L&Q housing association

Stop 'fire and rehire' at British Gas
---
New Technology

Can green technology and AI save capitalism?
---
Engels

'Socialism - Utopian and Scientific' by Engels
---
Reports & campaigns

Protests in solidarity with Indian farmers

Book: The national question - a Marxist approach

School boy assaulted by police in Tottenham

TUSC relaunch in the north west

Protest against immigration enforcement centre in Newham

Tremendous fighting fund reflects confidence
---
Quiz

Quiz 2020
---
Home | The Socialist 16 December 2020 | Join the Socialist Party