The Socialist 16 December 2020
Unemployment and Covid rising - The crisis is not over - Fight for jobs and safety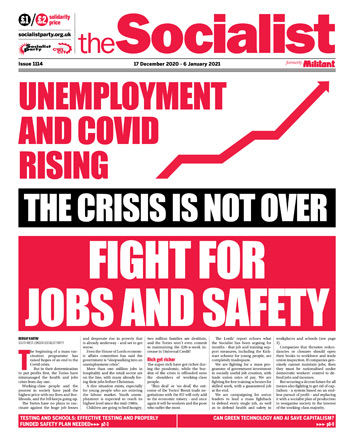 ---
Unemployment and Covid rising - the crisis is not over - Fight for jobs and safety
Mass testing - we need trade union oversight and full pay for all
Rich countries hoarding vaccine is danger to us all
No to Tories' new anti-protest law
Maternity unit deaths - democratic, public ownership needed
Met police investigate British mercenary war crimes against Tamils
No surprise, poverty is rising
---
Cancel exams for class of Covid
Welsh schools close for safety after union pressure
Effective testing and properly funded safety plan needed in schools
East London shows the way: strikes are how to fight for state education
Determined strikers at Leaways school
---
Openreach and EE: Massive vote for action
PCS union conference stripped of powers by NEC
Unite launch ballot over sacked London bus rep
Christmas redundancy shock at L&Q housing association
Stop 'fire and rehire' at British Gas
---
Can green technology and AI save capitalism?
---
'Socialism - Utopian and Scientific' by Engels
---
Protests in solidarity with Indian farmers
Book: The national question - a Marxist approach
School boy assaulted by police in Tottenham
TUSC relaunch in the north west
Protest against immigration enforcement centre in Newham
Tremendous fighting fund reflects confidence
---
PO Box 1398, Enfield EN1 9GT
020 8988 8777

Link to this page: https://www.socialistparty.org.uk/issue/1114/31760
Home | The Socialist 16 December 2020 | Join the Socialist Party
Subscribe | Donate | Audio | PDF | ebook
Openreach and EE: Massive vote for action in consultative ballot
CWU members in BT
Openreach and EE (now owned by BT) CWU members have retuned a massive 97.9% 'yes' vote on a 74% turnout in a consultative ballot on whether they wish to take industrial action against compulsory redundancies, site closures, reduction of terms and conditions, and a race to the bottom.
For decades the no compulsory redundancy agreement has been the jewel in the crown of the BT unions' achievements, but the realities of crisis-ridden capitalism, weak union leadership, and the neverending greed of the bosses, mean that these are luxuries they can dispense with.
If the bosses get their own way, the consequences for workers could be severe. Not only will some people lose their jobs, site closures will result in many engineers who need lighter indoor duties having no other job to go to and being made redundant.
The employers' proposals are not driven by operational needs but by the greed of the bosses. BT and Openreach have been giving work which should be done in-house to contractors, and are busy recruiting new staff on inferior terms and conditions. Since the time that BT bought EE, it has been attempting to level down pay and conditions to the inferior EE ones.
This is part of a planned attack on pay, jobs, and terms and conditions, and must be resisted. The CWU wants to use this ballot result to persuade the company that its proposals are so unpopular that they will be scrapped.
The bosses may think that the union leadership is sufficiently weak to cave in. Socialist Party members believe that the time spent on this consultative ballot would have been better spent mobilising for an industrial action ballot.
But if the employer does not back down by the beginning of 2021, the CWU should build on this magnificent vote and organise a legal industrial action ballot to halt these attacks on telecom workers.
As long as telecoms companies are privately owned and run for profit, there will be attempts to attack workers. The only way to remove this threat and stop the continuous race to the bottom is to nationalise the entire industry under democratic workers' control and management. The union should raise this policy amongst the membership.
The plan to reduce office-based sites from 300 to 30 is a massive issue and will have devastating effects on workers' lives, adding up to two to three hours to a working day with travel time.
CWU members have made it clear in an amazing ballot result - at a time when face-to-face branch meetings could not take place - that they will not accept the current management attacks on their jobs and terms and conditions of service.
BT needs to back off or deal with the consequences.
---
In this issue
---
News

Unemployment and Covid rising - the crisis is not over - Fight for jobs and safety

Mass testing - we need trade union oversight and full pay for all

Fight for NHS pay and funding

Rich countries hoarding vaccine is danger to us all

No to Tories' new anti-protest law

Maternity unit deaths - democratic, public ownership needed

Met police investigate British mercenary war crimes against Tamils

No surprise, poverty is rising
---
Education

Cancel exams for class of Covid

Welsh schools close for safety after union pressure

Effective testing and properly funded safety plan needed in schools

East London shows the way: strikes are how to fight for state education

Determined strikers at Leaways school
---
Workplace News

Openreach and EE: Massive vote for action

PCS union conference stripped of powers by NEC

Unite launch ballot over sacked London bus rep

Christmas redundancy shock at L&Q housing association

Stop 'fire and rehire' at British Gas
---
New Technology

Can green technology and AI save capitalism?
---
Engels

'Socialism - Utopian and Scientific' by Engels
---
Reports & campaigns

Protests in solidarity with Indian farmers

Book: The national question - a Marxist approach

School boy assaulted by police in Tottenham

TUSC relaunch in the north west

Protest against immigration enforcement centre in Newham

Tremendous fighting fund reflects confidence
---
Quiz

Quiz 2020
---
Home | The Socialist 16 December 2020 | Join the Socialist Party