The Socialist 16 December 2020
Unemployment and Covid rising - The crisis is not over - Fight for jobs and safety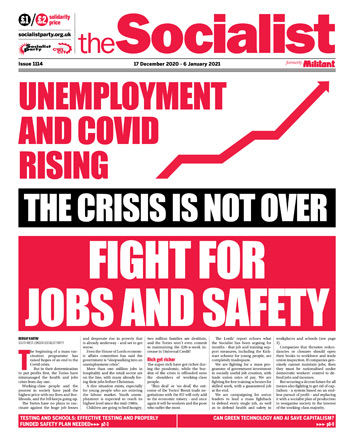 ---
Unemployment and Covid rising - the crisis is not over - Fight for jobs and safety
Mass testing - we need trade union oversight and full pay for all
Rich countries hoarding vaccine is danger to us all
No to Tories' new anti-protest law
Maternity unit deaths - democratic, public ownership needed
Met police investigate British mercenary war crimes against Tamils
No surprise, poverty is rising
---
Cancel exams for class of Covid
Welsh schools close for safety after union pressure
Effective testing and properly funded safety plan needed in schools
East London shows the way: strikes are how to fight for state education
Determined strikers at Leaways school
---
Openreach and EE: Massive vote for action
PCS union conference stripped of powers by NEC
Unite launch ballot over sacked London bus rep
Christmas redundancy shock at L&Q housing association
Stop 'fire and rehire' at British Gas
---
Can green technology and AI save capitalism?
---
'Socialism - Utopian and Scientific' by Engels
---
Protests in solidarity with Indian farmers
Book: The national question - a Marxist approach
School boy assaulted by police in Tottenham
TUSC relaunch in the north west
Protest against immigration enforcement centre in Newham
Tremendous fighting fund reflects confidence
---
PO Box 1398, Enfield EN1 9GT
020 8988 8777

Link to this page: https://www.socialistparty.org.uk/issue/1114/31765
Home | The Socialist 16 December 2020 | Join the Socialist Party
Subscribe | Donate | Audio | PDF | ebook
Determined strikers at Leaways school
Chris Newby, Hackney Socialist Party
NEU members at Leaways school in Clapton, East London, are taking part in a six-day strike spread over three weeks. The school is run by private company Kedleston Group, and teaches children from across London with autism and social emotional and mental health difficulties.
Teachers and support staff are angry that the school is not providing the conditions to enable them to give students the best possible education. They are demanding that the school gives them parity with the 2.75% pay award that teachers in state schools have received, instead of the 1% the school has offered them, and an increase in the number of days sick pay, which currently stands at seven days a year. They are also demanding an increase in the number of staff as classes are currently understaffed.
NEU members on the picket line explained the terrible conditions that they and the students work in. This is a four-storey building where the heating doesn't work above the ground floor. This, coupled with the fact that windows have to be left open because of Covid, means that teachers, education assistants and students have to keep their coats on the whole day because it is so cold. Also, there are not enough computers to go around for the students. There are also no outdoor play areas for the students.
The striking NEU members are very determined to win their demands. There have been about 30 to 40 on the picket line, with lots of homemade placards. It is clear that there is a lot of local support, with many passing motorists tooting their horns. The strikers were very pleased to see Socialist Party members visiting the picket line to offer their support. The next three days of strikes run from 15-17 December.
---
In this issue
---
News

Unemployment and Covid rising - the crisis is not over - Fight for jobs and safety

Mass testing - we need trade union oversight and full pay for all

Fight for NHS pay and funding

Rich countries hoarding vaccine is danger to us all

No to Tories' new anti-protest law

Maternity unit deaths - democratic, public ownership needed

Met police investigate British mercenary war crimes against Tamils

No surprise, poverty is rising
---
Education

Cancel exams for class of Covid

Welsh schools close for safety after union pressure

Effective testing and properly funded safety plan needed in schools

East London shows the way: strikes are how to fight for state education

Determined strikers at Leaways school
---
Workplace News

Openreach and EE: Massive vote for action

PCS union conference stripped of powers by NEC

Unite launch ballot over sacked London bus rep

Christmas redundancy shock at L&Q housing association

Stop 'fire and rehire' at British Gas
---
New Technology

Can green technology and AI save capitalism?
---
Engels

'Socialism - Utopian and Scientific' by Engels
---
Reports & campaigns

Protests in solidarity with Indian farmers

Book: The national question - a Marxist approach

School boy assaulted by police in Tottenham

TUSC relaunch in the north west

Protest against immigration enforcement centre in Newham

Tremendous fighting fund reflects confidence
---
Quiz

Quiz 2020
---
Home | The Socialist 16 December 2020 | Join the Socialist Party