The Socialist 16 December 2020
Unemployment and Covid rising - The crisis is not over - Fight for jobs and safety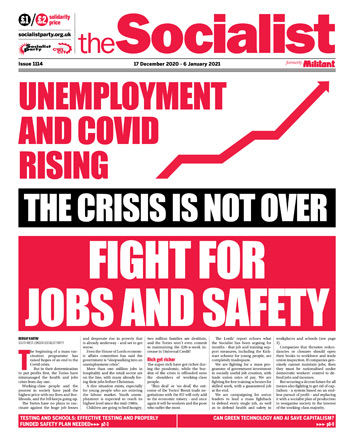 ---
Unemployment and Covid rising - the crisis is not over - Fight for jobs and safety
Mass testing - we need trade union oversight and full pay for all
Rich countries hoarding vaccine is danger to us all
No to Tories' new anti-protest law
Maternity unit deaths - democratic, public ownership needed
Met police investigate British mercenary war crimes against Tamils
No surprise, poverty is rising
---
Cancel exams for class of Covid
Welsh schools close for safety after union pressure
Effective testing and properly funded safety plan needed in schools
East London shows the way: strikes are how to fight for state education
Determined strikers at Leaways school
---
Openreach and EE: Massive vote for action
PCS union conference stripped of powers by NEC
Unite launch ballot over sacked London bus rep
Christmas redundancy shock at L&Q housing association
Stop 'fire and rehire' at British Gas
---
Can green technology and AI save capitalism?
---
'Socialism - Utopian and Scientific' by Engels
---
Protests in solidarity with Indian farmers
Book: The national question - a Marxist approach
School boy assaulted by police in Tottenham
TUSC relaunch in the north west
Protest against immigration enforcement centre in Newham
Tremendous fighting fund reflects confidence
---
PO Box 1398, Enfield EN1 9GT
020 8988 8777

Link to this page: https://www.socialistparty.org.uk/issue/1114/31769
Home | The Socialist 16 December 2020 | Join the Socialist Party
Subscribe | Donate | Audio | PDF | ebook
Tremendous fighting fund reflects political confidence
Socialist Party members and supporters have done brilliant work over the whole of 2020 in making sure we smashed through our fighting fund target for the year. In the current campaign we have already raised more than 200% of the target. This has mainly been achieved by the tremendous financial appeal we had at Socialism 2020 (See 'Socialism 2020: Growing search for ideas to change the world' at socialistparty.org.uk).
We appreciate the sacrifice of all those members and supporters who have contributed as well as the efforts of the Socialist Party branches in making sure that this was one of the most successful fighting fund appeals we have ever had.
This tremendous appeal reflects the political confidence of Socialist Party members and supporters in our programme and key tasks, particularly on the issue of working-class political representation. This quote from Peggy Wang in Cambridgeshire who donated £40 to the Socialism appeal reflects this support: "Thank you for a wonderful conference. It was so informative and inspiring, and I am grateful to be part of an organisation dedicated to the betterment of working people. It has given me much hope and meaning in my life."
While the vast majority of the pledges have now been redeemed, we urge everyone who has made a pledge but not yet redeemed it to do so by 20 December.
While the Covid restrictions have made it more difficult in some areas to hold regular campaigning stalls, we have had some success. Last week our members in Coventry raised £40.29 campaigning against hospital parking charges. Carlisle Socialist Party raised £80 and Hackney Socialist Party members raised over £40 campaigning in defence of the NHS.
Our members are also looking at other ways we can raise fighting fund, Nottingham Socialist Party raised over £177 at a successful quiz night, and members in London, who have previously organised clothes parties, have instead sold used/old clothes online.
Let's get 2021 off to the best possible start by making sure we exceed our fighting fund target in the new quarter so that we are well placed for the mighty class battles to come.
---
In this issue
---
News

Unemployment and Covid rising - the crisis is not over - Fight for jobs and safety

Mass testing - we need trade union oversight and full pay for all

Fight for NHS pay and funding

Rich countries hoarding vaccine is danger to us all

No to Tories' new anti-protest law

Maternity unit deaths - democratic, public ownership needed

Met police investigate British mercenary war crimes against Tamils

No surprise, poverty is rising
---
Education

Cancel exams for class of Covid

Welsh schools close for safety after union pressure

Effective testing and properly funded safety plan needed in schools

East London shows the way: strikes are how to fight for state education

Determined strikers at Leaways school
---
Workplace News

Openreach and EE: Massive vote for action

PCS union conference stripped of powers by NEC

Unite launch ballot over sacked London bus rep

Christmas redundancy shock at L&Q housing association

Stop 'fire and rehire' at British Gas
---
New Technology

Can green technology and AI save capitalism?
---
Engels

'Socialism - Utopian and Scientific' by Engels
---
Reports & campaigns

Protests in solidarity with Indian farmers

Book: The national question - a Marxist approach

School boy assaulted by police in Tottenham

TUSC relaunch in the north west

Protest against immigration enforcement centre in Newham

Tremendous fighting fund reflects confidence
---
Quiz

Quiz 2020
---
Home | The Socialist 16 December 2020 | Join the Socialist Party