The Socialist 16 December 2020
Unemployment and Covid rising - The crisis is not over - Fight for jobs and safety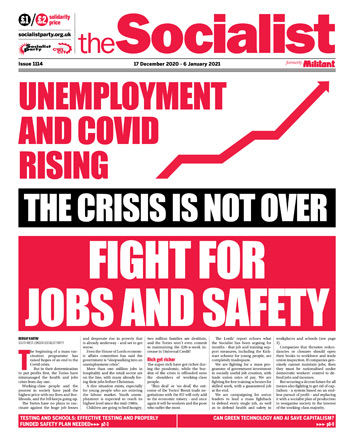 ---
Unemployment and Covid rising - the crisis is not over - Fight for jobs and safety
Mass testing - we need trade union oversight and full pay for all
Rich countries hoarding vaccine is danger to us all
No to Tories' new anti-protest law
Maternity unit deaths - democratic, public ownership needed
Met police investigate British mercenary war crimes against Tamils
No surprise, poverty is rising
---
Cancel exams for class of Covid
Welsh schools close for safety after union pressure
Effective testing and properly funded safety plan needed in schools
East London shows the way: strikes are how to fight for state education
Determined strikers at Leaways school
---
Openreach and EE: Massive vote for action
PCS union conference stripped of powers by NEC
Unite launch ballot over sacked London bus rep
Christmas redundancy shock at L&Q housing association
Stop 'fire and rehire' at British Gas
---
Can green technology and AI save capitalism?
---
'Socialism - Utopian and Scientific' by Engels
---
Protests in solidarity with Indian farmers
Book: The national question - a Marxist approach
School boy assaulted by police in Tottenham
TUSC relaunch in the north west
Protest against immigration enforcement centre in Newham
Tremendous fighting fund reflects confidence
---
PO Box 1398, Enfield EN1 9GT
020 8988 8777

Link to this page: https://www.socialistparty.org.uk/issue/1114/31770
Home | The Socialist 16 December 2020 | Join the Socialist Party
Subscribe | Donate | Audio | PDF | ebook
Protests in solidarity with Indian farmers
For a united struggle against the Modi regime
Cardiff
Around 300 people from the city's Indian Sikh community turned out in Cardiff Bay on Saturday 12 December to protest in solidarity with farmers in Punjab, India, taking action against the brutal right-wing regime.
Modi, the Indian prime minister, is pushing the Farmers' Act through parliament in an extremely undemocratic manner. These new laws will remove the minimum price that small farmers must currently be paid for their produce.
One speaker at the rally pointed out that this is akin to the UK government abolishing the minimum wage. It will drive farmers and their families into grinding poverty. Big agribusiness, in cahoots with the government, will be aiming to drive out the independent farmers, and monopolise control of the land to increase their profit margins. Farmers protesting for their livelihoods have faced brutal repression at the hands of the state.
Last month, India saw a general strike involving at least 250 million people, against austerity and privatisation carried out by the Modi government. Modi, a deeply sectarian Hindu nationalist, aims to sow divisions between India's various ethnic and religious groups, to prevent united struggle against his brutal capitalist policies.
Socialist Party members supported the protest, and our leaflets, with a statement from New Socialist Alternative, our sister party in India, were very well received. Socialist Party member Mariam Kamish spoke at the rally representing Caerphilly Trades Council, and received the loudest cheers of the day when she raised the need for cross-community, cross-ethnic struggles of the working class and poor to defeat the rule of Modi and the super-rich oligarchs.
Many of those attending the protest, and especially the young organisers, were extremely open to the ideas of socialism, and keen to discuss socialist solutions to the huge poverty and inequality in India. Several copies of the Socialist were sold, and we agreed to discuss future solidarity actions that we can take to support the struggles of Indian farmers and workers. (See more, visit socialistworld.net)
Joe Fathallah, Cardiff Socialist Party
Birmingham
Birmingham Socialist party extended solidarity on behalf of New Socialist Alternative, our sister party in India, to a protest in support of Indian farmers on 12 December.
The Kisaan Rally was in response to the new laws passed in the Indian parliament in June which will significantly affect the farmers. The new law creates imbalance in the food market by removing subsides and price controls, without which prices can rapidly fluctuate depending on what the corporations decide.
This leaves the farmers without a safety net and basic rate of pay for their products. The new laws are anti-worker, pushed forward by the conservative Modi government.
The farmers have been protesting for a while with initial protest carried out in India. They have now spread internationally and taken place in the USA, Canada, Australia and the UK.
The protest had an amazing atmosphere. Many of the Gurdwaras (Sikh temples) across Birmingham came together and organised the protest. The streets surrounding the Indian Consulate in the Jewellery Quarter were full of protesters and cars.
We gave out leaflets to protesters and we were given food and drinks in return. The socialist material and our program were well received. We also had good dialogue with people about pushing the struggle further and extending the protests internationally.
Abdul, Birmingham Socialist Party
---
In this issue
---
News

Unemployment and Covid rising - the crisis is not over - Fight for jobs and safety

Mass testing - we need trade union oversight and full pay for all

Fight for NHS pay and funding

Rich countries hoarding vaccine is danger to us all

No to Tories' new anti-protest law

Maternity unit deaths - democratic, public ownership needed

Met police investigate British mercenary war crimes against Tamils

No surprise, poverty is rising
---
Education

Cancel exams for class of Covid

Welsh schools close for safety after union pressure

Effective testing and properly funded safety plan needed in schools

East London shows the way: strikes are how to fight for state education

Determined strikers at Leaways school
---
Workplace News

Openreach and EE: Massive vote for action

PCS union conference stripped of powers by NEC

Unite launch ballot over sacked London bus rep

Christmas redundancy shock at L&Q housing association

Stop 'fire and rehire' at British Gas
---
New Technology

Can green technology and AI save capitalism?
---
Engels

'Socialism - Utopian and Scientific' by Engels
---
Reports & campaigns

Protests in solidarity with Indian farmers

Book: The national question - a Marxist approach

School boy assaulted by police in Tottenham

TUSC relaunch in the north west

Protest against immigration enforcement centre in Newham

Tremendous fighting fund reflects confidence
---
Quiz

Quiz 2020
---
Home | The Socialist 16 December 2020 | Join the Socialist Party