The Socialist 16 December 2020
Unemployment and Covid rising - The crisis is not over - Fight for jobs and safety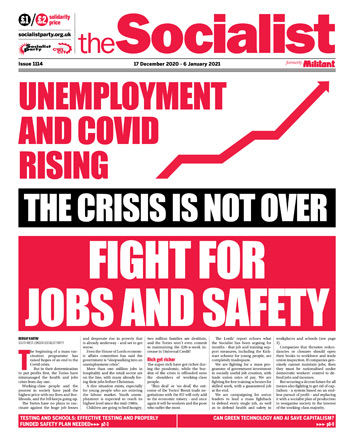 ---
Unemployment and Covid rising - the crisis is not over - Fight for jobs and safety
Mass testing - we need trade union oversight and full pay for all
Rich countries hoarding vaccine is danger to us all
No to Tories' new anti-protest law
Maternity unit deaths - democratic, public ownership needed
Met police investigate British mercenary war crimes against Tamils
No surprise, poverty is rising
---
Cancel exams for class of Covid
Welsh schools close for safety after union pressure
Effective testing and properly funded safety plan needed in schools
East London shows the way: strikes are how to fight for state education
Determined strikers at Leaways school
---
Openreach and EE: Massive vote for action
PCS union conference stripped of powers by NEC
Unite launch ballot over sacked London bus rep
Christmas redundancy shock at L&Q housing association
Stop 'fire and rehire' at British Gas
---
Can green technology and AI save capitalism?
---
'Socialism - Utopian and Scientific' by Engels
---
Protests in solidarity with Indian farmers
Book: The national question - a Marxist approach
School boy assaulted by police in Tottenham
TUSC relaunch in the north west
Protest against immigration enforcement centre in Newham
Tremendous fighting fund reflects confidence
---
PO Box 1398, Enfield EN1 9GT
020 8988 8777

Link to this page: https://www.socialistparty.org.uk/issue/1114/31774
Home | The Socialist 16 December 2020 | Join the Socialist Party
Subscribe | Donate | Audio | PDF | ebook
PCS union conference stripped of powers by NEC
Dave Semple, PCS national executive committee member (personal capacity)
At a scheduled meeting on 10 December, the national executive committee (NEC) of the Public and Commercial Services (PCS) union, which covers civil servants and those on private sector government contracts, decided to remove key powers from the union's Annual Delegate Conference for 2021. Strenuous objections from Socialist Party and Broad Left Network (BLN) supporters on the NEC were ignored.
Where is member control?
General Secretary Mark Serwotka and the 'Left Unity' majority on the NEC proposed that branches lose the ability to decide the subjects and running order of the conference. This will pass control of the conference to the NEC and the National Standing Orders Committee (NSOC). Branches will also be restricted in terms of the motions they put forward. Each branch will be allowed four motions; three will have to be on subjects predetermined by the NEC and the fourth can be on anything - but making it on to the agenda will now be down to NSOC.
Previously, all decisions by the NSOC had to be ratified by conference itself, and branches had the right to dispute with the NSOC. This is now gone, opening the door for a stage-managed conference led by Left Unity majorities on the NEC and NSOC.
Key issues face the union, including on the unfolding Tory Brexit disaster and the union's attitude to the Labour Party. On both of these questions, the NEC flatly broke conference policy, backing a second European Union referendum at the TUC in 2019, and indiscriminately backing Labour MPs at the general election in 2019, including those leading the charge against policies we support.
The result has been the total wreckage of the union's political strategy. In ordinary times, conference might very well wish to correct and criticise the NEC for disregarding conference policy.
Mark Serwotka, who likes to pose as a champion of equality, was left scrabbling to reassure NEC members who asked why equality issues weren't listed as part of the three key issues he suggested for the NEC-determined sessions. Serwotka wanted these sessions to be on pay, Covid-19, and his strategy for the future of the union.
A recent finance paper to the NEC has shown that, with a modest increase in the recruitment of members - in a civil service that has grown by tens of thousands of new jobs, not an insurmountable task, if the union is doing the basics - the future of the union would be secured. This can only add to the feeling amongst reps that, at a time when PCS is trying to build a national campaign on pay and to defend members' health and safety at work, Serwotka's threat of voluntary redundancies for PCS staff, and huge structural changes for the union's branches and groups, is just bizarre.
Significant union resources have been dedicated to producing reams of documents 'proving' the need for changes in the union (they do no such thing) and addressing consultation meetings across the union about the two alternatives Serwotka is trying to foist on reps - merger or restructuring - at a time when Chancellor Rishi Sunak has announced a pay freeze for 2021.
Meanwhile, the union's national pay campaign for the last six months has been a petition on Parliament's website, to try and trigger a debate in the House of Commons. When confronted at the NEC with the reality that a petition on its own was going to do absolutely nothing, the Left Unity majority responded in outraged tones that building for the petition would help union organising.
Reality
The reality? Of 104,000 signatures at the time of writing, the union knows that 20% of these were union members and has no idea about the other 80%. This means there's little usable data to tell us where the union's organisation is weak, even from such a task as getting a petition signed.
Socialist Party members on the NEC have from the beginning pushed for a robust strategy on pay, for a serious response to Covid-19 that mobilised the weight of those members still stuck in offices, and have flatly opposed inroads into the democracy of the Annual Delegate Conference. Inside the PCS, we participate in the Broad Left Network with activists and reps who seek to build a fighting, democratic union, and we call on all those with similar aims to attend the BLN conference on 16 January, on Zoom.
---
In this issue
---
News

Unemployment and Covid rising - the crisis is not over - Fight for jobs and safety

Mass testing - we need trade union oversight and full pay for all

Fight for NHS pay and funding

Rich countries hoarding vaccine is danger to us all

No to Tories' new anti-protest law

Maternity unit deaths - democratic, public ownership needed

Met police investigate British mercenary war crimes against Tamils

No surprise, poverty is rising
---
Education

Cancel exams for class of Covid

Welsh schools close for safety after union pressure

Effective testing and properly funded safety plan needed in schools

East London shows the way: strikes are how to fight for state education

Determined strikers at Leaways school
---
Workplace News

Openreach and EE: Massive vote for action

PCS union conference stripped of powers by NEC

Unite launch ballot over sacked London bus rep

Christmas redundancy shock at L&Q housing association

Stop 'fire and rehire' at British Gas
---
New Technology

Can green technology and AI save capitalism?
---
Engels

'Socialism - Utopian and Scientific' by Engels
---
Reports & campaigns

Protests in solidarity with Indian farmers

Book: The national question - a Marxist approach

School boy assaulted by police in Tottenham

TUSC relaunch in the north west

Protest against immigration enforcement centre in Newham

Tremendous fighting fund reflects confidence
---
Quiz

Quiz 2020
---
Home | The Socialist 16 December 2020 | Join the Socialist Party