The Socialist 20 January 2021
Make the super-rich pay, not the poorest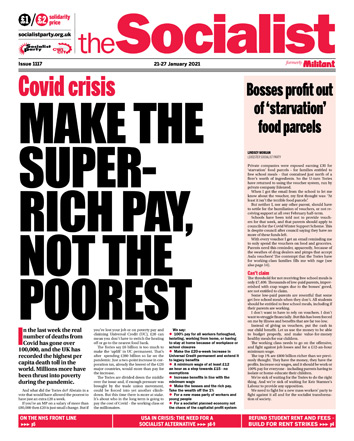 ---
Make the super-rich pay, not the poorest
Bosses profit out of 'starvation' food parcels
Teachers: On the front line, in their own words
Peace and Justice Project - no way forward for socialism
Millionaire tendency regains control of Scottish Labour
---
The Tory blame game: scapegoating the working class - 100% pay for all now
Covid: Bosses chase profit and put workers in danger
Vaccine confidence - a worker's response
Life in lockdown - being home from school when you're poor is hard
---
---
Police use Covid laws to intimidate BLM protesters
New Cross Gate fire 40 years ago
---
USA in crisis - the need for a socialist alternative
Trump Twitter ban: only independent workers' voice can defeat right
---
PCS Broad Left Network conference
Rolls-Royce Barnoldswick factory future secured following strike action
Morrisons - £10/hr headline hides divisive pay offer
A day in the life of an agency worker
---
Plymouth rent strike continues
Scrap fees, refund rents and pay a living grant
---
London's May elections: Tories and Labour's Khan both vying to slash public services
Socialist Party national women's meeting
Why I joined the Socialist Party
Christmas Crossword Competition
---
Books that inspired me: The Road to Wigan Pier
---
PO Box 1398, Enfield EN1 9GT
020 8988 8777

Link to this page: https://www.socialistparty.org.uk/issue/1117/31853
Home | The Socialist 20 January 2021 | Join the Socialist Party
Subscribe | Donate | Audio | PDF | ebook
The Tory blame game: scapegoating the working class - 100% pay for all now
Alex Hutchinson, Hull Socialist Party
As the Covid-19 pandemic hits tragic, record-breaking numbers in the UK, the Tory narrative of blaming the public for the crisis is in full swing. Deflecting blame away from their disastrous decisions, policies and inaction, the government is desperate to put responsibility on anyone but itself.
But who is really to blame?
In this lockdown, unlike the first, more people are still going into work. Despite the school closures, the government has extended the definition of 'key workers' to more and more workplaces. More workers are being forced into work by their management.
The furlough scheme has been extended until April, but many are struggling to access the necessary financial support, or are being outright denied it, during the worst of the pandemic. The Trades Union Congress (TUC) revealed that 71% of working mothers who applied for furlough following the latest school closures, have had their request turned down.
In November, the i newspaper reported that many employers are rejecting furlough because "it will cost them too much in National Insurance and pension contributions", meaning that workers are either forced to work in unsafe conditions, or are simply made redundant.
Simply not enough
Even if people can access furlough, 80% of the salary simply is not enough to pay the bills and support millions of working-class families already struggling on minimum wage. This forces more and more people into work, and allows the virus to spread from workplaces into our communities.
But the problems go even deeper. Many of those who are ill from Covid simply cannot afford to self-isolate for two weeks on measly statutory sick pay of £95.85 a week, one of the lowest in Europe.
The one-off support payment of £500 for two weeks of isolation goes nowhere near enough to ensure the poorest people can safely stay at home without becoming destitute. But even this payment is a struggle to obtain.
In some coronavirus hotspots in England, more than half of people applying for financial support to self-isolate are being rejected. The Liverpool Echo states that 77% of applicants for the self-isolation payment in Liverpool have been rejected.
Councils say they are running out of cash, which demonstrates not only the lack of resources the government is willing to provide but also the damning effects of a decade of austerity and council cuts.
This lack of financial security means that millions are forced to continue going into work out of the risk of poverty and hardship. The inadequate support available during isolation pushes thousands of those suffering with Covid into returning to work too soon. They simply cannot afford not to work.
Coupled with decades of NHS privatisation, austerity, cuts to local authority budgets, and unsafe working conditions, the reasons behind the crisis in the UK become perfectly clear. It is the Tory government, not the public, with blood on its hands.
The lack of opposition from Labour and the absence of many trade union leaders have left a clear political vacuum and allowed the Tories to start shifting the blame onto workers. The trade union movement must organise to resist this narrative and fight for 100% pay for all who need it.
---
In this issue
---
News

Make the super-rich pay, not the poorest

Bosses profit out of 'starvation' food parcels

Teachers: On the front line, in their own words

Peace and Justice Project - no way forward for socialism

Millionaire tendency regains control of Scottish Labour

News in Brief
---
Covid-19

The Tory blame game: scapegoating the working class - 100% pay for all now

Covid: Bosses chase profit and put workers in danger

Vaccine confidence - a worker's response

Life in lockdown - being home from school when you're poor is hard
---
NHS

On the NHS front line
---
Black Lives Matter

Justice for Mohamud Hassan!

Police use Covid laws to intimidate BLM protesters

New Cross Gate fire 40 years ago
---
International News

USA in crisis - the need for a socialist alternative

Trump Twitter ban: only independent workers' voice can defeat right
---
Workplace

PCS Broad Left Network conference

Rolls-Royce Barnoldswick factory future secured following strike action

Morrisons - £10/hr headline hides divisive pay offer

A day in the life of an agency worker

British Gas strike continues
---
Students

Refund student rent and fees

Plymouth rent strike continues

Scrap fees, refund rents and pay a living grant
---
Campaigns

London's May elections: Tories and Labour's Khan both vying to slash public services

Socialist Party national women's meeting

Why I joined the Socialist Party

Christmas Crossword Competition
---
Readers' Opinion

Books that inspired me: The Road to Wigan Pier
---
Obituary

Obituary - Jeff Edwards
---
Home | The Socialist 20 January 2021 | Join the Socialist Party