The Socialist 20 January 2021
Make the super-rich pay, not the poorest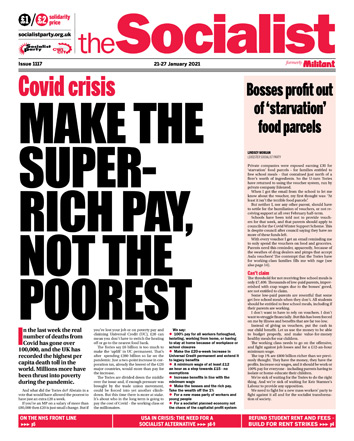 ---
Make the super-rich pay, not the poorest
Bosses profit out of 'starvation' food parcels
Teachers: On the front line, in their own words
Peace and Justice Project - no way forward for socialism
Millionaire tendency regains control of Scottish Labour
---
The Tory blame game: scapegoating the working class - 100% pay for all now
Covid: Bosses chase profit and put workers in danger
Vaccine confidence - a worker's response
Life in lockdown - being home from school when you're poor is hard
---
---
Police use Covid laws to intimidate BLM protesters
New Cross Gate fire 40 years ago
---
USA in crisis - the need for a socialist alternative
Trump Twitter ban: only independent workers' voice can defeat right
---
PCS Broad Left Network conference
Rolls-Royce Barnoldswick factory future secured following strike action
Morrisons - £10/hr headline hides divisive pay offer
A day in the life of an agency worker
---
Plymouth rent strike continues
Scrap fees, refund rents and pay a living grant
---
London's May elections: Tories and Labour's Khan both vying to slash public services
Socialist Party national women's meeting
Why I joined the Socialist Party
Christmas Crossword Competition
---
Books that inspired me: The Road to Wigan Pier
---
PO Box 1398, Enfield EN1 9GT
020 8988 8777

Link to this page: https://www.socialistparty.org.uk/issue/1117/31857
Home | The Socialist 20 January 2021 | Join the Socialist Party
Subscribe | Donate | Audio | PDF | ebook
Refund student rent and fees
Fight for free education and make the 1% pay
Socialist Students has launched a petition to build support for its demands on the way forward for the student movement and to solve the crisis in higher education. The petition demands:
Rent refunds for students. For 100% rent refunds for any student unable to move into their halls for any reason, with the money for those refunds made up for by the government
For the right of students in third-party accommodation or the private rented sector to be released from their contracts. Compensation to the landlords only on the basis of proven need
For rent controls! Bring all third party halls into the ownership and control of the universities, as a step towards democratically set rents, decided on by elected committees including students
Refund our tuition fees - this year and every year! Fight for free education and make the 1% pay for it
For a no-detriment policy to be introduced for assessments affected by the lockdown
End all cuts! No attacks on jobs, wages, and conditions on campus to pay for refunds - make the government pay. For student and staff unity against all cuts on campus
For democratic trade union and student oversight of all health and safety measures taken on campus to stop the spread of the virus - no trust in vice-chancellors, management or the Tories to handle this crisis in our interests
Build a national student movement to fight for the funding our universities need. Scrap tuition fees, cancel student debt, and introduce genuine living grants for students. Fight for fully funded, high-quality and free education
---
In this issue
---
News

Make the super-rich pay, not the poorest

Bosses profit out of 'starvation' food parcels

Teachers: On the front line, in their own words

Peace and Justice Project - no way forward for socialism

Millionaire tendency regains control of Scottish Labour

News in Brief
---
Covid-19

The Tory blame game: scapegoating the working class - 100% pay for all now

Covid: Bosses chase profit and put workers in danger

Vaccine confidence - a worker's response

Life in lockdown - being home from school when you're poor is hard
---
NHS

On the NHS front line
---
Black Lives Matter

Justice for Mohamud Hassan!

Police use Covid laws to intimidate BLM protesters

New Cross Gate fire 40 years ago
---
International News

USA in crisis - the need for a socialist alternative

Trump Twitter ban: only independent workers' voice can defeat right
---
Workplace

PCS Broad Left Network conference

Rolls-Royce Barnoldswick factory future secured following strike action

Morrisons - £10/hr headline hides divisive pay offer

A day in the life of an agency worker

British Gas strike continues
---
Students

Refund student rent and fees

Plymouth rent strike continues

Scrap fees, refund rents and pay a living grant
---
Campaigns

London's May elections: Tories and Labour's Khan both vying to slash public services

Socialist Party national women's meeting

Why I joined the Socialist Party

Christmas Crossword Competition
---
Readers' Opinion

Books that inspired me: The Road to Wigan Pier
---
Obituary

Obituary - Jeff Edwards
---
Home | The Socialist 20 January 2021 | Join the Socialist Party
Related links:

Police invade student homes

Build for the day of action on 21 April

Socialist Students day of action

Socialist Students conference

Fighting sexual harassment and gender violence on campus

Conference - Sunday 28 February

The Socialist Inbox

The Socialist Inbox

Bristol Water walkout

Marley Tiles workers strike against bullying bosses

Fees frozen at £9,250 a year, fight for free education

Scrap fees, refund rents and pay a living grant

Sexism in education: It shouldn't be like this!

Tories target universities in free speech shakedown

Refund the rent, cancel the fees, for fully funded, publicly owned education