The Socialist 24 February 2021
Where's the road map to jobs and wages Boris?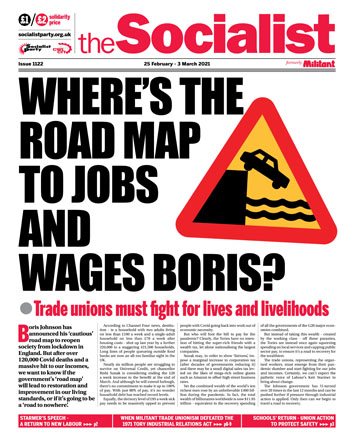 ---
Where's the road map to jobs and wages Boris?
Johnson's 'road map' for schools: Act together to protect safety
Vaccine algorithm can't solve capitalist inequality
Garment workers and Covid: Dying for less than minimum wage
---
Starmer's speech a return to New Labour
---
Uber drivers win case - they are workers
Social care: End privatisation and let workers decide how it's run
---
How militant trade unionism defeated the 1971 Industrial Relations Act
---
Usdaw elections - right makes gains but Broad Left builds
HMRC: Divisive pay deal leads to expulsions
Hinkley Point electricians fight 'deskilling'
"I'm here to fight for the future education of children in Hackney"
London bus dispute against low pay, pay cuts and longer hours
GMB members continue fight against 'fire and rehire' in British Gas
Scunthorpe steelworks scaffolders: Fifth week of action
---
Liverpool Unite branch supports 'no cuts' budget strategy
Scottish TUSC election campaign launch
Keep the fighting fund rushing in for a TUSC stand in May
---
W. Sussex children's centres on the chopping block
Coventry success building subscriptions
Socialist Students conference - postering
Save John Carroll Leisure Centre
Getting the Socialist out in lockdown
---
Pride flag is about unity in struggle
---
Nigeria: Abbey Trotsky on trial for assisting workers' struggle
Facebook v Australian government: nationalise the bosses' media!
---
Tories admit guilt for asylum seeker neglect
Tories target universities in free speech shakedown
PO Box 1398, Enfield EN1 9GT
020 8988 8777