The Socialist 17 March 2021
Defend the right to protest - end violence against women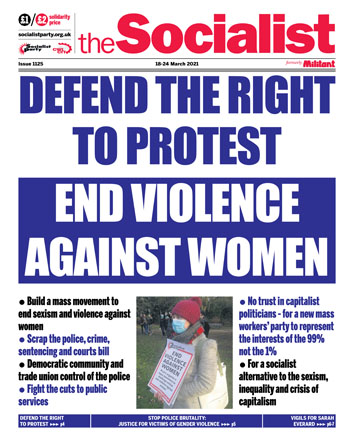 ---
Violence against women - we will not be silenced
---
Rich pickings for private companies - peanuts for health workers
NHS workers map out strategy to win 15% pay rise
---
Judas and the Black Messiah - taste of Fred Hampton's politics, with lessons for fighting oppression today
---
Can the capitalist media prevent socialist change?
---
British Gas strike at crucial stage
Electricians protest against deskilling and lower wages
Goodlord workers continue strike against 'fire and rehire'
Thousands of BT workers to ballot for strike action
Government's bus plans fall short of making up for the cuts
Reinstate Moe - stop trade union-busting at Abellio!
PCS members at Swansea DVLA to strike for safety
---
Council funding crisis - We need a workers' programme to restore the stolen millions
We need a fighting strategy to win funding from the government - why I'm standing for TUSC
Standing for TUSC in Worcester
Help fund the Socialist Party's election campaign as part of TUSC
---
Build for the Socialist Students day of action on 21 April
I couldn't just stand and watch! - Why I joined the Socialist Party
Socialist Party LGBTQ+ members meeting
---
Myanmar: workers brave brutal military crackdown
PO Box 1398, Enfield EN1 9GT
020 8988 8777

Link to this page: https://www.socialistparty.org.uk/issue/1125/32181
Home | The Socialist 17 March 2021 | Join the Socialist Party
Subscribe | Donate | Audio | PDF | ebook
NHS workers map out strategy to win 15% pay rise
"The 1% proposed to the pay review body, alongside the cuts to our funding announced by Rishi Sunak in the budget, is a double whammy that I feel we will struggle to cope with. It feels like yet another chance for this government to show the workforce how little they value us and the NHS as a whole. This isn't just an attack on NHS staff, it is an attack on us all." These were the words of Kirsty Brewerton, a clinical sister and Unison member from Coventry speaking to around 100 workers at the online 'NHS workers fighting back' event on 11 March.
The meeting, hosted by Midlands Shop Stewards Network, and taking place hours before the 'slow handclap', was chaired by Dave Nellist, Socialist Party member and chair of the Trade Unionist and Socialist Coalition. He explained that the brief meeting was arranged at very short notice to give the trade union reps and organisers across the health service the opportunity to discuss a strategy to win a 15% NHS pay rise. All contributors spoke in a personal capacity.
Kirsty outlined the ongoing lies from government ministers about nurses' average pay levels. In fact, in real terms, once tax, pension contributions, student loan repayments and inflation are taken into account, nurses have lost close to 20% of pay in the last ten years.
She also explained how the NHS is often left dangerously understaffed, how staff are suffering from mental health difficulties as a consequence of the trauma experienced during the pandemic, and that the lack of adequate protection has led to health workers tragically losing their lives.
Kirsty finished: "We need to build mass support with effective public campaigning and a union recruitment drive. We need members to engage with their unions to demand a decent coordinated campaign. We need to train and recruit reps in every workplace with a view to establishing workplace action committees, hold lunchtime protests, and organise huge days of action in the build-up to strike action."
Adrian O'Malley, member of the Unison Health Service group executive, described the massive backlash against the government who had clapped the NHS only to offer a real terms pay cut. He said: "It's up to us to build on that anger, and make sure it is expressed in a fight to smash through the pay freeze. Not just for NHS workers but to unite across all public sector workers, and with key workers in the private sector.
"The response of the Unison leadership has been lukewarm at the most. A lot of our members have been asking: What are we going to do about this? We see the RCN announcing the potential for strike action, and that they have got £34 million in a strike fund. Unite the union is threatening to ballot its members. But all our union has said is to have a slow handclap tonight. There has been no mention of the fact that Unison has a £100 million strike fund."
Pay review body
Adrian explained how the deputy Labour leader Angela Rayner had appeared on the news that morning supporting a 2.1% pay offer, and in effect ruling out the 5% in Labour's 2019 election manifesto.
He said: "It's important to look to see what she is saying because her view will be reflected by her political allies within Unison and some of the other health unions. There is a risk that the pay review body suggests 2.1%, and that it will be claimed as some kind of victory by parts of the union leadership.
"We have got to be saying quite clearly now, that we do not accept 2.1%, and we do not accept that our pay will be decided by the pay review body. That we demand national negotiations now, and we want a substantial pay rise, and that if they don't accept this by a certain date, we will be balloting for strike action."
Adrian argued that this process should be replicated across the public sector unions also facing a pay freeze, making the case that the role of the Trades Union Congress should be to coordinate action across the public sector as it did in the 2011 pensions strike.
On that occasion, millions of workers took action together. Ultimately, because of the role played by some of the leadership of the unions at that time, it ended in defeat. That is why it is necessary to elect a fighting, left leadership in the ongoing trade union elections, including in Unison.
Beth Webster, a nurse in Cardiff, and a member of Unison and RCN said: "We don't want a pay rise because we want a reward or a pat on the back. We need a pay rise. Most nurses, ward clerks, cleaners, all NHS workers have to do second jobs and extra shifts to cover the bills. How can we give good care to patients when we have done a 70-hour week and are exhausted?
"We need to put pressure on our union leaderships to prepare for industrial action if necessary. I know lots of people are worried about strike action, and the affect it would have on patients. But in Northern Ireland two years ago NHS workers, including nurses, struck for pay parity. Porters and cleaners in London have struck during the pandemic to improve pay and conditions, so it can be done. We do have emergency cover so patients aren't put at immediate risk.
"Some patients would be likely to have appointments cancelled and so on, but how often does that happen now because of a lack of staff? If we don't take action things will keep getting worse." She added: "We have massive public support, if and when we do take action, we can have things like public meetings to explain strike action to the public. Everyone trusts health workers more than the media and politicians.
"All workers are under attack, losing their jobs and having their wages cut. If NHS workers can fight and win, that will embolden others and make their fight easier. The only way we can win is if we are united inside the NHS, and outside with other workers."
This sentiment was reflected in further contributions from health workers. Len Hockey, secretary of Unite Barts health branch and hospital porter, reminded us that somewhere near 85,000 health workers took part in protests during the summer, in many cases without the support of their unions. He called for "a national demonstration, socially distanced and organised safely, as only health workers know how to do, is the way to go as a prelude to coordinated national strike action."
'Social partnership'
Roger Davey, chair of Wiltshire and Avon health Unison, spoke about the necessity to prepare ahead of a strike ballot. He outlined how for many years the unions' leadership have pushed the idea of social partnership, the false idea that NHS bosses, the government and NHS staff have the same interests. It is necessary to apply pressure on the union leadership to break with this approach in order to be able to reach the anti-democratic 50% turnout threshold in a strike ballot.
The pandemic has deepened all of the pre-existing stresses on the NHS, a consequence of decades of under-funding and privatisation. It was acknowledged that the struggle for an NHS pay rise needs to be tied to campaigning for a fully funded, fully public NHS. Tom Hunt, chair of Notts healthcare Unison, outlined the successful campaign to save Chatsworth Ward in Mansfield which mobilised workers, patients and the wider public to secure victory.
All speakers described a mood of bitter anger in the workplace and expressed a determination to translate this into an organised struggle for a 15% pay rise and to transform the NHS for the future.
The meeting agreed to produce a model motion (below) for distribution to supporters of the National Shop Stewards Network.
---
Model trade union motion
This union branch/trades council condemns the Tory government's announcement that NHS workers will receive a pay rise of only 1%.
This union branch/trades council believes:
Health workers have played an absolutely key role in treating patients in the most difficult and stressful conditions as well as fighting for workplace safety during Covid to protect both staff and our communities
That the Tory 1% pay rise is an insult and shows the total contempt the Tories have for health workers, and shows that their support for them during the pandemic is hollow and a sham
This union branch/trades council further believes that:
The demand by health unions and NHS workers for a pay rise of up to 15% must be fully supported. This would only begin to make up for a decade of real terms cuts in wages
This should include all workers in the NHS and outsourced staff should be brought in-house to work directly for the health service on NHS pay, pensions and terms and conditions
The Tory pay freeze for other public sector workers must be opposed
This union branch/trades council resolves to call on our union to take the lead in approaching all other unions in the NHS to discuss and agree a joint struggle for the pay claim. This should include:
Calling a national day of action of socially distanced protests in towns and cities
Coordinated strike ballots across the health unions - approach all public sector unions for a joint fight against the Tory attacks on pay
---
In this issue
---
End violence against women

Violence against women - we will not be silenced
---
NHS

Rich pickings for private companies - peanuts for health workers

NHS workers map out strategy to win 15% pay rise
---
Review

Judas and the Black Messiah - taste of Fred Hampton's politics, with lessons for fighting oppression today
---
Media

Can the capitalist media prevent socialist change?
---
Workplace news

British Gas strike at crucial stage

Electricians protest against deskilling and lower wages

Goodlord workers continue strike against 'fire and rehire'

Thousands of BT workers to ballot for strike action

Government's bus plans fall short of making up for the cuts

Reinstate Moe - stop trade union-busting at Abellio!

PCS members at Swansea DVLA to strike for safety
---
Elections

Council funding crisis - We need a workers' programme to restore the stolen millions

We need a fighting strategy to win funding from the government - why I'm standing for TUSC

Standing for TUSC in Worcester

Help fund the Socialist Party's election campaign as part of TUSC
---
Campaigns news

Build for the Socialist Students day of action on 21 April

I couldn't just stand and watch! - Why I joined the Socialist Party

Socialist Party LGBTQ+ members meeting

Selling the Socialist
---
International news

Myanmar: workers brave brutal military crackdown
---
Home | The Socialist 17 March 2021 | Join the Socialist Party