The Socialist 24 March 2021
NHS crisis, mass sackings, violence against women... Protesting is not a crime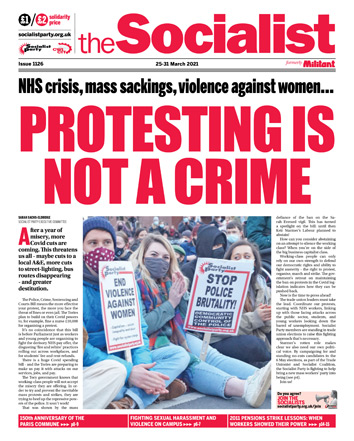 ---
Defying the anti-protest restrictions
Police attempt to silence mothers
---
Haringey: Hands off our GP practices
---
Battle for a fighting, anti-austerity Liverpool mayor
Help fund the Socialist Party's stand as part of TUSC
---
Fighting sexual harassment and gender violence on campus
---
150th anniversary of the Paris Commune
---
Lessons of the 2011 pensions strike: when workers showed their power
---
PCS elections: increased support for Broad Left Network
Engineering workers strike against 'fire and rehire' in Leicester
'Sleep-ins' ruling must lead to a huge campaign for social care workers' rights
Shrewsbury Pickets win: Convictions overturned
Sparks continue protests against deskilling
Beal High school strike as management refuse to negotiate over fair sick pay scheme
Preparing to organise workers in Enfield
Support victimised bus driver reps and Socialist Party members Declan and Moe
Goodlord workers continue all-out strike
---
Save John Carroll - fight is far from over!
Stop evictions and drop the debts
Online meeting - Ending violence against women, the socialist approach
Socialist Party regional conferences meet online
---
PO Box 1398, Enfield EN1 9GT
020 8988 8777

Link to this page: https://www.socialistparty.org.uk/issue/1126/32208
Home | The Socialist 24 March 2021 | Join the Socialist Party
Subscribe | Donate | Audio | PDF | ebook
'Sleep-ins' ruling must lead to a huge campaign for social care workers' rights
Glynn Doherty
The Supreme Court has decided that the hours social care workers have to spend at work away from their homes on so-called 'sleep-ins' don't attract the minimum wage. This is a blow to the many thousands of low-paid workers in this sector.

But it is also another warning to the trade unions that relying on the courts to achieve key objectives will only succeed in the rarest of cases.
The judiciary is not independent. For the most part, it protects the interests of the capitalist economic system. If the decision had been in favour of workers, the estimates are that it could have cost social care providers £400 million. This is why the ruling came out in favour of Mencap and against the workers.
Sleep-in staff are those who are working on-call at night in homes and other establishments - sleeping on the premises - to deal with residents and service users who wake up and need assistance. They do not get a full night's sleep but are constantly waiting for the cough or alarm that could signal someone is in trouble.
The court ruled that staff couldn't be paid the minimum wage while they are not awake, even though they have to be on the premises. However, if anything goes wrong, they can be disciplined and even prevented from working in care again if they don't respond. How is this not working?
The unions will undoubtedly now call on the government for a change in the law, but unless this is backed up by a huge campaign it is likely to fall on deaf ears. The Socialist Party is demanding that a campaign should be launched immediately.
---
This version of this article was first posted on the Socialist Party website on 19 March 2021 and may vary slightly from the version subsequently printed in The Socialist.
---
In this issue
---
Protest

Protesting is not a crime

Defying the anti-protest restrictions

Police attempt to silence mothers

Police invade student homes
---
NHS

NHS pay: 15% now

Fighting NHS privatisation

Haringey: Hands off our GP practices
---
Elections

Battle for a fighting, anti-austerity Liverpool mayor

Why I am standing for TUSC

Help fund the Socialist Party's stand as part of TUSC
---
Fighting Sexual Harassment

Fighting sexual harassment and gender violence on campus

Justice for Blessing Olusegun

Film Review: Moxie
---
Paris Commune 150 Years

150th anniversary of the Paris Commune
---
2011 Pensions Strike

Lessons of the 2011 pensions strike: when workers showed their power
---
Workplace News

PCS elections: increased support for Broad Left Network

Engineering workers strike against 'fire and rehire' in Leicester

'Sleep-ins' ruling must lead to a huge campaign for social care workers' rights

Shrewsbury Pickets win: Convictions overturned

Sparks continue protests against deskilling

Beal High school strike as management refuse to negotiate over fair sick pay scheme

Preparing to organise workers in Enfield

Support victimised bus driver reps and Socialist Party members Declan and Moe

Goodlord workers continue all-out strike
---
Campaigns

Save John Carroll - fight is far from over!

Stop evictions and drop the debts

Online meeting - Ending violence against women, the socialist approach

Socialist Party regional conferences meet online
---
Readers' Opinion

The Socialist Inbox
---
Home | The Socialist 24 March 2021 | Join the Socialist Party