The Socialist 24 March 2021
NHS crisis, mass sackings, violence against women... Protesting is not a crime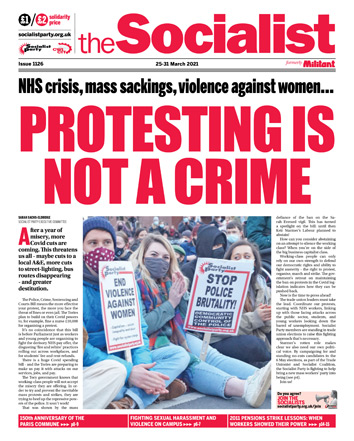 ---
Defying the anti-protest restrictions
Police attempt to silence mothers
---
Haringey: Hands off our GP practices
---
Battle for a fighting, anti-austerity Liverpool mayor
Help fund the Socialist Party's stand as part of TUSC
---
Fighting sexual harassment and gender violence on campus
---
150th anniversary of the Paris Commune
---
Lessons of the 2011 pensions strike: when workers showed their power
---
PCS elections: increased support for Broad Left Network
Engineering workers strike against 'fire and rehire' in Leicester
'Sleep-ins' ruling must lead to a huge campaign for social care workers' rights
Shrewsbury Pickets win: Convictions overturned
Sparks continue protests against deskilling
Beal High school strike as management refuse to negotiate over fair sick pay scheme
Preparing to organise workers in Enfield
Support victimised bus driver reps and Socialist Party members Declan and Moe
Goodlord workers continue all-out strike
---
Save John Carroll - fight is far from over!
Stop evictions and drop the debts
Online meeting - Ending violence against women, the socialist approach
Socialist Party regional conferences meet online
---
PO Box 1398, Enfield EN1 9GT
020 8988 8777

Link to this page: https://www.socialistparty.org.uk/issue/1126/32226
Home | The Socialist 24 March 2021 | Join the Socialist Party
Subscribe | Donate | Audio | PDF | ebook
Shrewsbury Pickets win: Convictions overturned
The Shrewsbury Pickets have had their convictions overturned. Ancient 'conspiracy' legislation was used to convict them for picketing during the national building strike in 1972. Socialist Party member Marion Lloyd, who is standing to be president of civil service union PCS, said:
"Solidarity and respect to the Shrewsbury Pickets, their families and all those who have campaigned for nearly 50 years to have their outrageous injustice overturned. We should remember those we have lost during this time, including the heroic Des Warren.
Des, like Ricky Tomlinson, was among six workers who were jailed. There now needs to be an inquiry - headed by the trade unions - into this scandalous framing of innocent workers by the establishment courts, and the subsequent cover-up.
I was a member of PCS's predecessor union CPSA. It was also targeted by the security services, who sought to undermine democratic trade unions that fight for their members.
Our movement has to use this victory as a platform to resist all moves by the Tories to limit our right to protest, strike and picket, and fight all attempts by Boris Johnson's government and the bosses to make workers pay the price for the Covid crisis. Be in no doubt - we stand and fight and we fight to win!"
---
In this issue
---
Protest

Protesting is not a crime

Defying the anti-protest restrictions

Police attempt to silence mothers

Police invade student homes
---
NHS

NHS pay: 15% now

Fighting NHS privatisation

Haringey: Hands off our GP practices
---
Elections

Battle for a fighting, anti-austerity Liverpool mayor

Why I am standing for TUSC

Help fund the Socialist Party's stand as part of TUSC
---
Fighting Sexual Harassment

Fighting sexual harassment and gender violence on campus

Justice for Blessing Olusegun

Film Review: Moxie
---
Paris Commune 150 Years

150th anniversary of the Paris Commune
---
2011 Pensions Strike

Lessons of the 2011 pensions strike: when workers showed their power
---
Workplace News

PCS elections: increased support for Broad Left Network

Engineering workers strike against 'fire and rehire' in Leicester

'Sleep-ins' ruling must lead to a huge campaign for social care workers' rights

Shrewsbury Pickets win: Convictions overturned

Sparks continue protests against deskilling

Beal High school strike as management refuse to negotiate over fair sick pay scheme

Preparing to organise workers in Enfield

Support victimised bus driver reps and Socialist Party members Declan and Moe

Goodlord workers continue all-out strike
---
Campaigns

Save John Carroll - fight is far from over!

Stop evictions and drop the debts

Online meeting - Ending violence against women, the socialist approach

Socialist Party regional conferences meet online
---
Readers' Opinion

The Socialist Inbox
---
Home | The Socialist 24 March 2021 | Join the Socialist Party