The Socialist 24 March 2021
NHS crisis, mass sackings, violence against women... Protesting is not a crime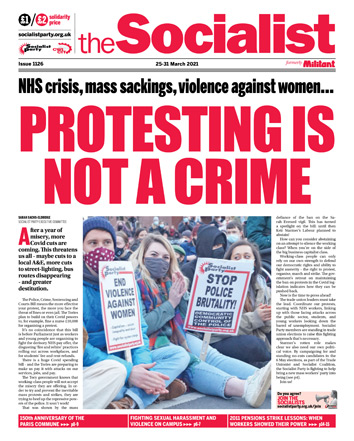 ---
Defying the anti-protest restrictions
Police attempt to silence mothers
---
Haringey: Hands off our GP practices
---
Battle for a fighting, anti-austerity Liverpool mayor
Help fund the Socialist Party's stand as part of TUSC
---
Fighting sexual harassment and gender violence on campus
---
150th anniversary of the Paris Commune
---
Lessons of the 2011 pensions strike: when workers showed their power
---
PCS elections: increased support for Broad Left Network
Engineering workers strike against 'fire and rehire' in Leicester
'Sleep-ins' ruling must lead to a huge campaign for social care workers' rights
Shrewsbury Pickets win: Convictions overturned
Sparks continue protests against deskilling
Beal High school strike as management refuse to negotiate over fair sick pay scheme
Preparing to organise workers in Enfield
Support victimised bus driver reps and Socialist Party members Declan and Moe
Goodlord workers continue all-out strike
---
Save John Carroll - fight is far from over!
Stop evictions and drop the debts
Online meeting - Ending violence against women, the socialist approach
Socialist Party regional conferences meet online
---
PO Box 1398, Enfield EN1 9GT
020 8988 8777

Link to this page: https://www.socialistparty.org.uk/issue/1126/32228
Home | The Socialist 24 March 2021 | Join the Socialist Party
Subscribe | Donate | Audio | PDF | ebook
Save John Carroll - fight is far from over!
Geraint Thomas, Nottingham Socialist party
Over 50 people gathered for an online rally on Saturday 20 March for the 'Save John Carroll Leisure Centre' campaign (savejohncarroll.co.uk), showing our defiance to the council. Nottingham City Council voted to close the centre as part of its £15 million cuts in this year's budget. While some of the 50 Labour councillors abstained or didn't go to the budget meeting, not a single councillor publicly voted against the cuts. The council officer responsible for leisure, David Trimble, declared that we "ran a good campaign" as though we're going to wrap up now. We're not going anywhere!
One of the organisers of the campaign rightly declared that "the council just sees it as another subsidiary cost that they can just cut to balance the books. They don't think about it being a part of the community...they should be fighting for the community to their last penny". Another organiser and worker at the centre, who's been described as "a rare constant in a lot of deprived kids' lives", said that "people can't set up a gym in their back garden...we have nowhere else to go. John Carroll's the heart of our community".
Speakers from the community who use the centre spoke about the vital part the leisure centre, and the now-closed community centre attached to it, play in keeping the diverse working-class community together. On top of this, the next nearest centre is two buses away.
We're now demanding the overwhelmingly Labour council reverses its decision and puts in the funding that the extremely deprived Radford community needs: not just keep the centre open but invest in it, fix it up, and reopen the community centre. Councillors have a choice not to make cuts. Pressure is being heaped onto councillors, who say they represent the community, from every direction, but this shouldn't be needed.
The Socialist Party believes that campaigns like 'Save John Carroll Leisure Centre' should prepare to stand their own candidates in the elections scheduled for Nottingham in 2023 to defend vital community facilities.
---
In this issue
---
Protest

Protesting is not a crime

Defying the anti-protest restrictions

Police attempt to silence mothers

Police invade student homes
---
NHS

NHS pay: 15% now

Fighting NHS privatisation

Haringey: Hands off our GP practices
---
Elections

Battle for a fighting, anti-austerity Liverpool mayor

Why I am standing for TUSC

Help fund the Socialist Party's stand as part of TUSC
---
Fighting Sexual Harassment

Fighting sexual harassment and gender violence on campus

Justice for Blessing Olusegun

Film Review: Moxie
---
Paris Commune 150 Years

150th anniversary of the Paris Commune
---
2011 Pensions Strike

Lessons of the 2011 pensions strike: when workers showed their power
---
Workplace News

PCS elections: increased support for Broad Left Network

Engineering workers strike against 'fire and rehire' in Leicester

'Sleep-ins' ruling must lead to a huge campaign for social care workers' rights

Shrewsbury Pickets win: Convictions overturned

Sparks continue protests against deskilling

Beal High school strike as management refuse to negotiate over fair sick pay scheme

Preparing to organise workers in Enfield

Support victimised bus driver reps and Socialist Party members Declan and Moe

Goodlord workers continue all-out strike
---
Campaigns

Save John Carroll - fight is far from over!

Stop evictions and drop the debts

Online meeting - Ending violence against women, the socialist approach

Socialist Party regional conferences meet online
---
Readers' Opinion

The Socialist Inbox
---
Home | The Socialist 24 March 2021 | Join the Socialist Party