The Socialist 24 March 2021
NHS crisis, mass sackings, violence against women... Protesting is not a crime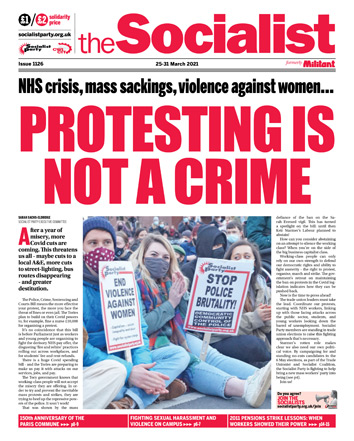 ---
Defying the anti-protest restrictions
Police attempt to silence mothers
---
Haringey: Hands off our GP practices
---
Battle for a fighting, anti-austerity Liverpool mayor
Help fund the Socialist Party's stand as part of TUSC
---
Fighting sexual harassment and gender violence on campus
---
150th anniversary of the Paris Commune
---
Lessons of the 2011 pensions strike: when workers showed their power
---
PCS elections: increased support for Broad Left Network
Engineering workers strike against 'fire and rehire' in Leicester
'Sleep-ins' ruling must lead to a huge campaign for social care workers' rights
Shrewsbury Pickets win: Convictions overturned
Sparks continue protests against deskilling
Beal High school strike as management refuse to negotiate over fair sick pay scheme
Preparing to organise workers in Enfield
Support victimised bus driver reps and Socialist Party members Declan and Moe
Goodlord workers continue all-out strike
---
Save John Carroll - fight is far from over!
Stop evictions and drop the debts
Online meeting - Ending violence against women, the socialist approach
Socialist Party regional conferences meet online
---
PO Box 1398, Enfield EN1 9GT
020 8988 8777

Link to this page: https://www.socialistparty.org.uk/issue/1126/32234
Home | The Socialist 24 March 2021 | Join the Socialist Party
Subscribe | Donate | Audio | PDF | ebook
Justice for Blessing Olusegun
Following the vigils for Sarah Everard, the chairs of Southwark and Lewisham trades councils issued a joint statement. As well as raising questions about police action regarding the serving police officer charged with Sarah's murder, and the brutal police behaviour at the Clapham Common vigil, the statement also referred to the death of Blessing Olusegun.
Blessing was a 21-year-old business student from London who went to Bexhill on a one-week placement as a carer to help elderly people with dementia and other mental health issues.
She was found dead on Bexhill beach near Galley Hill on Friday 18 September 2020 with her shoes and phone nearby her body. The police are treating her death as non-suspicious.
However, Blessing's mother, Esther Abe, is demanding to know why her daughter died.
The joint statement asks: "Why have the police, MPs and media maintained their silence? We need justice for Blessing and her family. We need fairness and we need democratic accountability of the police and government".
The petition regarding Blessing Olusegun's case can be found at: www.change.org/p/government-justice-for-blessing
The statement also called for discussion and plans as to how trade unions can be more vocal and instrumental in challenging violence and sexism in the workplace, while also ensuring there is equal attention given to black women and men. The case of Unite fighting sexual harassment in a mainly male workforce, Woolwich Ferry, is a serious and effective example of what can be done to act together for safety and equality.
---
In this issue
---
Protest

Protesting is not a crime

Defying the anti-protest restrictions

Police attempt to silence mothers

Police invade student homes
---
NHS

NHS pay: 15% now

Fighting NHS privatisation

Haringey: Hands off our GP practices
---
Elections

Battle for a fighting, anti-austerity Liverpool mayor

Why I am standing for TUSC

Help fund the Socialist Party's stand as part of TUSC
---
Fighting Sexual Harassment

Fighting sexual harassment and gender violence on campus

Justice for Blessing Olusegun

Film Review: Moxie
---
Paris Commune 150 Years

150th anniversary of the Paris Commune
---
2011 Pensions Strike

Lessons of the 2011 pensions strike: when workers showed their power
---
Workplace News

PCS elections: increased support for Broad Left Network

Engineering workers strike against 'fire and rehire' in Leicester

'Sleep-ins' ruling must lead to a huge campaign for social care workers' rights

Shrewsbury Pickets win: Convictions overturned

Sparks continue protests against deskilling

Beal High school strike as management refuse to negotiate over fair sick pay scheme

Preparing to organise workers in Enfield

Support victimised bus driver reps and Socialist Party members Declan and Moe

Goodlord workers continue all-out strike
---
Campaigns

Save John Carroll - fight is far from over!

Stop evictions and drop the debts

Online meeting - Ending violence against women, the socialist approach

Socialist Party regional conferences meet online
---
Readers' Opinion

The Socialist Inbox
---
Home | The Socialist 24 March 2021 | Join the Socialist Party