The Socialist 24 March 2021
NHS crisis, mass sackings, violence against women... Protesting is not a crime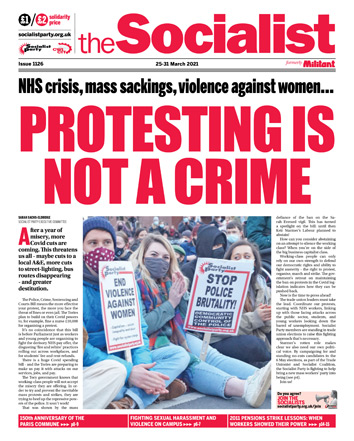 ---
Defying the anti-protest restrictions
Police attempt to silence mothers
---
Haringey: Hands off our GP practices
---
Battle for a fighting, anti-austerity Liverpool mayor
Help fund the Socialist Party's stand as part of TUSC
---
Fighting sexual harassment and gender violence on campus
---
150th anniversary of the Paris Commune
---
Lessons of the 2011 pensions strike: when workers showed their power
---
PCS elections: increased support for Broad Left Network
Engineering workers strike against 'fire and rehire' in Leicester
'Sleep-ins' ruling must lead to a huge campaign for social care workers' rights
Shrewsbury Pickets win: Convictions overturned
Sparks continue protests against deskilling
Beal High school strike as management refuse to negotiate over fair sick pay scheme
Preparing to organise workers in Enfield
Support victimised bus driver reps and Socialist Party members Declan and Moe
Goodlord workers continue all-out strike
---
Save John Carroll - fight is far from over!
Stop evictions and drop the debts
Online meeting - Ending violence against women, the socialist approach
Socialist Party regional conferences meet online
---
PO Box 1398, Enfield EN1 9GT
020 8988 8777

Link to this page: https://www.socialistparty.org.uk/issue/1126/32238
Home | The Socialist 24 March 2021 | Join the Socialist Party
Subscribe | Donate | Audio | PDF | ebook
Engineering workers strike against 'fire and rehire' in Leicester
Steve Score, Leicester Socialist Party
Workers at SPS Technologies in Leicester have taken strike action against the company's 'fire and rehire' assault on their terms and conditions. These attacks could mean them losing up to £3,000 a year. The engineering company supplies parts to the aerospace industry and is using the Covid-19 sparked downturn as justification.
It is owned by the multibillion-dollar US Precision Castparts Corporation, whose holding company is Berkshire Hathaway, which has one of the richest men in the world - Warren Buffet - as its CEO.
Socialist Party members supported the picket lines, along with Kumaran Bose, Trade Unionist and Socialist Coalition (TUSC) candidate in the North Evington by-election, and spoke to the Unite members. A large number of workers are involved in the picket lines, attending in shifts. They expressed anger at the company and the fact that the managing director is not taking a cut in his inflated salary, while they would have to struggle to pay their bills and mortgages on significantly less.
They have been on the picket line at the same time that, elsewhere in the city, British Gas engineers have also been out against the fire-and-rehire attack on them. Far from being 'all in it together', it is clear this tactic is becoming a generalised attack by bosses on workers' living standards under the cover of the pandemic.
Tony Cattermole, Unite Convener, said: "This is our second of four one-day strikes. We don't accept the new terms and conditions that are part of the company's fire and rehire. We are talking and want to reach agreement. But it is disappointing, because last year we had 200 redundancies and we have worked all through the pandemic. They have been after our terms and conditions for four years. Why choose to do it now? Clearly the managing director has made the pandemic his excuse.
"We hope it doesn't come to it, but after the four days of action we are planning an eight-week solid strike.
"Fire and rehire is a scare tactic. I feel sorry for those who aren't in the union and don't have our support. We had about 180 members here before this; now another 30 have joined. Through strength and solidarity, we are able to fight this."
---
In this issue
---
Protest

Protesting is not a crime

Defying the anti-protest restrictions

Police attempt to silence mothers

Police invade student homes
---
NHS

NHS pay: 15% now

Fighting NHS privatisation

Haringey: Hands off our GP practices
---
Elections

Battle for a fighting, anti-austerity Liverpool mayor

Why I am standing for TUSC

Help fund the Socialist Party's stand as part of TUSC
---
Fighting Sexual Harassment

Fighting sexual harassment and gender violence on campus

Justice for Blessing Olusegun

Film Review: Moxie
---
Paris Commune 150 Years

150th anniversary of the Paris Commune
---
2011 Pensions Strike

Lessons of the 2011 pensions strike: when workers showed their power
---
Workplace News

PCS elections: increased support for Broad Left Network

Engineering workers strike against 'fire and rehire' in Leicester

'Sleep-ins' ruling must lead to a huge campaign for social care workers' rights

Shrewsbury Pickets win: Convictions overturned

Sparks continue protests against deskilling

Beal High school strike as management refuse to negotiate over fair sick pay scheme

Preparing to organise workers in Enfield

Support victimised bus driver reps and Socialist Party members Declan and Moe

Goodlord workers continue all-out strike
---
Campaigns

Save John Carroll - fight is far from over!

Stop evictions and drop the debts

Online meeting - Ending violence against women, the socialist approach

Socialist Party regional conferences meet online
---
Readers' Opinion

The Socialist Inbox
---
Home | The Socialist 24 March 2021 | Join the Socialist Party