The Socialist 24 March 2021
NHS crisis, mass sackings, violence against women... Protesting is not a crime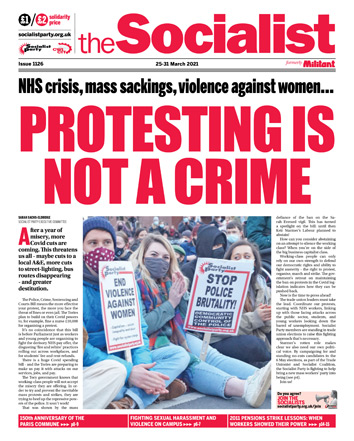 ---
Defying the anti-protest restrictions
Police attempt to silence mothers
---
Haringey: Hands off our GP practices
---
Battle for a fighting, anti-austerity Liverpool mayor
Help fund the Socialist Party's stand as part of TUSC
---
Fighting sexual harassment and gender violence on campus
---
150th anniversary of the Paris Commune
---
Lessons of the 2011 pensions strike: when workers showed their power
---
PCS elections: increased support for Broad Left Network
Engineering workers strike against 'fire and rehire' in Leicester
'Sleep-ins' ruling must lead to a huge campaign for social care workers' rights
Shrewsbury Pickets win: Convictions overturned
Sparks continue protests against deskilling
Beal High school strike as management refuse to negotiate over fair sick pay scheme
Preparing to organise workers in Enfield
Support victimised bus driver reps and Socialist Party members Declan and Moe
Goodlord workers continue all-out strike
---
Save John Carroll - fight is far from over!
Stop evictions and drop the debts
Online meeting - Ending violence against women, the socialist approach
Socialist Party regional conferences meet online
---
PO Box 1398, Enfield EN1 9GT
020 8988 8777

Link to this page: https://www.socialistparty.org.uk/issue/1126/32239
Home | The Socialist 24 March 2021 | Join the Socialist Party
Subscribe | Donate | Audio | PDF | ebook
Preparing to organise workers in Enfield
Josh Asker, North London Socialist Party
The National Shop Stewards Network in Enfield hosted an online meeting on 22 March. It brought together 24 trade unionists to discuss how to organise workers in the London borough.
Figures show that 40% of workers in Enfield earn less than the London living wage of £10.85 an hour. Arif Bektas, speaking for the Turkish and Kurdish organisation Day-mer, estimated there are 10,000 workers from that background in the borough, many earning poverty wages.
Day-mer is in the process of working with Unite the Union in North London to organise these workers. Onay Kasab from Unite listed recent victories of workers in London, including Hackney parking wardens and school cleaners winning the London living wage through collective action.
The meeting heard from transport workers in London: RMT underground worker Lewis Peacock outlined Labour mayor Sadiq Khan's planned attacks on workers, and victimised bus driver and Unite rep Moe Manir explained the bus workers' struggle for safety during the pandemic.
Workers in the public sector also spoke. Kathy Smith, who helped to organise Unite workers win their eight month strike in Bromley libraries, explained the need for local authority workers to coordinate action with health workers on the issue of pay, as well as to defend services.
Many of the trade unionists in the meeting are preparing to stand as candidates for the Trade Unionist and Socialist Coalition in this May's elections on the London list for the Greater London Assembly (GLA), and in Enfield's by-elections. The point was made that workers' industrial struggle would be strengthened by a force in the councils and the GLA standing up for the working class.
Speakers reaffirmed their commitment to build the trade unions in Enfield, by organising the currently unorganised, and to forge links between existing trade union branches with the aspiration of establishing an Enfield trade union council.
---
In this issue
---
Protest

Protesting is not a crime

Defying the anti-protest restrictions

Police attempt to silence mothers

Police invade student homes
---
NHS

NHS pay: 15% now

Fighting NHS privatisation

Haringey: Hands off our GP practices
---
Elections

Battle for a fighting, anti-austerity Liverpool mayor

Why I am standing for TUSC

Help fund the Socialist Party's stand as part of TUSC
---
Fighting Sexual Harassment

Fighting sexual harassment and gender violence on campus

Justice for Blessing Olusegun

Film Review: Moxie
---
Paris Commune 150 Years

150th anniversary of the Paris Commune
---
2011 Pensions Strike

Lessons of the 2011 pensions strike: when workers showed their power
---
Workplace News

PCS elections: increased support for Broad Left Network

Engineering workers strike against 'fire and rehire' in Leicester

'Sleep-ins' ruling must lead to a huge campaign for social care workers' rights

Shrewsbury Pickets win: Convictions overturned

Sparks continue protests against deskilling

Beal High school strike as management refuse to negotiate over fair sick pay scheme

Preparing to organise workers in Enfield

Support victimised bus driver reps and Socialist Party members Declan and Moe

Goodlord workers continue all-out strike
---
Campaigns

Save John Carroll - fight is far from over!

Stop evictions and drop the debts

Online meeting - Ending violence against women, the socialist approach

Socialist Party regional conferences meet online
---
Readers' Opinion

The Socialist Inbox
---
Home | The Socialist 24 March 2021 | Join the Socialist Party