The Socialist 24 March 2021
NHS crisis, mass sackings, violence against women... Protesting is not a crime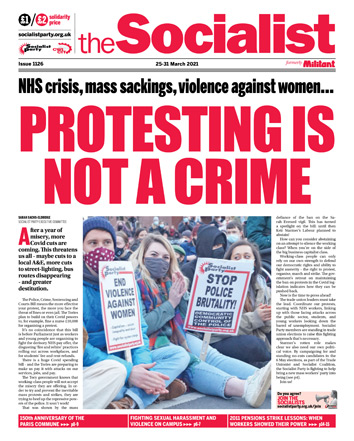 ---
Defying the anti-protest restrictions
Police attempt to silence mothers
---
Haringey: Hands off our GP practices
---
Battle for a fighting, anti-austerity Liverpool mayor
Help fund the Socialist Party's stand as part of TUSC
---
Fighting sexual harassment and gender violence on campus
---
150th anniversary of the Paris Commune
---
Lessons of the 2011 pensions strike: when workers showed their power
---
PCS elections: increased support for Broad Left Network
Engineering workers strike against 'fire and rehire' in Leicester
'Sleep-ins' ruling must lead to a huge campaign for social care workers' rights
Shrewsbury Pickets win: Convictions overturned
Sparks continue protests against deskilling
Beal High school strike as management refuse to negotiate over fair sick pay scheme
Preparing to organise workers in Enfield
Support victimised bus driver reps and Socialist Party members Declan and Moe
Goodlord workers continue all-out strike
---
Save John Carroll - fight is far from over!
Stop evictions and drop the debts
Online meeting - Ending violence against women, the socialist approach
Socialist Party regional conferences meet online
---
PO Box 1398, Enfield EN1 9GT
020 8988 8777

Link to this page: https://www.socialistparty.org.uk/issue/1126/32245
Home | The Socialist 24 March 2021 | Join the Socialist Party
Subscribe | Donate | Audio | PDF | ebook
Socialist Party regional conferences meet online
Yorkshire
Phil Culshaw, Hull Socialist Party
75 people attended the inspirational Yorkshire Socialist Party regional conference on 21 March. Mick Whale welcomed members and congratulated them on the work undertaken that had seen the party recruit and strengthen in this difficult pandemic year.
Hannah Sell, Socialist Party general secretary, introduced the morning discussion on the demands and programme the party should raise in this new period. Discussion focused on how members could be activists in their communities and workplaces and, through dialogue, create a bridge from people's daily struggles to the ideas of socialism.
A transport worker explained how in response to their company's refusal of a pay rise, they had unionised their fellow drivers. After balloting for industrial action, the company conceded a 2.2% rise nationally and a 4% rise for the fully unionised site, demonstrating militancy works.
An NHS nurse spoke of the anger and changing mood of colleagues who have been hailed as heroes for their efforts, but then suffered what is in fact a pay cut; realising a hard day's work does not mean a fair day's pay.
A YouTube video had been created to celebrate the work of the Yorkshire branches. It showed members supporting workers in struggle on picket lines and protests such as Black Lives Matter and Reclaim the Streets (See 'Yorkshire Socialist Party 2020 21' at youtube.com).
In the afternoon the conference broke into workshops focusing on publications and social media, recruitment and integration, industrial disputes, and raising finance. The conference then reconvened for the final discussion on building the party in Yorkshire and the election of a regional leadership. The financial appeal raised £1,305.
West Midlands
Richard Gingell, Birmingham North Socialist Party
On 20 March, over 70 people from the West Midlands region of the Socialist Party got together online for the first regional conference of the year.
Hannah Sell started the discussion on the situation in Britain and how we expect events to develop, inspiring some passionate and thought provoking conversation that set the tone for the rest of the day.
In the afternoon we split into three groups with distinct but related tasks. The first to discuss recruiting to the Socialist Party, the second to consider strategies and share ideas on developing our social media, and the third to look out how we sell and use the Socialist newspaper. I'm excited to see how members will take the conversations that were had, and build on them going forward.
To finish off the afternoon we had a lively discussion about the upcoming end of lockdown and the steps we can take to build the party further, leveraging the upcoming elections and ultimately spread our message.
A key takeaway for me from this part of the session was the reminder of the importance of looking within as well as without. As well as adding to our numbers, we also have a duty to raise each other up and help one another learn and hone the skills that will be needed in the events ahead.
Finally, while socialist change will be made by people, those people still need resources which need funding. To that end, I'm very proud to report we raised a phenomenal £2,565 for the fighting fund. To me this really showcases the eagerness of Socialist Party members to get us in the best possible shape for when we are able to get back to our street campaigning more widely again. A very well done to all!
---
In this issue
---
Protest

Protesting is not a crime

Defying the anti-protest restrictions

Police attempt to silence mothers

Police invade student homes
---
NHS

NHS pay: 15% now

Fighting NHS privatisation

Haringey: Hands off our GP practices
---
Elections

Battle for a fighting, anti-austerity Liverpool mayor

Why I am standing for TUSC

Help fund the Socialist Party's stand as part of TUSC
---
Fighting Sexual Harassment

Fighting sexual harassment and gender violence on campus

Justice for Blessing Olusegun

Film Review: Moxie
---
Paris Commune 150 Years

150th anniversary of the Paris Commune
---
2011 Pensions Strike

Lessons of the 2011 pensions strike: when workers showed their power
---
Workplace News

PCS elections: increased support for Broad Left Network

Engineering workers strike against 'fire and rehire' in Leicester

'Sleep-ins' ruling must lead to a huge campaign for social care workers' rights

Shrewsbury Pickets win: Convictions overturned

Sparks continue protests against deskilling

Beal High school strike as management refuse to negotiate over fair sick pay scheme

Preparing to organise workers in Enfield

Support victimised bus driver reps and Socialist Party members Declan and Moe

Goodlord workers continue all-out strike
---
Campaigns

Save John Carroll - fight is far from over!

Stop evictions and drop the debts

Online meeting - Ending violence against women, the socialist approach

Socialist Party regional conferences meet online
---
Readers' Opinion

The Socialist Inbox
---
Home | The Socialist 24 March 2021 | Join the Socialist Party