The Socialist 24 March 2021
NHS crisis, mass sackings, violence against women... Protesting is not a crime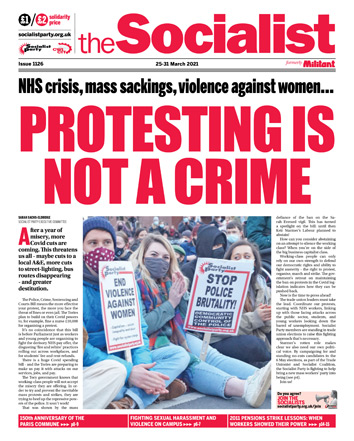 ---
Defying the anti-protest restrictions
Police attempt to silence mothers
---
Haringey: Hands off our GP practices
---
Battle for a fighting, anti-austerity Liverpool mayor
Help fund the Socialist Party's stand as part of TUSC
---
Fighting sexual harassment and gender violence on campus
---
150th anniversary of the Paris Commune
---
Lessons of the 2011 pensions strike: when workers showed their power
---
PCS elections: increased support for Broad Left Network
Engineering workers strike against 'fire and rehire' in Leicester
'Sleep-ins' ruling must lead to a huge campaign for social care workers' rights
Shrewsbury Pickets win: Convictions overturned
Sparks continue protests against deskilling
Beal High school strike as management refuse to negotiate over fair sick pay scheme
Preparing to organise workers in Enfield
Support victimised bus driver reps and Socialist Party members Declan and Moe
Goodlord workers continue all-out strike
---
Save John Carroll - fight is far from over!
Stop evictions and drop the debts
Online meeting - Ending violence against women, the socialist approach
Socialist Party regional conferences meet online
---
PO Box 1398, Enfield EN1 9GT
020 8988 8777

Link to this page: https://www.socialistparty.org.uk/issue/1126/32246
Home | The Socialist 24 March 2021 | Join the Socialist Party
Subscribe | Donate | Audio | PDF | ebook
Online meeting -
Ending violence against women, the socialist approach
Hannah Davis, Black Country Socialist Party
Women's rights, and our oppression under the capitalist system, have been thrust into the spotlight by the events of the last few weeks.
From International Women's Day, to the murder of Sarah Everard and then the horrific, yet all too familiar, acts of police violence at vigils held for her. Across the media, and at demonstrations, women have not just shared their stories, but begun to point the finger at the system that has done nothing to change the inequality we experience.
The Socialist Party held a virtual meeting on Friday 19 March entitled 'Ending violence against women, the socialist approach'. There was a fantastic turnout with over 120 participants.
Police violence
We discussed the police violence at recent vigils, but attendees also contributed on a range of other issues - from cuts to vital local services such as childcare and housing, to the way the capitalist media perpetuates and reinforces the oppression of women. In addition, Boris Johnson's recent proposal to put plain-clothed police officers in nightclubs was strongly criticised.
There were contributions about 'spycops' scandals, where women activists have been spied on by police officers falsely developing personal relationships with them. Students also spoke about safety on campuses, commenting on the silencing of victims, and the lack of support for those who seek it.
Crucially, the meeting did not just highlight the struggles women face, but put forward how a socialist programme, including building the trade unions, and fighting for a socialist planned economy, would offer solutions.
Members from several unions including the National Education Union and PCS civil servants' union, spoke about how, through collective action, workers can fight for women's rights and against discrimination in the workplace.
The meeting was an important opportunity to repoliticise the women's struggle. To ensure that women are not just presented with the issues we are already aware of, but to show how through workers' struggle and socialism, there is a real alternative to oppression.
---
In this issue
---
Protest

Protesting is not a crime

Defying the anti-protest restrictions

Police attempt to silence mothers

Police invade student homes
---
NHS

NHS pay: 15% now

Fighting NHS privatisation

Haringey: Hands off our GP practices
---
Elections

Battle for a fighting, anti-austerity Liverpool mayor

Why I am standing for TUSC

Help fund the Socialist Party's stand as part of TUSC
---
Fighting Sexual Harassment

Fighting sexual harassment and gender violence on campus

Justice for Blessing Olusegun

Film Review: Moxie
---
Paris Commune 150 Years

150th anniversary of the Paris Commune
---
2011 Pensions Strike

Lessons of the 2011 pensions strike: when workers showed their power
---
Workplace News

PCS elections: increased support for Broad Left Network

Engineering workers strike against 'fire and rehire' in Leicester

'Sleep-ins' ruling must lead to a huge campaign for social care workers' rights

Shrewsbury Pickets win: Convictions overturned

Sparks continue protests against deskilling

Beal High school strike as management refuse to negotiate over fair sick pay scheme

Preparing to organise workers in Enfield

Support victimised bus driver reps and Socialist Party members Declan and Moe

Goodlord workers continue all-out strike
---
Campaigns

Save John Carroll - fight is far from over!

Stop evictions and drop the debts

Online meeting - Ending violence against women, the socialist approach

Socialist Party regional conferences meet online
---
Readers' Opinion

The Socialist Inbox
---
Home | The Socialist 24 March 2021 | Join the Socialist Party