The Socialist 21 April 2021
Build a socialist alternative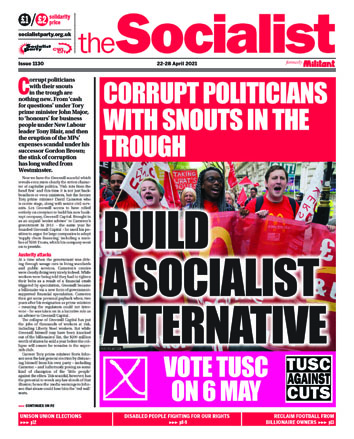 ---
Capitalism discriminates against us - Disabled people fighting for our rights
---
Football: no trust in billionaire owners - kick them out and reclaim the game
---
Left candidate, Pedro Castillo - surprise of Peruvian elections
USA: cop killings and the anti-racist movement
Superpowers' tensions continue to ratchet up
---
Don't trust the Labour right's empty promises
Keep Liverpool council's One Stop Shops open
Liverpool hustings - only TUSC has a strategy to take on the Tories
Essex: Why I'm standing for TUSC
Socialist Party northern region meeting
With public campaigning back in full swing - now is the time to raise fighting fund
---
Socialist Party members - part of a left challenge for Unison's leadership
Fight back against British Gas bosses' 'fire and rehire' offensive
Retail workers desperately need a fighting and democratic union
CWU BT ballot - time for action now!
Thurrock bin workers solid in strike against pay cuts
Bus workers protest Go-Ahead's 'fire and rehire'
Ballots to defend reps on Woolwich Ferry
PCS leadership ballot underway
---
Long Covid: Fight for jobs, benefits and services
Climate change - Johnson spouts 'greenwash 2.0'
Covid and precarious workers - union organisation vital
---
Housing activists storm rental firm's offices
Protests continue against proposed anti-protest laws
PO Box 1398, Enfield EN1 9GT
020 8988 8777

Link to this page: https://www.socialistparty.org.uk/issue/1130/32392
Home | The Socialist 21 April 2021 | Join the Socialist Party
Subscribe | Donate | Audio | PDF | ebook
USA: cop killings and the anti-racist movement
As the Socialist goes to the printers, the verdict by jurors in the trial of white cop Derek Chauvin, accused of murdering unarmed black man George Floyd, is expected. In this abridged article, Ashley Rogers of the Independent Socialist Group in the USA (co-thinkers of the Socialist Party) explains what kind of movement is needed to take the anti-racist struggle forward.
On 11 April, Daunte Wright was murdered by police during a traffic stop in Brooklyn Centre, a city bordering Minneapolis, Minnesota. Following last year's huge wave of protests over George Floyd's murder at the hands of Minneapolis police officer Derek Chauvin - who is on trial only ten miles from where Wright was killed - this new murder of another unarmed black man at the hands of police ignited protests almost immediately.
Protests began in Brooklyn Centre the night of 11 April and spread around the country in the following few days. The response to Daunte Wright's murder could be the start of a return to large-scale demonstrations like last year's millions-strong Black Lives Matter (BLM) protests.
When the George Floyd protests began, his was not the only name remembered at protest rallies - the movement quickly adopted other ignored victims of racist police brutality, including Ahmaud Arbery, Breonna Taylor, and Jacob Blake.
The same is true now with the release of body camera footage of 13-year-old Adam Toledo being shot on 29 March by Chicago police. The video shows Adam Toledo was unarmed, shot with his hands up. The body camera footage was deliberately withheld from the public for weeks by Chicago's police review board, but the new wave of protests may have pressured the police to release the video.
Unfortunately, the George Floyd protests of last year faded with little to show in terms of meaningful change. Pressure from the Democratic Party and leading figures under the Black Lives Matter banner helped take the movement off the streets and diverted any remaining energy away from protests and into backing the Democratic Party in the 2020 elections.
Joe Biden and the Democratic Party opposed many progressive demands against racism and police brutality that emerged out of the BLM movement last summer.
Since Jacob Blake's shooting on 25 August 2020, police shootings have continued non-stop. But reading through the press releases of mainstream anti-racist activist organisations, like the Black Lives Matter Global Network, the focus became less and less on the victims of police brutality and more and more on Biden's 2020 campaign.
Working class
The anti-racist movement needs organisations that can bring together workers and activists to call protests, debate and decide a programme of concrete demands for the movement, share resources, coordinate with other movements and organisations, and build a sustained nationwide movement.
Above all, we need a truly mass movement, one that can bridge the divisions drawn between us by capitalism. A multi-racial working class movement, with the crucial involvement of organised labour, is the most powerful tool we have available.
A movement that unites workers and youth against all forms of oppression under capitalism can also begin to take on the common enemy that keeps us all down - the capitalist system.
Full article on independentsocialistgroup.org