The Socialist 21 April 2021
Build a socialist alternative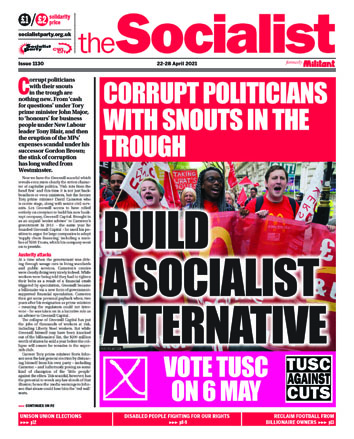 ---
Capitalism discriminates against us - Disabled people fighting for our rights
---
Football: no trust in billionaire owners - kick them out and reclaim the game
---
Left candidate, Pedro Castillo - surprise of Peruvian elections
USA: cop killings and the anti-racist movement
Superpowers' tensions continue to ratchet up
---
Don't trust the Labour right's empty promises
Keep Liverpool council's One Stop Shops open
Liverpool hustings - only TUSC has a strategy to take on the Tories
Essex: Why I'm standing for TUSC
Socialist Party northern region meeting
With public campaigning back in full swing - now is the time to raise fighting fund
---
Socialist Party members - part of a left challenge for Unison's leadership
Fight back against British Gas bosses' 'fire and rehire' offensive
Retail workers desperately need a fighting and democratic union
CWU BT ballot - time for action now!
Thurrock bin workers solid in strike against pay cuts
Bus workers protest Go-Ahead's 'fire and rehire'
Ballots to defend reps on Woolwich Ferry
PCS leadership ballot underway
---
Long Covid: Fight for jobs, benefits and services
Climate change - Johnson spouts 'greenwash 2.0'
Covid and precarious workers - union organisation vital
---
Housing activists storm rental firm's offices
Protests continue against proposed anti-protest laws
PO Box 1398, Enfield EN1 9GT
020 8988 8777

Link to this page: https://www.socialistparty.org.uk/issue/1130/32394
Home | The Socialist 21 April 2021 | Join the Socialist Party
Subscribe | Donate | Audio | PDF | ebook
Covid and precarious workers - union organisation vital
The Trades Union Congress confederation has produced hard facts showing what the Socialist has long argued: namely, that workers on zero-hour contracts and in other precarious jobs are twice as likely to have died from Covid-19 compared to other, more secure, occupations.
Covid-19 death rates among male workers in insecure jobs was 51 per 100,000 people aged 20-64, compared with 24 out of 100,000 in more secure work. For female workers the rate was 25 per 100,000, compared with 13 per 100,000 in higher-paying secure jobs.
Needless to say, the absence of and poor level of sick pay (some two million workers don't qualify for Statutory Sick Pay) was forcing many low-paid precarious workers infected with Covid into work.
Clearly, trade union recruitment of the unorganised and trade union oversight of safe working conditions, along with enhanced sickness benefits, is vital.