The Socialist 21 April 2021
Build a socialist alternative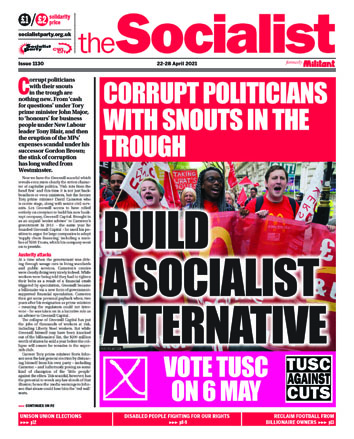 ---
Capitalism discriminates against us - Disabled people fighting for our rights
---
Football: no trust in billionaire owners - kick them out and reclaim the game
---
Left candidate, Pedro Castillo - surprise of Peruvian elections
USA: cop killings and the anti-racist movement
Superpowers' tensions continue to ratchet up
---
Don't trust the Labour right's empty promises
Keep Liverpool council's One Stop Shops open
Liverpool hustings - only TUSC has a strategy to take on the Tories
Essex: Why I'm standing for TUSC
Socialist Party northern region meeting
With public campaigning back in full swing - now is the time to raise fighting fund
---
Socialist Party members - part of a left challenge for Unison's leadership
Fight back against British Gas bosses' 'fire and rehire' offensive
Retail workers desperately need a fighting and democratic union
CWU BT ballot - time for action now!
Thurrock bin workers solid in strike against pay cuts
Bus workers protest Go-Ahead's 'fire and rehire'
Ballots to defend reps on Woolwich Ferry
PCS leadership ballot underway
---
Long Covid: Fight for jobs, benefits and services
Climate change - Johnson spouts 'greenwash 2.0'
Covid and precarious workers - union organisation vital
---
Housing activists storm rental firm's offices
Protests continue against proposed anti-protest laws
PO Box 1398, Enfield EN1 9GT
020 8988 8777

Link to this page: https://www.socialistparty.org.uk/issue/1130/32402
Home | The Socialist 21 April 2021 | Join the Socialist Party
Subscribe | Donate | Audio | PDF | ebook
Bus workers protest Go-Ahead's 'fire and rehire' attacks
Andy Beadle, Retired Go-Ahead London bus driver and Unite shop steward. TUSC candidate for Lewisham council, New Cross ward, South East London
The Go-Ahead group runs bus services in Manchester and is currently using 'fire and rehire' to cut drivers' pay and conditions. Go-Ahead is also a big operator in Transport for London (TfL).
We joined other Unite members outside London City Hall on 15 April to oppose these plans and in solidarity with the Go North West strike. Unite is calling on mayors Sadiq Khan and Andy Burnham to publicly back a declaration to outlaw the practice.
Unite's demands on the mayors are fine but we need much more to protect all bus drivers' livelihoods.
We can't rely on Khan and Burnham. Both were right-wing Blairite ministers who took the chance to become mayors and cynically keep their career options open when the Corbyn surge appeared a threat to them.
Five years ago Khan addressed striking bus workers' shop stewards. Repeatedly telling us his dad was a bus driver, he promised he'd give us equal pay scales at all bus companies across London.
After Unite voted to back him, he boasted he'd stopped strikes and was backing big businesses and City billionaires! He has delivered little for bus workers or for any London workers but, unfortunately, most unions are backing him for re-election as mayor.
Unite has a good approach to industrial trade unionism compared with many unions. But Unite's political strategy is weak because it follows on the coat-tails of Labour politicians. What if all bus firms competing for TfL contracts try to use 'fire and rehire'? Who's going to replace them? The tendering system in London encourages competition among firms to reduce pay and conditions. Not that they needed encouragement.
These contracts last at least five years. Smashing pay and conditions (and removing unwanted individuals like good shop stewards) can be seen as a much quicker process which would severely undermine our strength.
Unite should be loudly demanding renationalisation of public transport. It's in Unite's rule book and mustn't be forgotten.
Trade union activists were right to set up the Trade Unionist and Socialist Coalition (TUSC) a decade ago, to stand anti-austerity candidates. It's clear now that however strong we are industrially, we also need to build a political voice to defend workers and unions.
TUSC's message is getting growing support.