The Socialist 21 April 2021
Build a socialist alternative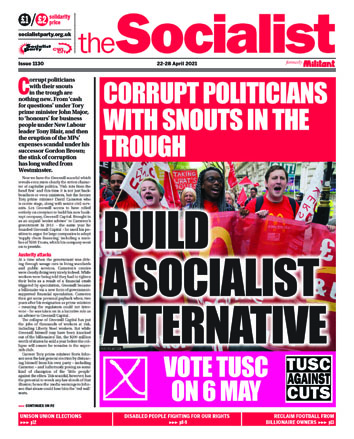 ---
Capitalism discriminates against us - Disabled people fighting for our rights
---
Football: no trust in billionaire owners - kick them out and reclaim the game
---
Left candidate, Pedro Castillo - surprise of Peruvian elections
USA: cop killings and the anti-racist movement
Superpowers' tensions continue to ratchet up
---
Don't trust the Labour right's empty promises
Keep Liverpool council's One Stop Shops open
Liverpool hustings - only TUSC has a strategy to take on the Tories
Essex: Why I'm standing for TUSC
Socialist Party northern region meeting
With public campaigning back in full swing - now is the time to raise fighting fund
---
Socialist Party members - part of a left challenge for Unison's leadership
Fight back against British Gas bosses' 'fire and rehire' offensive
Retail workers desperately need a fighting and democratic union
CWU BT ballot - time for action now!
Thurrock bin workers solid in strike against pay cuts
Bus workers protest Go-Ahead's 'fire and rehire'
Ballots to defend reps on Woolwich Ferry
PCS leadership ballot underway
---
Long Covid: Fight for jobs, benefits and services
Climate change - Johnson spouts 'greenwash 2.0'
Covid and precarious workers - union organisation vital
---
Housing activists storm rental firm's offices
Protests continue against proposed anti-protest laws
PO Box 1398, Enfield EN1 9GT
020 8988 8777

Link to this page: https://www.socialistparty.org.uk/issue/1130/32405
Home | The Socialist 21 April 2021 | Join the Socialist Party
Subscribe | Donate | Audio | PDF | ebook
Keep Liverpool council's One Stop Shops open
Roger Bannister, Liverpool Mayoral candidate for TUSC and Liverpool Socialist Party
In the 1980s, when the Labour council in Liverpool was led by supporters of the Militant newspaper, forerunner of the Socialist, one of the reforms that was implemented was the opening of eight 'One Stop Shops' across the city. These were council offices, located in different neighbourhoods designed to make it easier for people to access council services, deal with queries or problems, and to make the council less remote and less bureaucratic.
Instead of a bus trip into the city centre, and a trail from one municipal office to another, residents could simply go to their nearest One Stop Shop. Staff were friendly and trained to deal with a wide range of enquiries, or to refer those that could not be dealt with immediately on to the correct council section for appropriate action.
Labour cuts
Despite the fact that this service was understandably popular with residents, budget cuts have reduced the One Stop Shops from the original eight to four, and it was proposed in the Budget for 2021/22 that the remaining four should close. This raised an immediate outcry of opposition, and the main affected trade union, Unison, inaugurated a series of protests outside the One Stop Shops every Friday lunchtime.
Unison members were joined on the protests by organisations like Liverpool Trades Council, Liverpool Against the Cuts and the Merseyside Pensioners Association, which were greeted warmly by local residents too. Faced with this opposition, Joe Anderson, mayor at the time, was forced back - assuring Unison that no compulsory redundancies would occur. But he also proposed that two of the One Stop Shops would be reopened on a peripatetic basis, moving from site to site on different days and at different times, denying residents access to a full-time service.
Unison ended its dispute, understandable perhaps in the context of the assurances on redundancies, but less so when one Unison member told me that her Unison representative had told members to have nothing to do with the ongoing protests!
But the protests have continued, and are supported by Socialist Party members, and TUSC candidates. I am helping to maintain the Friday vigil at my local One Stop Shop in Kirkdale. I call for all eight One Stop Shops to be reopened.