The Socialist 21 April 2021
Build a socialist alternative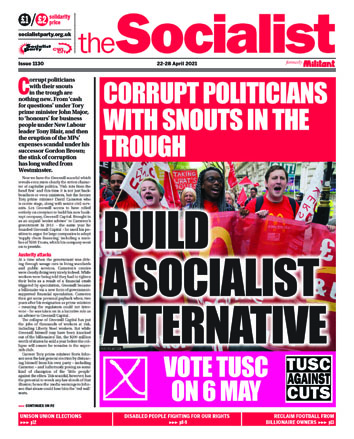 ---
Capitalism discriminates against us - Disabled people fighting for our rights
---
Football: no trust in billionaire owners - kick them out and reclaim the game
---
Left candidate, Pedro Castillo - surprise of Peruvian elections
USA: cop killings and the anti-racist movement
Superpowers' tensions continue to ratchet up
---
Don't trust the Labour right's empty promises
Keep Liverpool council's One Stop Shops open
Liverpool hustings - only TUSC has a strategy to take on the Tories
Essex: Why I'm standing for TUSC
Socialist Party northern region meeting
With public campaigning back in full swing - now is the time to raise fighting fund
---
Socialist Party members - part of a left challenge for Unison's leadership
Fight back against British Gas bosses' 'fire and rehire' offensive
Retail workers desperately need a fighting and democratic union
CWU BT ballot - time for action now!
Thurrock bin workers solid in strike against pay cuts
Bus workers protest Go-Ahead's 'fire and rehire'
Ballots to defend reps on Woolwich Ferry
PCS leadership ballot underway
---
Long Covid: Fight for jobs, benefits and services
Climate change - Johnson spouts 'greenwash 2.0'
Covid and precarious workers - union organisation vital
---
Housing activists storm rental firm's offices
Protests continue against proposed anti-protest laws
PO Box 1398, Enfield EN1 9GT
020 8988 8777

Link to this page: https://www.socialistparty.org.uk/issue/1130/32415
Home | The Socialist 21 April 2021 | Join the Socialist Party
Subscribe | Donate | Audio | PDF | ebook
With public campaigning back in full swing - now is the time to raise fighting fund
With the gradual easing of the Covid restrictions, more and more Socialist Party branches are able to hold campaign stalls and are getting a good response. Socialist Party members in Manchester report that they have started their campaign stalls again after Manchester's "permanent" lockdown. While they report it is still much quieter than usual, they have nethertheless managed to raise £26.85 in the first week and £20.07 in the second week. In Staines, £25 fighting fund was raised at their Saturday campaign stall. Socialist Party members in east London raised £30 on the 'Stop the evictions, drop the debts' housing demo. These are just a few of the examples we've had in the last week.
Looking at different ways to raise fighting fund, Southampton Socialist Party has raised £30 from 'Save our NHS' badges.
Are you paying - and asking for - the solidarity price for the Socialist? Our members report that we have received a lot of donations from people this way. Every Socialist Party branch should make sure they have a card reader on all their campaigning activity. Many of the donations we received on the Kill the Bill demos last Saturday were through card readers. Make sure your branch doesn't miss out!