The Socialist 21 April 2021
Build a socialist alternative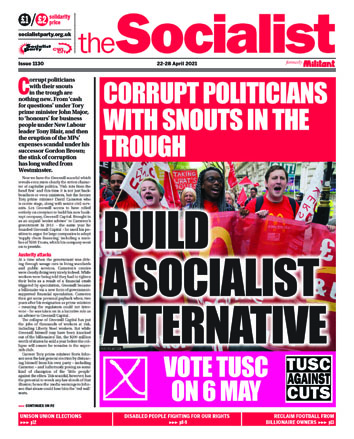 ---
Capitalism discriminates against us - Disabled people fighting for our rights
---
Football: no trust in billionaire owners - kick them out and reclaim the game
---
Left candidate, Pedro Castillo - surprise of Peruvian elections
USA: cop killings and the anti-racist movement
Superpowers' tensions continue to ratchet up
---
Don't trust the Labour right's empty promises
Keep Liverpool council's One Stop Shops open
Liverpool hustings - only TUSC has a strategy to take on the Tories
Essex: Why I'm standing for TUSC
Socialist Party northern region meeting
With public campaigning back in full swing - now is the time to raise fighting fund
---
Socialist Party members - part of a left challenge for Unison's leadership
Fight back against British Gas bosses' 'fire and rehire' offensive
Retail workers desperately need a fighting and democratic union
CWU BT ballot - time for action now!
Thurrock bin workers solid in strike against pay cuts
Bus workers protest Go-Ahead's 'fire and rehire'
Ballots to defend reps on Woolwich Ferry
PCS leadership ballot underway
---
Long Covid: Fight for jobs, benefits and services
Climate change - Johnson spouts 'greenwash 2.0'
Covid and precarious workers - union organisation vital
---
Housing activists storm rental firm's offices
Protests continue against proposed anti-protest laws
PO Box 1398, Enfield EN1 9GT
020 8988 8777

Link to this page: https://www.socialistparty.org.uk/issue/1130/32417
Home | The Socialist 21 April 2021 | Join the Socialist Party
Subscribe | Donate | Audio | PDF | ebook
Superpowers' tensions continue to ratchet up
A further deterioration in relations between the US administration, and its allies, with Putin's regime in Russia has ratcheted-up tensions between the two blocs.
This follows a massive build-up of Russian forces on the borders of Ukraine, followed within days by Washington's imposition of widespread sanctions against Moscow for alleged serious cyber and hacking attacks on US institutions, and the US electoral process. Then, on 16 April, Russia expelled ten US and three Polish officials in retaliation for US and Polish sanctions.
And although a proposed Biden-Putin summit has sought to de-escalate the crisis, the expulsion of Russian officials from the Czech Republic over Russia's alleged sabotage of an arms storage depot in that country back in 2014, has added fuel to the fire.
Meanwhile, protests are set to reignite this week within Russia against Putin, as the health of the jailed opposition figure, Alexei Navalny, deteriorates.
None of the beatings of the war drums and other machinations of the competing ruling classes of Washington or Moscow serve the interests of the working classes on either side of the Atlantic, who continue to suffer from the oppression and exploitation of capitalism.
Read Clare Doyle's analysis of the situation on socialistworld.net