The Socialist 28 April 2021
No service cuts and council tax rises - vote TUSC on 6 May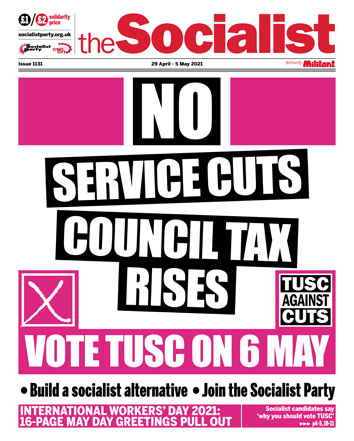 ---
Vote TUSC to oppose sleazy capitalism
Campaigning for a no-cuts, socialist Liverpool mayor
---
India's health system in meltdown under Modi's misrule
---
Socialist Student action marks the way for a national student movement for free education
South West regional conference shows that socialist ideas can grow
To get Socialist ideas out there, we need to have the funds
---
Protesting works - unite to defend the right to protest
No trust in billionaire football owners - kick them out and reclaim the game
Private sector is stealing the NHS
39 'postmasters' cleared - now clear the rest
---
Usdaw's virtual annual conference - a mockery of union democracy
PCS ballots members in Jobcentres over safety
Goodlord strikers fight fire and rehire as part of day of action
Devonport tugboat crews strike against rota changes
Thurrock bin strike in third week
---
How partition of Ireland derailed a revolutionary struggle for national and social liberation
Irish police aid strike-breaking at Debenhams store in Dublin
---
Poverty increasing. Welfare state in crisis. Do we need a new Beveridge Report?
---
What councils can do to protect the environment
---
---
International Workers' Day - struggle, solidarity, socialism
PO Box 1398, Enfield EN1 9GT
020 8988 8777

Link to this page: https://www.socialistparty.org.uk/issue/1131/32425
Home | The Socialist 28 April 2021 | Join the Socialist Party
Subscribe | Donate | Audio | PDF | ebook
Generation eviction
Only 2% of landlords who illegally evict tenants are prosecuted, according to Generation Rent, the private renters' campaign organisation.
In England and Wales, a landlord doesn't need a reason to evict tenants but they must first obtain a court eviction notice if a tenant stays beyond the end of their notice period. If they don't, then it is an illegal act.
In 2019-20, 1,040 households were made homeless as a result of an illegal eviction (these figures underestimate the total as councils only record cases of people who seek their help and qualify for support). Yet between 2016 and 2019 there were an average of only 24 prosecutions a year for unlawful eviction. It means that just 2% of illegal evictions were pursued by the authorities - in effect giving the green light to rogue landlords.
---
In this issue
---
Elections

Vote TUSC to oppose sleazy capitalism

Why you should vote for TUSC

Campaigning for a no-cuts, socialist Liverpool mayor
---
International news

India's health system in meltdown under Modi's misrule
---
Campaigns news

Socialist Student action marks the way for a national student movement for free education

South West regional conference shows that socialist ideas can grow

To get Socialist ideas out there, we need to have the funds
---
News

Protesting works - unite to defend the right to protest

No trust in billionaire football owners - kick them out and reclaim the game

Private sector is stealing the NHS

39 'postmasters' cleared - now clear the rest

Generation eviction
---
Workplace news

Usdaw's virtual annual conference - a mockery of union democracy

PCS ballots members in Jobcentres over safety

Goodlord strikers fight fire and rehire as part of day of action

Devonport tugboat crews strike against rota changes

St Mungo's workers walkout

Thurrock bin strike in third week
---
Ireland

How partition of Ireland derailed a revolutionary struggle for national and social liberation

Irish police aid strike-breaking at Debenhams store in Dublin
---
Welfare state

Poverty increasing. Welfare state in crisis. Do we need a new Beveridge Report?
---
Environment

What councils can do to protect the environment
---
Readers' opinion

The Socialist Inbox
---
May Day Greetings 2021

International Workers' Day - struggle, solidarity, socialism
---
Home | The Socialist 28 April 2021 | Join the Socialist Party