The Socialist 28 April 2021
No service cuts and council tax rises - vote TUSC on 6 May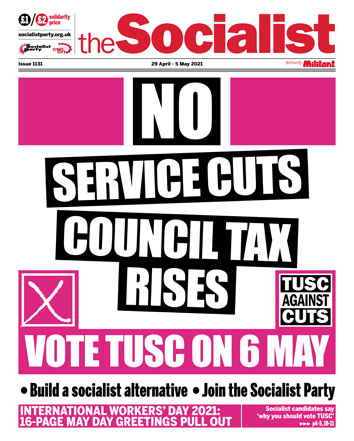 ---
Vote TUSC to oppose sleazy capitalism
Campaigning for a no-cuts, socialist Liverpool mayor
---
India's health system in meltdown under Modi's misrule
---
Socialist Student action marks the way for a national student movement for free education
South West regional conference shows that socialist ideas can grow
To get Socialist ideas out there, we need to have the funds
---
Protesting works - unite to defend the right to protest
No trust in billionaire football owners - kick them out and reclaim the game
Private sector is stealing the NHS
39 'postmasters' cleared - now clear the rest
---
Usdaw's virtual annual conference - a mockery of union democracy
PCS ballots members in Jobcentres over safety
Goodlord strikers fight fire and rehire as part of day of action
Devonport tugboat crews strike against rota changes
Thurrock bin strike in third week
---
How partition of Ireland derailed a revolutionary struggle for national and social liberation
Irish police aid strike-breaking at Debenhams store in Dublin
---
Poverty increasing. Welfare state in crisis. Do we need a new Beveridge Report?
---
What councils can do to protect the environment
---
---
International Workers' Day - struggle, solidarity, socialism
PO Box 1398, Enfield EN1 9GT
020 8988 8777

Link to this page: https://www.socialistparty.org.uk/issue/1131/32431
Home | The Socialist 28 April 2021 | Join the Socialist Party
Subscribe | Donate | Audio | PDF | ebook
Thurrock bin strike in third week
The Thurrock bin workers' strike has entered its third week even more solidly than the first. Spirits are high and the workforce is determined to win. The issue is the proposal to do away with anti-social hours payments which will cut pay by up to £4,000 for a loader and more for drivers.
The implications for refuse workers in other boroughs, for care workers and others who depend on these extra and enhanced payments to make a half-decent wage, are extremely serious. GMB care workers in Thurrock are also entering into dispute with this employer on the same issue.
The refuse workers union, Unite, is due to sit down with the employers this week. If the bosses know what is good for them they will cave in and do the right thing by these workers. If they don't, notice has been given that the strike will escalate from 10 May, with action starting at 6am rather than 9am, which will lead to a complete shutdown of refuse collections in the borough.
The current partial action has already led to the piling up of rubbish in the streets, and the union will be doing mass leafleting to keep community support for the strike high.
The union is opening up a hardship fund for drivers who will be dropping about £18 a day when the strike goes all out. The whole labour movement needs to get behind this dispute.
Dave Murray, Essex Socialist Party
---
In this issue
---
Elections

Vote TUSC to oppose sleazy capitalism

Why you should vote for TUSC

Campaigning for a no-cuts, socialist Liverpool mayor
---
International news

India's health system in meltdown under Modi's misrule
---
Campaigns news

Socialist Student action marks the way for a national student movement for free education

South West regional conference shows that socialist ideas can grow

To get Socialist ideas out there, we need to have the funds
---
News

Protesting works - unite to defend the right to protest

No trust in billionaire football owners - kick them out and reclaim the game

Private sector is stealing the NHS

39 'postmasters' cleared - now clear the rest

Generation eviction
---
Workplace news

Usdaw's virtual annual conference - a mockery of union democracy

PCS ballots members in Jobcentres over safety

Goodlord strikers fight fire and rehire as part of day of action

Devonport tugboat crews strike against rota changes

St Mungo's workers walkout

Thurrock bin strike in third week
---
Ireland

How partition of Ireland derailed a revolutionary struggle for national and social liberation

Irish police aid strike-breaking at Debenhams store in Dublin
---
Welfare state

Poverty increasing. Welfare state in crisis. Do we need a new Beveridge Report?
---
Environment

What councils can do to protect the environment
---
Readers' opinion

The Socialist Inbox
---
May Day Greetings 2021

International Workers' Day - struggle, solidarity, socialism
---
Home | The Socialist 28 April 2021 | Join the Socialist Party