The Socialist 5 May 2021
Fight the rotten establishment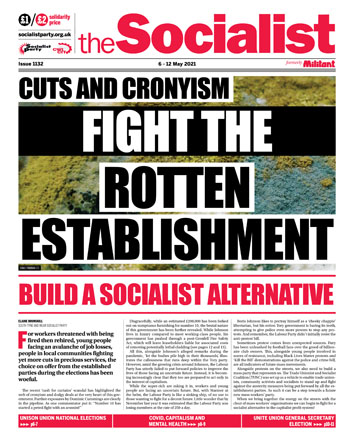 ---
Capitalist sleaze and cronyism
---
Unite general secretary election nomination stage
Unison: We need a fighting, democratic, member-led union to stop the austerity attacks
Four Socialist Party members elected to NEU executive - a thirst for action and a fighting leadership
---
Biden's policies will not solve underlying US crisis
Colombia: Mass trade union-led protests force tax retreat
---
Covid, capitalism and mental health
---
Fight the rotten establishment
New law ignores economic barriers to escaping domestic abuse
Cladding: Tories refuse to protect leaseholders again
---
Goodlord strike forces talks - solidarity needed
Sparks block Cardiff building site against deskilling
Vote 'yes' in the PCS DWP ballot
Beal High School strike against sick policy resumes
Go Ahead offers deal to Manchester bus drivers
Metroline buses to face summer of strikes unless it drops 'remote sign-on'
---
Can the 'Preston model' beat the cuts?
---
Bellway must pay! Make our homes safe!
Police attempt to intimidate Newcastle protesters
Establishing factory sales of the Socialist in Leicester
Plaque dedicated to Tony Mulhearn
Why you should join the Socialist Party
Defend the right to protest - to resist bosses' attacks
---
PO Box 1398, Enfield EN1 9GT
020 8988 8777

Link to this page: https://www.socialistparty.org.uk/issue/1132/32464
Home | The Socialist 5 May 2021 | Join the Socialist Party
Subscribe | Donate | Audio | PDF | ebook
Bellway must pay! Make our homes safe!
Ruth Mason, East London Socialist Party
On 1 May more than 60 residents of the Caspian Quarter gathered outside Bellway's Barking showrooms to protest about the property developer's failure to replace flammable balconies. Local Trade Unionist and Socialist Coalition candidate and Socialist Party member, Pete Mason addressed the crowd who were shouting: "Bellway must pay!" and "Make our homes safe!" Pete has led the campaign against flammable cladding and balconies since the Samuel Garside House fire in Barking, 2019.
Just two years after the Grenfell fire, a fire on one of the balconies of Samuel Garside House turned the whole front of the building into an inferno within seven minutes. Samuel Garside House is a modern block of flats built within the last decade by the developers, Bellway Homes. The Caspian Quarter is a group of several blocks of flats which Bellway built even more recently. Only about a quarter of a mile from Samuel Garside House, the blocks of the Caspian Quarter also have flammable balconies.
In the immediate aftermath of the Samuel Garside fire, Bellway agreed to replace the balconies at no cost to the residents, but they have so far made no effort to do so.
The government's recently passed Fire Safety Act does nothing to assist leaseholders in the Caspian Quarter. The £5 billion pledged by the government to remove dangerous cladding incomprehensibly only applies to buildings over 18 metres tall, and lets the big property developers like Bellway off scot-free to continue to rake in billions in profits.
---
In this issue
---
What we think

Capitalist sleaze and cronyism
---
Union elections

Unite general secretary election nomination stage

Unison: We need a fighting, democratic, member-led union to stop the austerity attacks

Four Socialist Party members elected to NEU executive - a thirst for action and a fighting leadership
---
International news

Biden's policies will not solve underlying US crisis

Colombia: Mass trade union-led protests force tax retreat
---
Mental health

Covid, capitalism and mental health
---
News

Fight the rotten establishment

Hands off our NHS

New law ignores economic barriers to escaping domestic abuse

Cladding: Tories refuse to protect leaseholders again
---
Workplace news

St Mungo's strikers fight on

Goodlord strike forces talks - solidarity needed

Sparks block Cardiff building site against deskilling

Vote 'yes' in the PCS DWP ballot

Beal High School strike against sick policy resumes

Go Ahead offers deal to Manchester bus drivers

Metroline buses to face summer of strikes unless it drops 'remote sign-on'
---
Local government

Can the 'Preston model' beat the cuts?
---
Campaigns news

Bellway must pay! Make our homes safe!

Police attempt to intimidate Newcastle protesters

Nottingham NHS pay protest

Establishing factory sales of the Socialist in Leicester

Plaque dedicated to Tony Mulhearn

Why you should join the Socialist Party

Defend the right to protest - to resist bosses' attacks
---
Readers' opinion

The Socialist Inbox
---
Home | The Socialist 5 May 2021 | Join the Socialist Party