The Socialist 12 May 2021
We need our own party!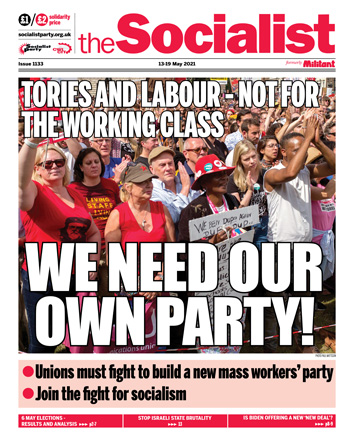 ---
Hartlepool sums up Labour crisis
Scotland: Pro-independence majority in highly polarised election
Welsh Labour holds on to government but new crises loom
---
Bobby Sands - Nothing but an Unfinished Song
British state absolves itself from killings during 'the Troubles'
---
Is Biden offering a new 'New Deal'?
Right-wing Partido Popular wins Madrid elections - a warning to the working class
---
United action needed to defeat fire and rehire
RMT: Militant industrial and political strategy must be fought for
National Education Union needs a socialist, fighting deputy general secretary
Thurrock refuse workers strike escalates
Ealing parking wardens strike against Serco over absence policy
Norwich City Council workers vote for strike action over broken promises on pay and conditions
Beal school strikers suspend action after possible victory
---
---
PO Box 1398, Enfield EN1 9GT
020 8988 8777

Link to this page: https://www.socialistparty.org.uk/issue/1133/32480
Home | The Socialist 12 May 2021 | Join the Socialist Party
Subscribe | Donate | Audio | PDF | ebook
Hartlepool sums up Labour crisis
New workers' party urgently needed
Hannah Sell, Socialist Party general secretary
The postponement of the 2020 elections meant that 6 May 2021 was a bumper election day, including more than 4,000 council seats, thirteen directly-elected mayors, the London assembly, plus the Scottish parliament and Welsh Senedd.
Boris Johnson's Tories are claiming the elections as a victory. There are different factors behind the increased Tory vote in some areas. The Tories' handling of the pandemic has been atrocious. In 2020 we suffered the deepest economic contraction in three centuries and one of the highest Covid death rates in the world. Millions of people hate the Tories as a result.
However, the relatively successful roll out of the vaccine, in large part because of the existence of the NHS, appears to have created a limited and temporary lift in support for the 'incumbents' - whether the Tories in England, the SNP in Scotland, or Labour in Wales.
The most important factor in the Tories' ephemeral electoral gains however, has been the collapse of Labour's vote in many areas, resulting in Tory victories on low turnouts. Starting with the Hartlepool byelection the announcement of the results has been three days of disaster for Keir Starmer and the Labour leadership.
TUSC vindicated
These elections completely confirm the decision taken last summer by the Trade Unionist and Socialist Coalition (TUSC), at the suggestion of the Socialist Party, to restart electoral activity and offer a voice for workers at the ballot box on 6 May, given, "the new conditions of a Starmer leadership and the continued implementation of austerity cuts by many Labour-led authorities".
In the event, TUSC managed to put up more than 300 candidates - including trade unionists, frontline workers and Black Lives Matter activists. TUSC's results in the mayoral and London Assembly constituencies it contested were 3,194 for Tom Baldwin for Bristol mayor, 2,912 for Roger Bannister for Liverpool mayor, and for the London Assembly 3,236 for Nancy Taaffe in North East, 2,919 for April Ashley in Lambeth and Southwark, and 1,856 for Andy Walker in Havering and Redbridge (see tusc.org.uk for Wales, Scotland, council and other results).
This was a modest but important step in the urgent task now facing the working class - of creating a mass party that stands in its interests.
The Labour right are desperately trying to blame their party's disastrous performance on their favourite hate figure, Jeremy Corbyn. Ludicrously, they are trying to argue that the road to electoral success is to further "incinerate the policies of the far left". The shadow home secretary, Nick Thomas-Symonds, has announced a policy review, with the clear intention of formalising the junking of Corbyn-era policies that has taken place since Starmer was elected.
Angela Rayner, who had quickly abandoned any past associations with Corbyn to implement the anti-left witch-hunt on Starmer's behalf, has nonetheless been made a scapegoat for the election disaster.
Reality is the polar opposite of their assertions. Look at the history of elections in Hartlepool. Only once has Labour in Hartlepool received more than 20,000 votes since the 2001 general election - and that was in 2017 when, under Jeremy Corbyn's leadership, there was a 16.9% increase in its vote. After two years of the Corbyn leadership making concessions to the Starmerite Labour right, including moving towards a remain position on Brexit, Labour lost most of those gains in 2019, but still held the seat.
Crushing defeat only came on Starmer's watch. It was not caused by a significant surge to the Tories but a collapse of the Labour vote. With a turnout of only 42%, the majority of workers in Hartlepool couldn't bring themselves to vote for any candidate. The Tories are trumpeting their victory, yet under their own anti-democratic trade union legislation, a strike ballot with a turnout of 42% is deemed invalid! Compared to 2017 the Tories only increased their vote by 1,210 in Hartlepool, but Labour lost 13,000 voters.
Nationally the 3.5 million jump in Labour's vote in 2017, the largest increase in a single election for any party since 1945, was an indication of the popularity of Corbyn's anti-austerity manifesto. Around a million people who had previously voted UKIP switched to Labour because they wanted to see mass council house building, renationalisation of the NHS and the railways, repeal of the anti-trade union laws, free education, and the other pro-working class, progressive policies in Corbyn's manifesto. Contrary to the mythology, even in 2019 Corbyn got over 10 million votes, something that was not achieved by Tony Blair after the 2001 election, or ever by Gordon Brown or Ed Miliband.
Starmer offers nothing
In contrast, what incentive was there to go out and vote for Starmer's Labour? Wrapping himself in the union jack, his overwhelming drive has been to demonstrate to the capitalist class that he has made Labour, once again, a reliable representative of their interests. He has had considerable success at that.
It is unimaginable that, the week before an election, the capitalist media would have been plastered with wall-to-wall attacks on Johnson's corrupt, sleazy behaviour if the alternative had been a Corbyn-led Labour Party. Then, the press attention would all have been on slandering Corbyn.
However, given - from the point of view of the capitalist elite - Starmer's status as a safe pair of hands and populist Johnson's unreliability, there was a clear attempt to push more votes Starmer's way. It failed because being a reliable representative of the 0.1% is not electorally popular!
Since the election, Howard Beckett, Unite assistant general secretary, has revealed that Starmer wasn't even prepared to sign up to Unite's letter demanding an end to the brutal bosses' policy of 'fire and rehire'. Unite's organising department, initiated by Sharon Graham, has had to organise protests against Labour mayors for allowing 'fire and rehire' to be used on their watch.
Labour frontbench spokespeople have also repeatedly declined to support the health workers' campaign for a 15% pay rise, saying only that they deserve 'at least 2%'. It is no surprise that workers choose not to vote for such a party.
Less allegiance
The hollowing out of Labour's base has taken place over decades as - at local and national level - Labour governments have acted in the interests of the capitalist class, presiding over the privatising and cutting of public services. The increase in support under Corbyn has now been reversed, and the previous trend is continuing. Last Thursday was a further step in that direction.
Electoral annihilations as a result of continuing to implement pro-capitalist policies - as happened in France, Greece and many other social democratic parties - is a real prospect for Labour in England and Wales, and is already deeply set in Scotland.
However, the slide in Labour's electoral prospects is not uniform. But, while the Labour vote can increase in some instances - as it did this time in Wales, benefitting from the vaccine-incumbency bounce - the deep-rooted loyalty to Labour as 'their party' which existed in the past among big sections of the working class has been virtually destroyed.
As a result, even more than in the past, elections today represent a 'moment in time' where voters find what inadequate means they can to express their anger, including by staying at home, rather than having a deep-rooted loyalty to any party.
At this stage, generally speaking, there is still a bigger consistent Labour vote in major cities, partly reflecting the distrust of many BAME workers at the racist record of the Tories. However, that base is also being undermined, as shown in the mayoral race in London going to a second round on a lower (42%) turnout. Sadiq Khan, who famously welcomed the fact that are more than 140 billionaires living in London, has presided over a continuation of the impoverishment of London's working class, amidst the growing astronomical wealth of a few.
A dramatic increase in the vote for the Green candidate for Bristol mayor, and to a lesser extent in London (and also the election of more Green councillors around the country) is mainly a reflection of a layer who want to vote left and/or simply against the three main parties and see the Greens as a viable means to do so.
In contrast to Khan, the Labour mayor of Manchester, Andy Burnham, has increased his vote by over 100,000. There is no question that this reflects Burnham's stance in 2020, when he initially refused to accept the Tory government's attempts to put Manchester into severe Covid restrictions without providing sufficient assistance to replace workers' lost incomes.
When push came to shove Burnham retreated, but even the short-lived appearance of being willing to fight for the working class of Manchester has paid him an electoral dividend.
Imagine how popular a Labour council would be today if it was prepared to do what Liverpool City Council did in the 1980s, with Militant (now the Socialist Party) playing a leading role. Liverpool took on and defeated the Thatcher Tory government, winning an extra £60 million for the people of Liverpool, which was transformed into 5,000 council houses, plus new schools, leisure centres, nurseries, jobs, and more.
Tory lies
However, in the absence of socialist politicians determined to fight for the working class, it is no surprise that, as in the 2019 general election, a minority of workers expressed their anger and frustration by voting for the Tories.
Of course, Johnson's Tory party is a bosses' party to the core, with a programme of post-Covid austerity for the working class. Johnson, however, is a 'poundland Trump', falsely posing as a populist outsider who stands up for the 'little people'.
In addition, the Tories' promise to 'level up' will have led to some workers desperately hoping-against-hope that after decades of job losses and cuts to local services - presided over by both Tory and Labour governments and councils - finally something is going to be done to improve the situation for millions of workers, particularly those in smaller towns in the Midlands and North. Across the West Midlands, for example, there were 20,000 local authority jobs cut between 2010 and 2018, mainly by Labour councils.
However, any hopes - however faint - in Johnson will be smashed, at a certain stage bursting like someone sticking a pin in the giant inflatable effigy of him that was on display outside the Hartlepool count.
As the Tory commentator Matthew Paris put it, there is a "lie at the heart of the new, populist Tory appeal" because British capitalism is utterly incapable of qualitatively improving the lives of working-class people. As he puts it, nothing will change "without the sort of massive Marshall plan the Americans could afford after the Second World War", therefore "This (or, I believe, any) Conservative government is not going to 'level up' red-wall England."
He predicts that the Tory Party, already deeply divided, will tear itself apart "as disillusion in red-wall Britain grows" and the Tories return "towards the class interest with which the party has been historically associated ... back towards business".
Faced with the growing crisis in Northern Ireland, a strengthened campaign for an independence referendum in Scotland, and widespread working-class revolt at post-Covid austerity, the splits in the Tory Party could start to widen very quickly. A united movement - bringing together all the disparate forces of the working class and young people who are opposing the Tories' plans for post-pandemic pay restraint and benefit cuts - could shatter the illusion of Tory strength and force the government out of office.
Build a workers' party
The trade unions, with more than six million members, are the biggest democratic working-class organisations in Britain, and have the potential power to coordinate a united struggle against the government and bosses' attacks.
In the first phase of the pandemic the majority of trade union leaders fell into the trap of 'national unity', accepting the false idea that the Tories and the trade union movement held common interests. Today a crisis remains at the top of the trade union movement.
An essential task for socialists is to campaign for the election of fighting, left trade union leaders, alongside striving for the trade unions to fight in defence of their own members and for coordinated action against Covid austerity.
The increase from one to four Socialist Party members elected to the executive of the education union, the NEU, is an important step forward in that struggle.
However, allied to the building of militant, fighting trade unions, there is also an urgent need to create a political voice for the working class. In the wake of Starmer's election disaster, a few Corbyn-supporting Labour MPs have raised the need for Labour to move left. Leaders of two Labour-affiliated unions, Dave Ward (CWU) and Len McCluskey (Unite), have made similar points.
So far, however, the focus has been - as Len McCluskey put it - on urging "Keir to reach out" and to "embrace the left". This, when Jeremy Corbyn is still not allowed to sit as a Labour MP! It could not be clearer that no amount of pleading will convince Starmer to change course.
There are rumours that the Labour left is considering launching a leadership challenge. While this would clearly be an improvement on pleading, the pro-capitalist make-up of the parliamentary Labour Party means that it is difficult to imagine a left candidate getting the 20% of MPs necessary to trigger a contest, never mind winning it.
Instead it is necessary for left trade union leaders to launch an initiative for a fight for political representation for the workers' movement. If they were to call an emergency conference to discuss the situation, with the support of even a handful of MPs and councillors, it would have the potential to transform the situation.
The right's determination to obliterate the Labour left is clear. If the time is not now for the left to show similar determination to fight for a socialist voice for the working class, when is?
The Socialist Party believes that what is needed is a new mass workers' party, and appeals to all those who agree to join us in that struggle. As a beginning, the Trade Unionist and Socialist Coalition (TUSC), involving the RMT transport workers' union, the Socialist Party, ex-Labour MP Chris Williamson, and others, has made an important stand in this May's elections, offering an alternative wherever we could to the misery on offer from every brand of capitalist politician.
At root, the rotten character of mainstream politics in Britain reflects the crisis of British capitalism. All parties - including the Tories and Starmer's 'New Labour' - that defend the capitalist system, end up implementing policies that further undermine the living standards of the working-class majority.
That's why increasing numbers of people are looking for an alternative to capitalism, and why the Socialist Party will fight for a new mass workers' party to adopt a socialist programme, breaking with profit-driven, ailing capitalism and taking the major corporations and banks which dominate the economy into democratic public ownership, allowing the development of a democratic, socialist planned economy in Britain and internationally.
---
---
This version of this article was first posted on the Socialist Party website on 9 May 2021 and may vary slightly from the version subsequently printed in The Socialist.
---
In this issue
---
Election analysis

Hartlepool sums up Labour crisis

Scotland: Pro-independence majority in highly polarised election

Welsh Labour holds on to government but new crises loom

TUSC is back
---
Ireland

Bobby Sands - Nothing but an Unfinished Song

British state absolves itself from killings during 'the Troubles'
---
International news

Is Biden offering a new 'New Deal'?

Stop Israeli state brutality

Right-wing Partido Popular wins Madrid elections - a warning to the working class
---
Workplace news

United action needed to defeat fire and rehire

RMT: Militant industrial and political strategy must be fought for

National Education Union needs a socialist, fighting deputy general secretary

Thurrock refuse workers strike escalates

Ealing parking wardens strike against Serco over absence policy

Norwich City Council workers vote for strike action over broken promises on pay and conditions

Beal school strikers suspend action after possible victory

Sparks fight continues
---
Readers' opinion

Readers' opinion
---
Obituary

Obituary - Jon Elvin
---
Home | The Socialist 12 May 2021 | Join the Socialist Party