The Socialist 16 June 2021
1138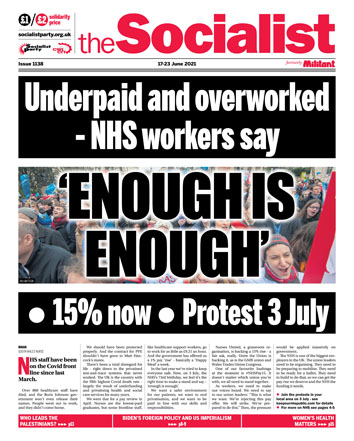 ---
Left candidate needed for Unite general secretary election
Majority of BFAWU members vote to break from Labour
Right lose control in Unison NEC election
Engineers in fourth week of strike action against huge fire-and-rehire attacks
Leicester University workers strike against redundancies
PCS conference 2021: Divide between union leaders and rank-and-file exposed
Socialist Party to the fore at Unison LG conference
Redbridge school walkout over victimised union rep
---
Underpaid and overworked - NHS workers say: 'Enough is enough'
Now is the time to fight for the NHS
Save Leicester General Hospital
---
Will Biden's new foreign policy change the direction of US imperialism?
Tamil Solidarity asylum victory
Who represents the Palestinians?
International solidarity protests
---
Make vaccine technology public, nationalise big-pharma
Schools need resources to tackle 'routine' sexual harassment
Neonatal leave introduced: Unions must fight for extensions and full pay
Beth Roper inquest: Train company failures ignored
Birmingham Clean Air Zone a tax on the poor
---
Enfield byelection: We need councillors prepared to resist
Queues at Socialist Party stall in Cov
---
Books that inspired me: The Ragged-Trousered Philanthropists
PO Box 1398, Enfield EN1 9GT
020 8988 8777

Link to this page: https://www.socialistparty.org.uk/issue/1138/32650
Home | The Socialist 16 June 2021 | Join the Socialist Party
Subscribe | Donate | Audio | PDF | ebook
Now is the time to fight for the NHS
Lynn Gunningle, Devon Socialist Party
I first became aware of a problem with our healthcare provision, and the appalling treatment of our NHS workforce, when our 120 year-old hospital was suddenly closed here in Dartmouth in 2017. This came after an expensive, predetermined, deceptive consultation, with only 5% of residents responding, I was not consulted and was only made aware of the closure by a friend.
I became the founder of 'Heart of the Dart' - a residents' action and protest group (formally Women of Dartmouth and District), and in this role I discovered that there was also a plan to sell off our hospital building, despite a charge gifting it to our community as a hospital 'in perpetuity' via the deeds of covenant.
The hospital has served this community for 120 years and sits in a prime location, where a few hundred yards away along the riverbank residential properties can command £5 million.
The Trust said the building was not fit for purpose, yet the viability report showed the services to be excellent, and the building to be in good condition!
The loss of so many community hospitals like ours has put tremendous pressure on our already underfunded NHS. It has left staff exhausted and demoralised, often working unpaid overtime due to staff shortages, and traumatised by what they see as a failure to give the patients the level of safe care required.
One nurse said that the casual acceptance of corridor nursing was the final straw, and moved abroad for better pay and conditions. I know of four staff who have left in just a couple of months. Only yesterday I saw photos of a nurse's injuries that simply should not happen in a safe, fully staffed environment.
Waiting lists grow
The growing patient waiting lists pre-Covid were already leaving patients and staff members, including one of 30 years service, out of work and out of action for prolonged periods. As waiting lists grow out of control, even nurses and doctors are having to wait for care, referrals and operations themselves, increasing pressure further.
More than 40,000 nurses have left our NHS during the last decade, leaving those who stay overworked, understaffed and, as Covid-19 has shown, totally underequipped.
I believe we all want our NHS staff and carers well-paid, well-trained, well-rested and well-equipped so they can continue to give their best and live a decent way of life in return. In my eyes that's the very least we can do. That's why 'Heart of the Dart' and Dartmouth and South Devon residents support the NHS workers' campaign for a 15% pay rise.
Since losing our NHS hospital provision here in Dartmouth we have had: senior citizens on cold pavements for up to eight hours waiting for ambulances; workmen going into shock after accidents at work; GPs put on hold listening to music during a 999 call; an injured lady driving herself out of town to the nearest hospital, her foot slipping off the peddles as her shoe filled with blood; and now my own friends are dying at home alone without care or comfort, too afraid to admit to being ill or in need of assistance for fear of being shipped out of town never to return. That's simply not good enough.
The NHS should be celebrated as a legacy that our parents and grandparents fought for and built. It is our NHS, and now is the time to fight for it.
Support our NHS staff in their fight for decent pay, safe conditions and an end to privatisation. Join the protests happening nationwide on 3 July.
Our protest will take place from 12:00-16:00, 3 July at Dartmouth and Kingswear Cottage Hospital
---
In this issue
---
Trade unions and workplace

Left candidate needed for Unite general secretary election

Majority of BFAWU members vote to break from Labour

Right lose control in Unison NEC election

Sparks win victory!

Engineers in fourth week of strike action against huge fire-and-rehire attacks

Leicester University workers strike against redundancies

PCS conference 2021: Divide between union leaders and rank-and-file exposed

Socialist Party to the fore at Unison LG conference

Redbridge school walkout over victimised union rep
---
NHS

Underpaid and overworked - NHS workers say: 'Enough is enough'

Now is the time to fight for the NHS

Save Leicester General Hospital
---
International news

Will Biden's new foreign policy change the direction of US imperialism?

Tamil Solidarity asylum victory

Who represents the Palestinians?

International solidarity protests
---
News

Make vaccine technology public, nationalise big-pharma

Schools need resources to tackle 'routine' sexual harassment

Neonatal leave introduced: Unions must fight for extensions and full pay

Beth Roper inquest: Train company failures ignored

Birmingham Clean Air Zone a tax on the poor

Johnson's G7 hypocrisy

Pandemic homeless
---
Campaigns and party news

Enfield byelection: We need councillors prepared to resist

Queues at Socialist Party stall in Cov

National finance meeting
---
Readers' opinion

Women's health matters

Books that inspired me: The Ragged-Trousered Philanthropists

Readers' comments
---
Home | The Socialist 16 June 2021 | Join the Socialist Party