The Socialist 16 June 2021
1138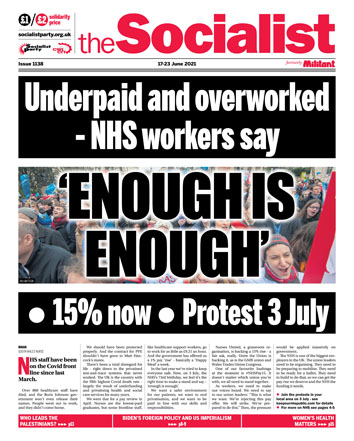 ---
Left candidate needed for Unite general secretary election
Majority of BFAWU members vote to break from Labour
Right lose control in Unison NEC election
Engineers in fourth week of strike action against huge fire-and-rehire attacks
Leicester University workers strike against redundancies
PCS conference 2021: Divide between union leaders and rank-and-file exposed
Socialist Party to the fore at Unison LG conference
Redbridge school walkout over victimised union rep
---
Underpaid and overworked - NHS workers say: 'Enough is enough'
Now is the time to fight for the NHS
Save Leicester General Hospital
---
Will Biden's new foreign policy change the direction of US imperialism?
Tamil Solidarity asylum victory
Who represents the Palestinians?
International solidarity protests
---
Make vaccine technology public, nationalise big-pharma
Schools need resources to tackle 'routine' sexual harassment
Neonatal leave introduced: Unions must fight for extensions and full pay
Beth Roper inquest: Train company failures ignored
Birmingham Clean Air Zone a tax on the poor
---
Enfield byelection: We need councillors prepared to resist
Queues at Socialist Party stall in Cov
---
Books that inspired me: The Ragged-Trousered Philanthropists
PO Box 1398, Enfield EN1 9GT
020 8988 8777

Link to this page: https://www.socialistparty.org.uk/issue/1138/32655
Home | The Socialist 16 June 2021 | Join the Socialist Party
Subscribe | Donate | Audio | PDF | ebook
Leicester University workers strike against redundancies
Heather Rawling spoke to Emi Mise, University and College Union (UCU), in a personal capacity
UCU staff have been in dispute with their employer for months over compulsory redundancies and academic freedom. The redundancies have been called, in true Orwellian speak 'restructuring for excellence'. Staff are objecting to the way the vice-chancellor has unilaterally and undemocratically decided to disinvest in certain areas of research.
Initially, 145 colleagues were singled out for compulsory redundancy. Now, 26 have been issued with a redundancy letter. This is certainly not to say the remaining 119 colleagues have kept their jobs - far from it. Those 26 colleagues have all appealed against their redundancy, and it is currently going through the internal appeal process which, from what I hear, is shambolic.
The current student body of University of Leicester issued a statement of no confidence in the vice-chancellor and the executive board in January 2021 in support of university staff.
The UCU leadership organised the ballot period over less than a fortnight which included the Easter Bank Holiday weekend. Even so, there was a 56% turnout and approximately 69% voted for an all-out strike and 80% supported actions short of strike.
---
Picket lines during the three days of strike action at Leicester University, taken on top of action short of a strike, have been lively. On 10 June the picket line ended with a noisy drum-banging march through the campus, followed by a rally, and then a joint online meeting with strikers at Liverpool University.
The Socialist spoke to Gabby Provan, incoming chair of Leicester UCU, on the picket line: "We have been fighting threatened redundancies since October last year. But it is also about can we do research in areas that are 'difficult' for management without having our jobs threatened? Can we join unions without having our jobs threatened? 27% of the redundancies are UCU reps, yet they make up less than 1% of staff. It's the very soul of the university that is being fought about, just like in other universities such as Liverpool and Chester."
---
The Socialist Party demands:
Fully funded, publicly run and free education for all
For unity and solidarity between staff and students
No to compulsory redundancies
Abolish university tuition fees now and introduce a living grant
Support the student rent strike
For solidarity between UCU members and students
---
In this issue
---
Trade unions and workplace

Left candidate needed for Unite general secretary election

Majority of BFAWU members vote to break from Labour

Right lose control in Unison NEC election

Sparks win victory!

Engineers in fourth week of strike action against huge fire-and-rehire attacks

Leicester University workers strike against redundancies

PCS conference 2021: Divide between union leaders and rank-and-file exposed

Socialist Party to the fore at Unison LG conference

Redbridge school walkout over victimised union rep
---
NHS

Underpaid and overworked - NHS workers say: 'Enough is enough'

Now is the time to fight for the NHS

Save Leicester General Hospital
---
International news

Will Biden's new foreign policy change the direction of US imperialism?

Tamil Solidarity asylum victory

Who represents the Palestinians?

International solidarity protests
---
News

Make vaccine technology public, nationalise big-pharma

Schools need resources to tackle 'routine' sexual harassment

Neonatal leave introduced: Unions must fight for extensions and full pay

Beth Roper inquest: Train company failures ignored

Birmingham Clean Air Zone a tax on the poor

Johnson's G7 hypocrisy

Pandemic homeless
---
Campaigns and party news

Enfield byelection: We need councillors prepared to resist

Queues at Socialist Party stall in Cov

National finance meeting
---
Readers' opinion

Women's health matters

Books that inspired me: The Ragged-Trousered Philanthropists

Readers' comments
---
Home | The Socialist 16 June 2021 | Join the Socialist Party