The Socialist 16 June 2021
1138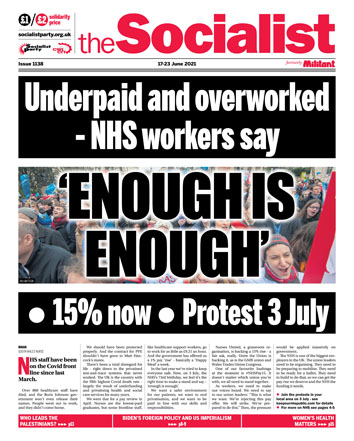 ---
Left candidate needed for Unite general secretary election
Majority of BFAWU members vote to break from Labour
Right lose control in Unison NEC election
Engineers in fourth week of strike action against huge fire-and-rehire attacks
Leicester University workers strike against redundancies
PCS conference 2021: Divide between union leaders and rank-and-file exposed
Socialist Party to the fore at Unison LG conference
Redbridge school walkout over victimised union rep
---
Underpaid and overworked - NHS workers say: 'Enough is enough'
Now is the time to fight for the NHS
Save Leicester General Hospital
---
Will Biden's new foreign policy change the direction of US imperialism?
Tamil Solidarity asylum victory
Who represents the Palestinians?
International solidarity protests
---
Make vaccine technology public, nationalise big-pharma
Schools need resources to tackle 'routine' sexual harassment
Neonatal leave introduced: Unions must fight for extensions and full pay
Beth Roper inquest: Train company failures ignored
Birmingham Clean Air Zone a tax on the poor
---
Enfield byelection: We need councillors prepared to resist
Queues at Socialist Party stall in Cov
---
Books that inspired me: The Ragged-Trousered Philanthropists
PO Box 1398, Enfield EN1 9GT
020 8988 8777

Link to this page: https://www.socialistparty.org.uk/issue/1138/32656
Home | The Socialist 16 June 2021 | Join the Socialist Party
Subscribe | Donate | Audio | PDF | ebook
PCS conference 2021: Divide between union leaders and rank-and-file exposed
Dave Semple, PCS and Socialist Party Scotland member
The PCS 2021 annual conference lasted just two days - 13 and 14 June. This was more than long enough to bring out the differences in policy, strategy and approach between a fast-moving-to-the-right Left Unity leadership, and rank-and-file activists in the Broad Left Network.
The conference was a stage-managed virtual event. The restrictions on motions, and other undemocratic features of the conference, were taken up in the final motion of the conference moved by Socialist Party members Nick Doyle and JP Rosser.
An attempt by the standing orders committee to bury the motion failed and the motion was only very narrowly defeated 54,822 to 61,810 with 4,065 abstentions. It is an indication of how tenuous the position of Left Unity is among the activists layer.
The first motion of the conference was on Covid-19, DVLA, and our members' struggle there for safe working. This got the unanimous backing of conference.
Support was given to other motions on the pandemic including motion A2 from the national executive council, which we supported, but made clear our criticisms of their record over the last 15 months.
Conference then moved on to debating the future of the union, with vastly different visions laid out by Left Unity and the Broad Left Network. The one bureaucratic and virtual, the other calling for a full debate and change based on facts underpinned by a campaigning attitude and commitment to the union's democratic traditions.
The national executive committee motion was carried, but in the debate sharp differences emerged on election of officials. The executive opposed motions which argued for the extension of this democratic demand, with general secretary Mark Serwotka dismissing them as an "old fashioned mantra". Socialist Workers' Party member Paul Williams, speaking for the executive, also opposed these motions.
A motion calling for the pay of officials to be brought more into line with the pay of members was also opposed by Left Unity, who succeeded in defeating the motion with arguments straight out of the old CPSA right-wing handbook.
We were told we should be levelling up not down, need to pay the rate for the job, the officials won't like it and may strike, and we should leave it to the officials who can always donate back money.
This last argument was taken up by Socialist Party member Katrine Williams, who pointed out that Serwotka was elected on this platform. He paid back money for a short period, but this has now apparently stopped and he kept his £100,000 salary.
She pointed out that we need a clear policy which is understood, and applied to everyone, not voluntary ad hoc undertakings which may or may not be kept.
A further major debate was around 2021 pay. The executive motion, which was carried, was described by a delegate as a motion which did little more than "instruct itself to do its job". An alternative pay strategy from Broad Left Network supporters, which was also critical of the national executive committee's handling of the 2020 pay campaign - in reality there was not one - did not get voted on due to standing orders committee manoeuvres.
Some key elections took place at the conference including the election of Alan Dennis, the Broad Left Network secretary, to the union's standing orders committee.
The conference provided further evidence that the Left Unity PCS leadership has no real claim to be a left leadership. This increasingly is true of both what they say and what they do.
---
In this issue
---
Trade unions and workplace

Left candidate needed for Unite general secretary election

Majority of BFAWU members vote to break from Labour

Right lose control in Unison NEC election

Sparks win victory!

Engineers in fourth week of strike action against huge fire-and-rehire attacks

Leicester University workers strike against redundancies

PCS conference 2021: Divide between union leaders and rank-and-file exposed

Socialist Party to the fore at Unison LG conference

Redbridge school walkout over victimised union rep
---
NHS

Underpaid and overworked - NHS workers say: 'Enough is enough'

Now is the time to fight for the NHS

Save Leicester General Hospital
---
International news

Will Biden's new foreign policy change the direction of US imperialism?

Tamil Solidarity asylum victory

Who represents the Palestinians?

International solidarity protests
---
News

Make vaccine technology public, nationalise big-pharma

Schools need resources to tackle 'routine' sexual harassment

Neonatal leave introduced: Unions must fight for extensions and full pay

Beth Roper inquest: Train company failures ignored

Birmingham Clean Air Zone a tax on the poor

Johnson's G7 hypocrisy

Pandemic homeless
---
Campaigns and party news

Enfield byelection: We need councillors prepared to resist

Queues at Socialist Party stall in Cov

National finance meeting
---
Readers' opinion

Women's health matters

Books that inspired me: The Ragged-Trousered Philanthropists

Readers' comments
---
Home | The Socialist 16 June 2021 | Join the Socialist Party