The Socialist 16 June 2021
1138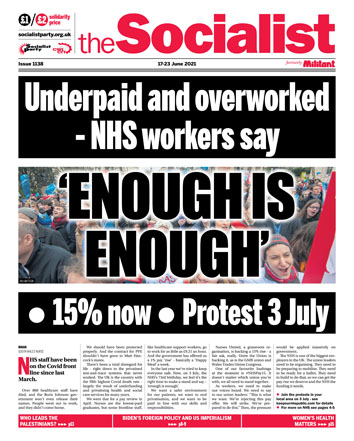 ---
Left candidate needed for Unite general secretary election
Majority of BFAWU members vote to break from Labour
Right lose control in Unison NEC election
Engineers in fourth week of strike action against huge fire-and-rehire attacks
Leicester University workers strike against redundancies
PCS conference 2021: Divide between union leaders and rank-and-file exposed
Socialist Party to the fore at Unison LG conference
Redbridge school walkout over victimised union rep
---
Underpaid and overworked - NHS workers say: 'Enough is enough'
Now is the time to fight for the NHS
Save Leicester General Hospital
---
Will Biden's new foreign policy change the direction of US imperialism?
Tamil Solidarity asylum victory
Who represents the Palestinians?
International solidarity protests
---
Make vaccine technology public, nationalise big-pharma
Schools need resources to tackle 'routine' sexual harassment
Neonatal leave introduced: Unions must fight for extensions and full pay
Beth Roper inquest: Train company failures ignored
Birmingham Clean Air Zone a tax on the poor
---
Enfield byelection: We need councillors prepared to resist
Queues at Socialist Party stall in Cov
---
Books that inspired me: The Ragged-Trousered Philanthropists
PO Box 1398, Enfield EN1 9GT
020 8988 8777

Link to this page: https://www.socialistparty.org.uk/issue/1138/32665
Home | The Socialist 16 June 2021 | Join the Socialist Party
Subscribe | Donate | Audio | PDF | ebook
National finance meeting - We want funds to get socialist message out
Chris Newby, Socialist Party national fighting fund organiser
We held a very enthusiastic national online meeting for Socialist Party finance organisers on 13 June, with 50 members taking part. There was a lively discussion about how we can increase the finances of the Socialist Party, so that we are as prepared as possible for the stormy events that are opening up. We need to produce leaflets, posters, placards and copies of the Socialist to make sure we get our socialist message out as widely as possible.
The meeting really reflected the amount of campaign activity that Socialist Party members are involved in. While 2020 was very difficult for our members to publicly campaign, we still visited picket lines and attended protests like Black Lives Matter.
And with the easing of lockdown, most Socialist Party branches are able to do regular campaign stalls. Mike from Hull said after moving their regular campaign stall from the city centre to a local shopping area, sales of the Socialist and donations increased - one person donated £20. Heather from Leicester reported on regular sales of the Socialist to workers at the SPS factory - started from our members regularly visiting the picket line during their victorious strike.
New Socialist Party members are already taking part in campaign and fundraising activity. And over £220 was donated to our fighting fund at this meeting.
It is vital that as many of our members as possible are involved in improving the finances - selling the Socialist, raising fighting fund or increasing our regular membership subs. And organisers in every Socialist Party branch can help make sure that finance is seen as a top priority.
Socialist Party members have worked really hard during this quarter to make sure we have the resources to get our socialist message out. With two weeks to go, we are already on 93% of the target. We urge all our members and supporters to do all they can over the next two weeks to smash through the target.
---
In this issue
---
Trade unions and workplace

Left candidate needed for Unite general secretary election

Majority of BFAWU members vote to break from Labour

Right lose control in Unison NEC election

Sparks win victory!

Engineers in fourth week of strike action against huge fire-and-rehire attacks

Leicester University workers strike against redundancies

PCS conference 2021: Divide between union leaders and rank-and-file exposed

Socialist Party to the fore at Unison LG conference

Redbridge school walkout over victimised union rep
---
NHS

Underpaid and overworked - NHS workers say: 'Enough is enough'

Now is the time to fight for the NHS

Save Leicester General Hospital
---
International news

Will Biden's new foreign policy change the direction of US imperialism?

Tamil Solidarity asylum victory

Who represents the Palestinians?

International solidarity protests
---
News

Make vaccine technology public, nationalise big-pharma

Schools need resources to tackle 'routine' sexual harassment

Neonatal leave introduced: Unions must fight for extensions and full pay

Beth Roper inquest: Train company failures ignored

Birmingham Clean Air Zone a tax on the poor

Johnson's G7 hypocrisy

Pandemic homeless
---
Campaigns and party news

Enfield byelection: We need councillors prepared to resist

Queues at Socialist Party stall in Cov

National finance meeting
---
Readers' opinion

Women's health matters

Books that inspired me: The Ragged-Trousered Philanthropists

Readers' comments
---
Home | The Socialist 16 June 2021 | Join the Socialist Party