The Socialist 16 June 2021
1138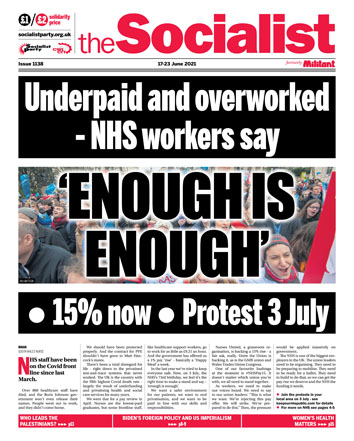 ---
Left candidate needed for Unite general secretary election
Majority of BFAWU members vote to break from Labour
Right lose control in Unison NEC election
Engineers in fourth week of strike action against huge fire-and-rehire attacks
Leicester University workers strike against redundancies
PCS conference 2021: Divide between union leaders and rank-and-file exposed
Socialist Party to the fore at Unison LG conference
Redbridge school walkout over victimised union rep
---
Underpaid and overworked - NHS workers say: 'Enough is enough'
Now is the time to fight for the NHS
Save Leicester General Hospital
---
Will Biden's new foreign policy change the direction of US imperialism?
Tamil Solidarity asylum victory
Who represents the Palestinians?
International solidarity protests
---
Make vaccine technology public, nationalise big-pharma
Schools need resources to tackle 'routine' sexual harassment
Neonatal leave introduced: Unions must fight for extensions and full pay
Beth Roper inquest: Train company failures ignored
Birmingham Clean Air Zone a tax on the poor
---
Enfield byelection: We need councillors prepared to resist
Queues at Socialist Party stall in Cov
---
Books that inspired me: The Ragged-Trousered Philanthropists
PO Box 1398, Enfield EN1 9GT
020 8988 8777

Link to this page: https://www.socialistparty.org.uk/issue/1138/32670
Home | The Socialist 16 June 2021 | Join the Socialist Party
Subscribe | Donate | Audio | PDF | ebook
Johnson's G7 hypocrisy
We may all say things we don't mean when we want to impress our peers in a sun-drenched luxury hotel in Cornwall.
In trying to impress his fellow political leaders at the G7 summit, Johnson said: "What's gone wrong with this pandemic, what risks being a lasting scar, is the inequalities that have been entrenched."
Maybe the champagne had gone to his head.
Workers know the truth, especially those who have been working on the frontline during the pandemic, like those in the NHS fighting for a pay rise, or those facing the public sector pay-freeze. That Johnson and his mates in Cornwall have presided over a pandemic that has killed millions, further impoverished billions, and enriched the world's super-rich.
Bizarrely, Johnson said that Britain should build back better "in a more gender-neutral, a more feminine, way". What that means is anyone's guess. Supposedly it was a nod to the G7's pledge to invest more in girls' education in developing countries. But Johnson cut the UK's foreign aid budget by £4 billion this year, including cutting the UK's contribution to the girls' education scheme. Is that more feminine?
What the political representatives of the rich say to impress each other on holiday in sunny Cornwall, and what they do in the shady corridors of power, is another matter. To truly challenge inequality, the working class needs to get its hands on the vast wealth in society. This means nationalising the banks and big companies under democratic workers' control and management as part of a socialist planned economy to meet the needs of all.
---
In this issue
---
Trade unions and workplace

Left candidate needed for Unite general secretary election

Majority of BFAWU members vote to break from Labour

Right lose control in Unison NEC election

Sparks win victory!

Engineers in fourth week of strike action against huge fire-and-rehire attacks

Leicester University workers strike against redundancies

PCS conference 2021: Divide between union leaders and rank-and-file exposed

Socialist Party to the fore at Unison LG conference

Redbridge school walkout over victimised union rep
---
NHS

Underpaid and overworked - NHS workers say: 'Enough is enough'

Now is the time to fight for the NHS

Save Leicester General Hospital
---
International news

Will Biden's new foreign policy change the direction of US imperialism?

Tamil Solidarity asylum victory

Who represents the Palestinians?

International solidarity protests
---
News

Make vaccine technology public, nationalise big-pharma

Schools need resources to tackle 'routine' sexual harassment

Neonatal leave introduced: Unions must fight for extensions and full pay

Beth Roper inquest: Train company failures ignored

Birmingham Clean Air Zone a tax on the poor

Johnson's G7 hypocrisy

Pandemic homeless
---
Campaigns and party news

Enfield byelection: We need councillors prepared to resist

Queues at Socialist Party stall in Cov

National finance meeting
---
Readers' opinion

Women's health matters

Books that inspired me: The Ragged-Trousered Philanthropists

Readers' comments
---
Home | The Socialist 16 June 2021 | Join the Socialist Party