The Socialist 30 June 2021
Fight to save our NHS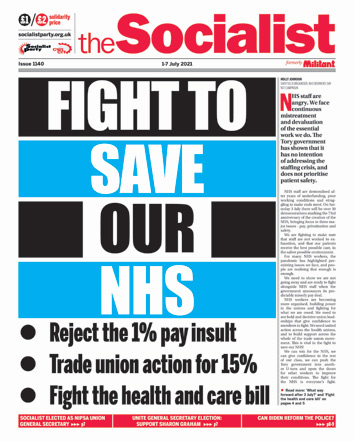 ---
NHS after 3 July protests Trade unions must organise serious action
---
Fight the health and care bill
Keep private hands off NHS patient data
We don't want a USA-style healthcare system
---
Post-pandemic railway battles loom
---
Millionaires multiply during pandemic
Dalian Atkinson - police found guilty of killing ex-footballer
---
---
Socialist candidate wins NIPSA general secretary election
Gateshead: Sacked electricians reinstated
Support Gary Clark for CWU executive
Support Sharon Graham for Unite general secretary
End bullying and victimisation at Oaks Park school
Unite members step up action against bullying Mungo's managers
Sandwell Leisure workers: No to 'fire and rehire'
---
German Greens: The image and reality
---
Protesters halt Nadia's eviction
Brighton: Moulsecoomb strike against academisation
York residents demand land for local community needs
Young Socialists march in London
Pride is a campaign, not a business opportunity
---
PO Box 1398, Enfield EN1 9GT
020 8988 8777

Link to this page: https://www.socialistparty.org.uk/issue/1140/32726
Home | The Socialist 30 June 2021 | Join the Socialist Party
Subscribe | Donate | Audio | PDF | ebook
Fight to save our NHS
Reject the 1% pay insult
Trade union action for 15%
Fight the health and care bill
Holly Johnson, Sheffield organiser, NHS Workers Say NO! campaign
NHS staff are angry. We face continuous mistreatment and devaluation of the essential work we do. The Tory government has shown that it has no intention of addressing the staffing crisis, and does not prioritise patient safety.
NHS staff are demoralised after years of underfunding, poor working conditions and struggling to make ends meet. On Saturday 3 July there will be over 50 demonstrations marking the 73rd anniversary of the creation of the NHS, bringing focus to three major issues - pay, privatisation and safety.
We are fighting to make sure that staff are not worked to exhaustion, and that our patients receive the best possible care, in the safest possible environment.
For many NHS workers, the pandemic has highlighted pre-existing issues we face, and people are realising that enough is enough.
We need to show we are not going away and are ready to fight alongside NHS staff when the government announces its predictably miserly pay deal.
NHS workers are becoming more organised, building power in the unions and fighting for what we are owed. We need to see bold and decisive union leaderships that give confidence to members to fight. We need united action across the health unions, and to build support across the whole of the trade union movement. This is vital in the fight to save our NHS!
We can win for the NHS, we can give confidence to the rest of our class, we can push the Tory government into another U-turn and open the doors for other workers to improve their conditions. The fight for the NHS is everyone's fight.
Read more: 'What way forward after 3 July?' and 'Fight the health and care bill'
---
In this issue
---
What we think

NHS after 3 July protests Trade unions must organise serious action
---
NHS

Fight to save our NHS

Royal London Hospital

Fight the health and care bill

Keep private hands off NHS patient data

We don't want a USA-style healthcare system
---
Railways

Post-pandemic railway battles loom

East Mids train guards strike
---
News

Stop the Channel 4 sell-off!

Hopeless Hancock replaced

Millionaires multiply during pandemic

Dalian Atkinson - police found guilty of killing ex-footballer
---
Biden police reform

Can Biden reform the police?
---
Workplace news

Socialist candidate wins NIPSA general secretary election

Gateshead: Sacked electricians reinstated

Support Gary Clark for CWU executive

Support Sharon Graham for Unite general secretary

End bullying and victimisation at Oaks Park school

Unite members step up action against bullying Mungo's managers

Sandwell Leisure workers: No to 'fire and rehire'
---
International

The Israeli working class

German Greens: The image and reality
---
Campaigns

Protesters halt Nadia's eviction

Brighton: Moulsecoomb strike against academisation

York residents demand land for local community needs

Young Socialists march in London

Pride is a campaign, not a business opportunity
---
Readers' opinion

TV Review: GB News

Readers' comments
---
Home | The Socialist 30 June 2021 | Join the Socialist Party