The Socialist 30 June 2021
Fight to save our NHS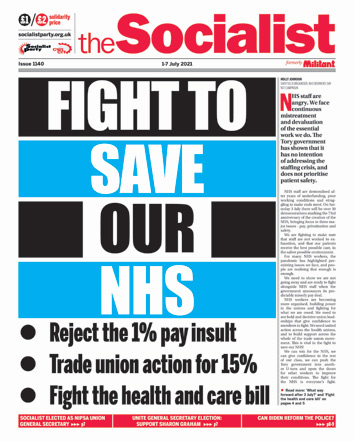 ---
NHS after 3 July protests Trade unions must organise serious action
---
Fight the health and care bill
Keep private hands off NHS patient data
We don't want a USA-style healthcare system
---
Post-pandemic railway battles loom
---
Millionaires multiply during pandemic
Dalian Atkinson - police found guilty of killing ex-footballer
---
---
Socialist candidate wins NIPSA general secretary election
Gateshead: Sacked electricians reinstated
Support Gary Clark for CWU executive
Support Sharon Graham for Unite general secretary
End bullying and victimisation at Oaks Park school
Unite members step up action against bullying Mungo's managers
Sandwell Leisure workers: No to 'fire and rehire'
---
German Greens: The image and reality
---
Protesters halt Nadia's eviction
Brighton: Moulsecoomb strike against academisation
York residents demand land for local community needs
Young Socialists march in London
Pride is a campaign, not a business opportunity
---
PO Box 1398, Enfield EN1 9GT
020 8988 8777

Link to this page: https://www.socialistparty.org.uk/issue/1140/32729
Home | The Socialist 30 June 2021 | Join the Socialist Party
Subscribe | Donate | Audio | PDF | ebook
Gateshead: Sacked electricians reinstated
Elaine Brunskill, South Tyne and Wear Socialist Party
There has been a victory for rank-and-file sparks at the Amazon construction site at Follingsby Park, Gateshead. Alongside victories such as the fightback against the use of Electrical Service Operatives (ESOs) at Hinkley Point nuclear power plant, this has clearly boosted the idea that if you fight you can win!
Around 40 electricians had downed tools and walked off site because of the reckless practice by electrical contractor SIS Systems of using unskilled labourers to do the work of skilled electricians.
Rather than speaking to the workers to ensure the job was safe, the unscrupulous bosses sacked the workers for highlighting safety issues. For the hapless contractors, their profits came before safety.
Amazon has bragged that around 1,300 workers will be employed at the Gateshead warehouse. Those workers deserve a safe environment to work in.
The whole matter of who takes responsibility for the sackings, safety, and so on, is a tangled web. One worker commented: "The issue is the client has appointed a contractor, who has appointed a sub-contractor, who uses an agency, who has an umbrella company!"
Rather than being cowed by the sackings, the rank-and-file sparks acted courageously, and often with humour.
The police turned up at the protest, clearly to ensure the interests of the bosses were upheld. The protest outside the plant was successively blocking deliveries and challenging those crossing the picket line. The police told them they couldn't stand in front of the entrance to the site - so they defiantly began to walk back and forth across the entrance.
The sparks expressed gratitude to the Socialist Party for supporting them throughout their struggle, and were impressed with how the National Shop Stewards Network got their protest to a wider audience.
---
In this issue
---
What we think

NHS after 3 July protests Trade unions must organise serious action
---
NHS

Fight to save our NHS

Royal London Hospital

Fight the health and care bill

Keep private hands off NHS patient data

We don't want a USA-style healthcare system
---
Railways

Post-pandemic railway battles loom

East Mids train guards strike
---
News

Stop the Channel 4 sell-off!

Hopeless Hancock replaced

Millionaires multiply during pandemic

Dalian Atkinson - police found guilty of killing ex-footballer
---
Biden police reform

Can Biden reform the police?
---
Workplace news

Socialist candidate wins NIPSA general secretary election

Gateshead: Sacked electricians reinstated

Support Gary Clark for CWU executive

Support Sharon Graham for Unite general secretary

End bullying and victimisation at Oaks Park school

Unite members step up action against bullying Mungo's managers

Sandwell Leisure workers: No to 'fire and rehire'
---
International

The Israeli working class

German Greens: The image and reality
---
Campaigns

Protesters halt Nadia's eviction

Brighton: Moulsecoomb strike against academisation

York residents demand land for local community needs

Young Socialists march in London

Pride is a campaign, not a business opportunity
---
Readers' opinion

TV Review: GB News

Readers' comments
---
Home | The Socialist 30 June 2021 | Join the Socialist Party