The Socialist 30 June 2021
Fight to save our NHS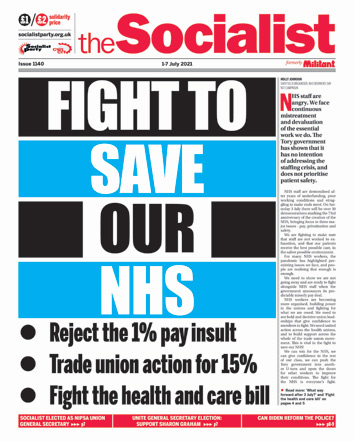 ---
NHS after 3 July protests Trade unions must organise serious action
---
Fight the health and care bill
Keep private hands off NHS patient data
We don't want a USA-style healthcare system
---
Post-pandemic railway battles loom
---
Millionaires multiply during pandemic
Dalian Atkinson - police found guilty of killing ex-footballer
---
---
Socialist candidate wins NIPSA general secretary election
Gateshead: Sacked electricians reinstated
Support Gary Clark for CWU executive
Support Sharon Graham for Unite general secretary
End bullying and victimisation at Oaks Park school
Unite members step up action against bullying Mungo's managers
Sandwell Leisure workers: No to 'fire and rehire'
---
German Greens: The image and reality
---
Protesters halt Nadia's eviction
Brighton: Moulsecoomb strike against academisation
York residents demand land for local community needs
Young Socialists march in London
Pride is a campaign, not a business opportunity
---
PO Box 1398, Enfield EN1 9GT
020 8988 8777

Link to this page: https://www.socialistparty.org.uk/issue/1140/32730
Home | The Socialist 30 June 2021 | Join the Socialist Party
Subscribe | Donate | Audio | PDF | ebook
Hopeless Hancock replaced
As soon as the prime minister announces his 'full confidence' in a government minister in a pickle, you know they're doomed.
And so it came to pass that the now former 'totally f.....g hopeless' health secretary, Matt Hancock, had to fall on his sword.
Of course, this is of little comfort to those thousands of families whose vulnerable relatives died unnecessarily from Covid-19 because Hancock discharged elderly patients from the NHS into the privately run care sector without testing them first.
And it doesn't exonerate Hancock and Johnson for dishing out lucrative PPE and other Covid-related public contracts to Tory party chums.
And who is going to replace TFH Hancock? None other than Mr Austerity himself, the ex-chancellor Sajid Javid.
But if the PM thinks this game of musical chairs will draw a line under this farrago then he should think again. The drubbing of the Tories in the former Tory stronghold of Chesham and Amersham shows that voters don't take kindly to being dumped on by a rotten government.
Johnson's only saving grace is that HM opposition - Labour's Keir Starmer - is also TFH!
---
In this issue
---
What we think

NHS after 3 July protests Trade unions must organise serious action
---
NHS

Fight to save our NHS

Royal London Hospital

Fight the health and care bill

Keep private hands off NHS patient data

We don't want a USA-style healthcare system
---
Railways

Post-pandemic railway battles loom

East Mids train guards strike
---
News

Stop the Channel 4 sell-off!

Hopeless Hancock replaced

Millionaires multiply during pandemic

Dalian Atkinson - police found guilty of killing ex-footballer
---
Biden police reform

Can Biden reform the police?
---
Workplace news

Socialist candidate wins NIPSA general secretary election

Gateshead: Sacked electricians reinstated

Support Gary Clark for CWU executive

Support Sharon Graham for Unite general secretary

End bullying and victimisation at Oaks Park school

Unite members step up action against bullying Mungo's managers

Sandwell Leisure workers: No to 'fire and rehire'
---
International

The Israeli working class

German Greens: The image and reality
---
Campaigns

Protesters halt Nadia's eviction

Brighton: Moulsecoomb strike against academisation

York residents demand land for local community needs

Young Socialists march in London

Pride is a campaign, not a business opportunity
---
Readers' opinion

TV Review: GB News

Readers' comments
---
Home | The Socialist 30 June 2021 | Join the Socialist Party