The Socialist 30 June 2021
Fight to save our NHS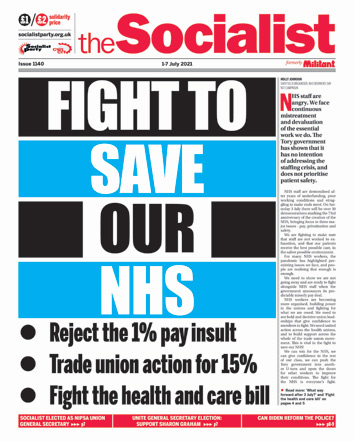 ---
NHS after 3 July protests Trade unions must organise serious action
---
Fight the health and care bill
Keep private hands off NHS patient data
We don't want a USA-style healthcare system
---
Post-pandemic railway battles loom
---
Millionaires multiply during pandemic
Dalian Atkinson - police found guilty of killing ex-footballer
---
---
Socialist candidate wins NIPSA general secretary election
Gateshead: Sacked electricians reinstated
Support Gary Clark for CWU executive
Support Sharon Graham for Unite general secretary
End bullying and victimisation at Oaks Park school
Unite members step up action against bullying Mungo's managers
Sandwell Leisure workers: No to 'fire and rehire'
---
German Greens: The image and reality
---
Protesters halt Nadia's eviction
Brighton: Moulsecoomb strike against academisation
York residents demand land for local community needs
Young Socialists march in London
Pride is a campaign, not a business opportunity
---
PO Box 1398, Enfield EN1 9GT
020 8988 8777

Link to this page: https://www.socialistparty.org.uk/issue/1140/32738
Home | The Socialist 30 June 2021 | Join the Socialist Party
Subscribe | Donate | Audio | PDF | ebook
Socialist candidate wins NIPSA general secretary election
"Good trade unionists fight for their members every day and I am still the same person who became a branch rep in my office in 1982. We need real improvements in living standards and to end low pay. I will fight for a reduction in retirement age and to improve pensions.
"I will work to ensure that all insecure forms of employment are brought to an end across the public sector. I will reinvigorate a recruitment drive in all areas, including among agency staff and those in other forms of precarious employment.
"I will continue to be at the forefront of challenging sectarian division and campaigning for workers' unity.
"I want to see a growing union and a membership that democratically decides the future direction of the union.
"Our conference, several years ago, decided to include the aim of a 'socialist economy' in NIPSA's constitution. For me, socialism is about democratic control and the reorganisation of society in the interest of the many, not the few. I seek to raise arguments in favour of socialist change whenever I get a chance."
Carmel Gates
---
Left candidate Carmel Gates has won the election for the general secretary position in Northern Ireland's largest union NIPSA, gaining 44% of the vote. Her nearest contender won 34%, and the two other candidates scored 12% and 10% respectively. Carmel is a supporter of Militant Left (CWI in Ireland).
The importance of this victory must not be understated. NIPSA organises civil servants of all grades, and public sector workers across health, education and other areas. With 40,000 members, it has a presence in thousands of workplaces and in every city, town and village.
Carmel's victory raises the stakes in the coming fightback against the impact of years of austerity, and is a hugely important development given the background of increasing sectarian tensions in Northern Ireland.
The turnout at 12% was lower than expected, but this is explained by the 'Covid effect'. There were none of the hugely important face-to-face meetings, no rallies, and no leafleting of workplaces. The message still went out, however, as an enthusiastic team circulated tens of thousands of 'virtual' leaflets, covering both industrial and political issues, and a series of online meetings reached a wide audience.
Carmel's campaign sought to link industrial issues with the political and raised the dangers facing the union, the wider movement, and the entire working class. NIPSA's size and influence mean it is able to give a lead to other unions and the wider movement, as has been demonstrated on many occasions both in strikes and demonstrations against sectarianism, and in the one-day strikes against cuts in 2011 and 2015.
Anti-sectarian and socialist ideas, tactics and strategy have been put forward by Carmel and other activists over the years, and have begun the transformation of the union into a fighting body. NIPSA now stands for "independent, cross-community, anti-sectarian trade unionism" and for a socialist economy because of the efforts of the left.
Workers have lost out over ten years of austerity, imposed both by the Westminster government and the Stormont executive.
The election of Carmel will embolden activists and will help the process of rebuilding the activist layers and the left in the union. It will assist in the fight-back against further cuts, which are clearly planned as the pandemic recedes, to make up lost ground from the last decade, and to make new gains.
Victories will come through a well-organised, membership-led, and combative union. This election victory is not the end, it is only the beginning.
Ciaran Mulholland, Belfast
---
In this issue
---
What we think

NHS after 3 July protests Trade unions must organise serious action
---
NHS

Fight to save our NHS

Royal London Hospital

Fight the health and care bill

Keep private hands off NHS patient data

We don't want a USA-style healthcare system
---
Railways

Post-pandemic railway battles loom

East Mids train guards strike
---
News

Stop the Channel 4 sell-off!

Hopeless Hancock replaced

Millionaires multiply during pandemic

Dalian Atkinson - police found guilty of killing ex-footballer
---
Biden police reform

Can Biden reform the police?
---
Workplace news

Socialist candidate wins NIPSA general secretary election

Gateshead: Sacked electricians reinstated

Support Gary Clark for CWU executive

Support Sharon Graham for Unite general secretary

End bullying and victimisation at Oaks Park school

Unite members step up action against bullying Mungo's managers

Sandwell Leisure workers: No to 'fire and rehire'
---
International

The Israeli working class

German Greens: The image and reality
---
Campaigns

Protesters halt Nadia's eviction

Brighton: Moulsecoomb strike against academisation

York residents demand land for local community needs

Young Socialists march in London

Pride is a campaign, not a business opportunity
---
Readers' opinion

TV Review: GB News

Readers' comments
---
Home | The Socialist 30 June 2021 | Join the Socialist Party