The Socialist 30 June 2021
Fight to save our NHS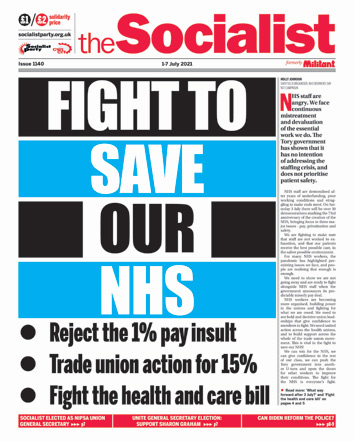 ---
NHS after 3 July protests Trade unions must organise serious action
---
Fight the health and care bill
Keep private hands off NHS patient data
We don't want a USA-style healthcare system
---
Post-pandemic railway battles loom
---
Millionaires multiply during pandemic
Dalian Atkinson - police found guilty of killing ex-footballer
---
---
Socialist candidate wins NIPSA general secretary election
Gateshead: Sacked electricians reinstated
Support Gary Clark for CWU executive
Support Sharon Graham for Unite general secretary
End bullying and victimisation at Oaks Park school
Unite members step up action against bullying Mungo's managers
Sandwell Leisure workers: No to 'fire and rehire'
---
German Greens: The image and reality
---
Protesters halt Nadia's eviction
Brighton: Moulsecoomb strike against academisation
York residents demand land for local community needs
Young Socialists march in London
Pride is a campaign, not a business opportunity
---
PO Box 1398, Enfield EN1 9GT
020 8988 8777

Link to this page: https://www.socialistparty.org.uk/issue/1140/32744
Home | The Socialist 30 June 2021 | Join the Socialist Party
Subscribe | Donate | Audio | PDF | ebook
York residents demand land for local community needs
Maurice Cooper York Socialist Party and Iain Dalton Socialist Party Yorkshire
70 people gathered to protest the violent eviction of a group of squatters on 26 June. The group was trying to reclaim deserted land near the Barbican Centre in central York as a community space.
The land has been empty since the swimming baths and car park were demolished in 2004. Replacement swimming baths were consulted on, but never developed.
Instead, the land was sold to housebuilding company Persimmon Homes. Rather than building on the site, which Persimmon has twice got planning permission to do, 17 years later it still remains derelict.
It has become part of Persimmon's 'land bank' - holding onto the land while its value gets higher and higher. A Guardian report in 2015 showed that developers were hoarding 600,000 plots of land. The biggest four housebuilding companies, including Persimmon, sit on three-quarters of those.
Around ten years ago, with no progress being made to develop the land, local residents made a request to use it as a community allotment. This was denied. The reason Persimmon Homes gave was that it planned to build student housing there "in the immediate future".
This was the story until June 2021, when a group of locals occupied the land, calling it 'the Barbican Community centre'. They cleared 15 bags of rubbish, erected raised beds, and sought a dialogue with local residents about what the plot of land should be.
In the early hours of 25 June, bailiffs hired by Persimmon stormed the site, putting one of the squatters in A&E with a neck injury after dragging him out of the site. The bailiffs illegally covered the licence plates of their vehicles to avoid being traced.
Our protest sent a very important message - this is our land. One occupier said: "It's amazing to see so many people out here today.
"Today has shown that the people of York want and need this centre. We care about each other, we want to unite, we want our community to thrive, whereas Persimmon Homes cares about nothing but profit."
The protesters demand the council compulsorily purchase the land for the token sum of £1. Although several councillors, including the council's Green Party deputy leader, attended the protest, they did not respond to this demand.
At the demo, the Socialist Party raised that to end land banking requires bringing the big housebuilders, banks, and the land into public ownership, so local working-class communities and construction workers can decide democratically the best use to put such land to.
---
In this issue
---
What we think

NHS after 3 July protests Trade unions must organise serious action
---
NHS

Fight to save our NHS

Royal London Hospital

Fight the health and care bill

Keep private hands off NHS patient data

We don't want a USA-style healthcare system
---
Railways

Post-pandemic railway battles loom

East Mids train guards strike
---
News

Stop the Channel 4 sell-off!

Hopeless Hancock replaced

Millionaires multiply during pandemic

Dalian Atkinson - police found guilty of killing ex-footballer
---
Biden police reform

Can Biden reform the police?
---
Workplace news

Socialist candidate wins NIPSA general secretary election

Gateshead: Sacked electricians reinstated

Support Gary Clark for CWU executive

Support Sharon Graham for Unite general secretary

End bullying and victimisation at Oaks Park school

Unite members step up action against bullying Mungo's managers

Sandwell Leisure workers: No to 'fire and rehire'
---
International

The Israeli working class

German Greens: The image and reality
---
Campaigns

Protesters halt Nadia's eviction

Brighton: Moulsecoomb strike against academisation

York residents demand land for local community needs

Young Socialists march in London

Pride is a campaign, not a business opportunity
---
Readers' opinion

TV Review: GB News

Readers' comments
---
Home | The Socialist 30 June 2021 | Join the Socialist Party