The Socialist 14 July 2021
NHS: Kick out the privatisers, fight for a 15% pay rise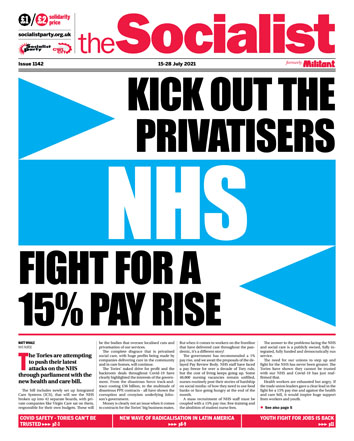 ---
NHS: Kick out the privatisers - Fight for a 15% Pay rise
Scrap the privatising health and care bill
Tories threaten to axe free prescriptions for older workers
---
We cannot trust this government over Covid: Fight for a new workers' party
Trade unions must continue the fight for Covid safety
---
Pride is protest - Build a mass movement for LGBTQ+ liberation and socialism
---
Dagenham school workers strike against 'fire and rehire' pay cuts
St Mungo's strikers end 12-week strike
Telecoms workers angry at CWU deal with BT
GKN Birmingham workers rally against plant closure
Brush workers into eighth week of strike
---
New wave of radicalisation in Latin America
Putting the Olympic gravy train ahead of public health
Kazakhstan: Solidarity with protesters attacked by regime forces
---
Keep the Universal Credit uplift
Defend the triple lock - Fight to end poverty pensions
Right-wing study concludes youth like socialism
---
We need councillors who will end housing crisis - vote TUSC in Staines on 22 July
Why I joined the Socialist Party
Everyone can spot Socialist Party in Stoke
Socialist Party meetings say: We're ready to go out and campaign
---
Farewell Leicester Square - the story of Britain's first black bus driver
PO Box 1398, Enfield EN1 9GT
020 8988 8777

Link to this page: https://www.socialistparty.org.uk/issue/1142/32821
Home | The Socialist 14 July 2021 | Join the Socialist Party
Subscribe | Donate | Audio | PDF | ebook
Why I joined the Socialist Party: Workers' poverty and rich profits shifted me left
Aisha Khan, Sheffield Socialist Party
My political interests stemmed from awareness of social issues - discrimination around race, gender, sexuality, and particularly from being a feminist. Those issues remain the most presented in the media, more so than economic issues.
Yet, behind all the current movements like Black Lives Matter and Pride are socioeconomic conditions, fuelling discrimination and division, leaving marginalised communities even more ostracised when they lack a stable financial situation.
Seeing the crisis with homelessness, poor conditions faced by low-income households, and the realisation that the most fundamental necessities of survival are often privatised and used for profit by wealthy corporations and the top 1%, shifted me to a more radical left.
The idea of basic necessities being free is absolutely normal. While it should not be a radical idea, it becomes so under a capitalist system that steals the hard labour of workers.
Through looking into the injustice of the entire system, I affiliated myself with socialism. I continued to post on social media, yet I had not found anything in person to get involved with.
So when I found a Socialist Party poster on the university campus, I applied to join. I wanted to become actively involved, and do my part in contributing to change.
I had not been to any protest before, or even come across any campaign stalls related to socialism. But the friendliness of all the Socialist Party members encouraged me further to join. And after partaking in protests, I am more excited to join with others and see unity for a cause.