The Socialist 11 August 2021
Defend the NHS. Fight the Tory pay insult. Prepare strike action!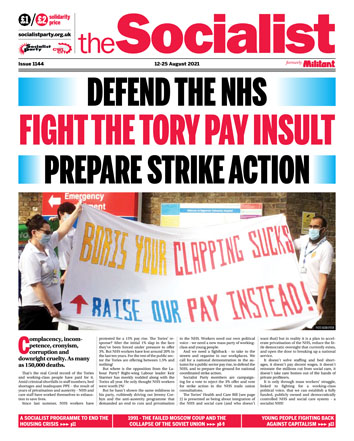 ---
Defend the NHS. Fight the Tory pay insult. Prepare strike action!
NHS: Kick out the privatisers, Fight for funding, Build for strike action
---
Tory government nationalises Sheffield steel plant
Tory cuts worsened crime and Johnson 'blitz' won't help
Thanks to the miners - an example of workers' struggle and solidarity
---
Olympic 'success' masks cuts and inequality in sport
---
Capitalism = climate catastrophe
Rising against a rigged and rotten system - Socialism 2021
London Pride cancelled - pandemic shows protest Pride is necessary
London: Hundreds protest for trans rights
Save Newham's theatres from Labour council cuts!
Socialist Party young members summer school
A day in the life of a young hospitality worker
West Midlands: austerity and capitalism offers no future for young people
Why I joined the Socialist Party
Don't privatise Dudley libraries
Socialist Party: Solely funded by the working class
Review - The Struggle for World Socialism
---
Waltham Forest: Fighting for a home for Nadia and homes for all
---
August 1991 - The aborted military coup in the 'Soviet Union'
---
Ballot majority essential to continue DVLA strike action
Night tube strike suspended to allow talks - scrap compulsory duties!
RMT strike solid on East Midlands rail
You need a union when the time comes to fight
Unions protest at exploitative Leicester company Food Attraction
Over 3,000 votes for fighting socialist programme in CWU
---
Beirut's devastating port explosion one year on
PO Box 1398, Enfield EN1 9GT
020 8988 8777

Link to this page: https://www.socialistparty.org.uk/issue/1144/32908
Home | The Socialist 11 August 2021 | Join the Socialist Party
Subscribe | Donate | Audio | PDF | ebook
Why I joined the Socialist Party
Labour v Socialist Party - my experience is seismic
Steve Merriman, Sheffield Socialist Party
I'm a retired accountant, Unite member, NHS campaigner and was a Jeremy Corbyn supporter in the Labour Party from 2016 to 2020.
Selflessness, integrity, objectivity, accountability, openness, honesty, and leadership - there is little evidence of adherence to these standards in the echelons of the major parties. To this extent, our so-called 'democracy' is a sham.
There are endless examples of institutional corruption in Westminster, such as false expense claims and 'cash for questions' lobbying.
So what to do? Answer - find a party and comrades that actually welcome new members, a party that is constantly active, gets things done, is on top of every issue, educates its members, and motivates them.
How joyful then to find these essential characteristics alive and blossoming in the fast-expanding Sheffield branch of the Socialist Party. My first few weeks in the Socialist Party could not be further removed from the stultifying existence I suffered in the Labour Party.
In Labour, few meetings took place, debate was not welcome, or worse, it was shut down. The objective seemed to be to do nothing.
The contrast has been seismic. My motivation is sky high in the Socialist Party.
How great it is to have something to look forward to 24/7. I learn new stuff every week - Marxism, internationalism, trade unions, NHS privatisation, or what's happening in the world with US and China.
The revolutionary Che Guevara said: "If you tremble with every injustice, then you are a friend of mine". In the Socialist Party I am much better placed to tackle injustice.