The Socialist 15 September 2021
Take the wealth off the super-rich to fund: NHS and social care, pay and benefit rises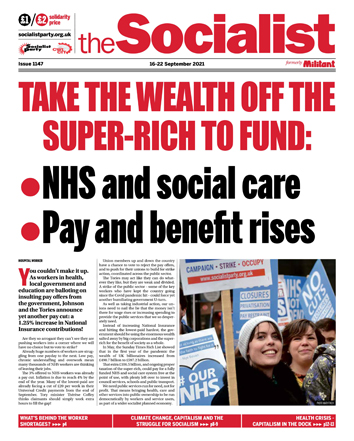 ---
We need a new political party for workers and youth
What's behind the worker shortages, and what can be done about it?
---
Social care plans: A sticking plaster instead of surgery
Hands off the Universal Credit uplift
Unite young and old to defend the pensions triple lock
---
Climate change, capitalism, and the struggle for socialism
---
We won't pay for capitalism's failings
Scrap tuition fees - end university marketisation
Returning to campus: Students need to fight
Campaigning for socialism at Oxford Brookes Uni
Youth Fight for Jobs launches campaign in Brighton
---
NSSN trade union rally reflects working-class anger to fight back
Oaks Park school: Redbridge Labour council backs strike-breaking bullies
Save jobs and services - nationalise rail
Weetabix - workers have had enough
Carmarthenshire Unison: 'Recognise our union!'
Goodlord dispute: Labour's leadership weasled out of backing strike action
---
Take the wealth off the super-rich to fund: NHS and social care, pay and benefit rises
Deaths of despair: Health crisis - capitalism in the dock
On the frontline, and still fighting for the NHS
Solidarity to the striking workers at Charité and Vivantes hospitals in Berlin
---
Putting socialism on the map in Chichester
Reclaiming Pride as protest in Nottingham
Fighting fund target reached: Help us continue to raise our banner and programme
---
Nuclear Folly: A New History of the Cuban Missile Crisis
TV review - Grenfell: The Untold Story
PO Box 1398, Enfield EN1 9GT
020 8988 8777

Link to this page: https://www.socialistparty.org.uk/issue/1147/33003
Home | The Socialist 15 September 2021 | Join the Socialist Party
Subscribe | Donate | Audio | PDF | ebook
Take the wealth off the super-rich to fund: NHS and social care, pay and benefit rises
Hospital worker
You couldn't make it up. As workers in health, local government and education are balloting on insulting pay offers from the government, Johnson and the Tories announce yet another pay cut: a 1.25% increase in National Insurance contributions!
Are they so arrogant they can't see they are pushing workers into a corner where we will have no choice but to vote to strike?
Already huge numbers of workers are struggling from one payday to the next. Low pay, chronic understaffing and overwork mean many thousands of NHS workers are thinking of leaving their jobs.
The 3% offered to NHS workers was already a pay cut. Inflation is due to reach 4% by the end of the year. Many of the lowest-paid are already facing a cut of £20 per week in their Universal Credit payments from the end of September. Tory minister Thérèse Coffey thinks claimants should simply work extra hours to fill the gap!
Union members up and down the country have a chance to vote to reject the pay offers, and to push for their unions to build for strike action, coordinated across the public sector.
The Tories may act like they can do whatever they like, but they are weak and divided. A strike of the public sector - some of the key workers who have kept the country going since the Covid pandemic hit - could force yet another humiliating government U-turn.
As well as taking industrial action, our unions need to nail the lie that the money isn't there for wage rises or increasing spending to provide the public services that we so desperately need.
Instead of increasing National Insurance and hitting the lowest-paid hardest, the government should be using the enormous wealth salted away by big corporations and the super-rich for the benefit of society as a whole.
In May, the Sunday Times Rich List showed that in the first year of the pandemic the wealth of UK billionaires increased from £490.7 billion to £597.2 billion.
That extra £106.5 billion, and ongoing proper taxation of the super-rich, could pay for a fully funded NHS and social care system free at the point of use, with plenty left over to invest in council services, schools and public transport.
We need public services run for need, not for profit. That means bringing health, care and other services into public ownership to be run democratically by workers and service users, as part of a wider socialist planned economy.