The Socialist 15 September 2021
Take the wealth off the super-rich to fund: NHS and social care, pay and benefit rises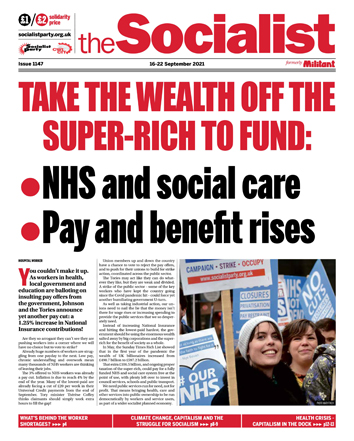 ---
We need a new political party for workers and youth
What's behind the worker shortages, and what can be done about it?
---
Social care plans: A sticking plaster instead of surgery
Hands off the Universal Credit uplift
Unite young and old to defend the pensions triple lock
---
Climate change, capitalism, and the struggle for socialism
---
We won't pay for capitalism's failings
Scrap tuition fees - end university marketisation
Returning to campus: Students need to fight
Campaigning for socialism at Oxford Brookes Uni
Youth Fight for Jobs launches campaign in Brighton
---
NSSN trade union rally reflects working-class anger to fight back
Oaks Park school: Redbridge Labour council backs strike-breaking bullies
Save jobs and services - nationalise rail
Weetabix - workers have had enough
Carmarthenshire Unison: 'Recognise our union!'
Goodlord dispute: Labour's leadership weasled out of backing strike action
---
Take the wealth off the super-rich to fund: NHS and social care, pay and benefit rises
Deaths of despair: Health crisis - capitalism in the dock
On the frontline, and still fighting for the NHS
Solidarity to the striking workers at Charité and Vivantes hospitals in Berlin
---
Putting socialism on the map in Chichester
Reclaiming Pride as protest in Nottingham
Fighting fund target reached: Help us continue to raise our banner and programme
---
Nuclear Folly: A New History of the Cuban Missile Crisis
TV review - Grenfell: The Untold Story
PO Box 1398, Enfield EN1 9GT
020 8988 8777

Link to this page: https://www.socialistparty.org.uk/issue/1147/33006
Home | The Socialist 15 September 2021 | Join the Socialist Party
Subscribe | Donate | Audio | PDF | ebook
Social care plans: A sticking plaster instead of surgery
Dave Gorton, Chesterfield Socialist Party
Social care has been in crisis for decades. Successive governments have deliberately diverted resources from care provision into the pockets of big business through privatisation. Despite the hype, Boris Johnson's new health and social care plans won't radically alter things.
With 66 references to 'Covid' and 'pandemic' in just 29 pages of the government's plans, it's clear they are little more than a sticking plaster for current events, rather than the surgery needed for a chronically underfunded sector.
The Tories openly broke election pledges from less than two years ago by raising national insurance contributions (NICs) next year. This will hit the poorest hardest, including those already suffering Universal Credit cuts. People with an annual income above £50,000 pay much less as a proportion of their income, and NICs are not paid on unearned income, such as interest, dividends or rents.
Far from tackling the crisis, just £5.4 billion of the increased revenue from higher taxation is allocated to social care over three years. The rest goes directly to the NHS, and itself is not enough to cover the £10 billion extra for 2022-3 called for by NHS Providers.
The Treasury has acknowledged that the £5.4 billion is largely for "implementing" the new caps, and ensuring councils pay more to private care home providers. Local authorities, unable to foot the bill, are encouraged by the government to raise council tax to plug the gap.
Social care is close to meltdown. Staff vacancies, already around 120,000, are set to rocket to 170,000 by the year end because of the mandatory vaccination in care homes legislation. 95% of providers told ITV news they are unable to take on all new clients and 30% of providers are handing back some, or all, existing contracts to local authorities because they can no longer fulfil them. Nearly 300,000 people are awaiting social care assessments, care and support, up by 26% over the last three months.
In 1979, two-thirds of care was NHS or council-run, but now 84% is for-profit. The largest three owners of care homes in the UK are private equity companies, whose very existence is solely to accumulate profit, yet the workforce is one of the lowest paid, with good working conditions virtually non-existent. These companies must be brought into democratic public ownership, with compensation only on the basis of proven need.
We need an integrated, nationalised health and care service, paid for by the super-rich, many of whom have profited from privatised care and exploiting care workers.