The Socialist 15 September 2021
Take the wealth off the super-rich to fund: NHS and social care, pay and benefit rises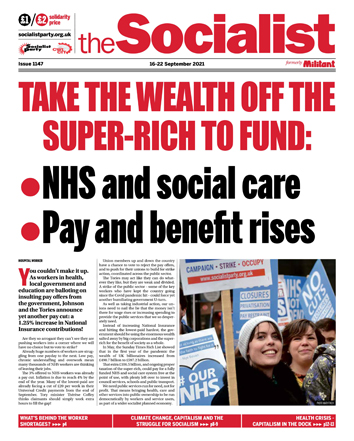 ---
We need a new political party for workers and youth
What's behind the worker shortages, and what can be done about it?
---
Social care plans: A sticking plaster instead of surgery
Hands off the Universal Credit uplift
Unite young and old to defend the pensions triple lock
---
Climate change, capitalism, and the struggle for socialism
---
We won't pay for capitalism's failings
Scrap tuition fees - end university marketisation
Returning to campus: Students need to fight
Campaigning for socialism at Oxford Brookes Uni
Youth Fight for Jobs launches campaign in Brighton
---
NSSN trade union rally reflects working-class anger to fight back
Oaks Park school: Redbridge Labour council backs strike-breaking bullies
Save jobs and services - nationalise rail
Weetabix - workers have had enough
Carmarthenshire Unison: 'Recognise our union!'
Goodlord dispute: Labour's leadership weasled out of backing strike action
---
Take the wealth off the super-rich to fund: NHS and social care, pay and benefit rises
Deaths of despair: Health crisis - capitalism in the dock
On the frontline, and still fighting for the NHS
Solidarity to the striking workers at Charité and Vivantes hospitals in Berlin
---
Putting socialism on the map in Chichester
Reclaiming Pride as protest in Nottingham
Fighting fund target reached: Help us continue to raise our banner and programme
---
Nuclear Folly: A New History of the Cuban Missile Crisis
TV review - Grenfell: The Untold Story
PO Box 1398, Enfield EN1 9GT
020 8988 8777

Link to this page: https://www.socialistparty.org.uk/issue/1147/33007
Home | The Socialist 15 September 2021 | Join the Socialist Party
Subscribe | Donate | Audio | PDF | ebook
Hands off the Universal Credit uplift
Fight for a system that puts need before profit
Lindsey Morgan, Leicester Socialist Party
The government doesn't seem to want to budge on removing the £1,000 a year uplift to Universal Credit (UC). It says that it was only meant as a temporary measure. Tory work and pensions secretary Thérèse Coffey is "entirely happy" with the cut and thinks workers on UC can work an extra two hours to make up the difference. Clearly she is entirely clueless; any worker on UC who increases their income would have their benefits reduced accordingly!
The pandemic hasn't ended yet. The increases in bills and food prices aren't going away because most adults are now vaccinated. We've had letters telling us that yet again electric and gas prices are going up from 1 October. Without the minimal UC boost, many of us are going to be choosing between heating and eating again.
The Fabian Society think tank did some research and found that the worst-hit by the cut will be working families with children, which make up two-thirds of those falling below the poverty line. Throw in the piss-take of increasing national insurance by 1.25%, and it's painfully clear that the Tories and the capitalists they represent want to take us for all we have and make us pay the price of Covid.
We already did that when we lost friends and family members that worked through the pandemic or our elderly relatives dying in care homes. We've paid enough. We need to force the super-rich who have gained during the pandemic to pay now.
We need an immediate increase in the minimum wage. 37% of UC claimants are in work. Work should pay enough to live on. The benefit system needs a complete overhaul. This must include keeping the Universal Credit uplift and paying the back pay to those on legacy benefits who didn't receive the increase in the first place.
According to the Financial Times, just a one-off 5% wealth tax would raise £262 billion. Taxing the rich would be a welcome start. But we need to go further and take into public ownership the commanding heights of the economy - the top 150 businesses, including the banks - and run these under democratic workers' control and management. Then we could guarantee the resources that are needed to really improve the lives of working-class people.
This will take a united struggle of our class, organised and ready to transform society on a socialist basis. We don't need temporary measures, but a permanent end to the capitalist profit system.