The Socialist 15 September 2021
Take the wealth off the super-rich to fund: NHS and social care, pay and benefit rises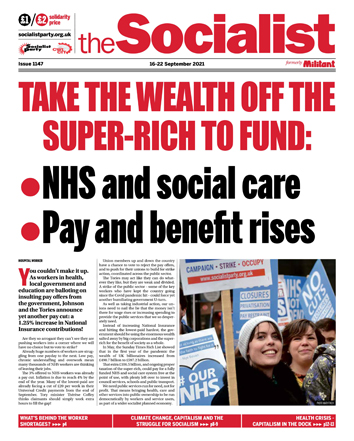 ---
We need a new political party for workers and youth
What's behind the worker shortages, and what can be done about it?
---
Social care plans: A sticking plaster instead of surgery
Hands off the Universal Credit uplift
Unite young and old to defend the pensions triple lock
---
Climate change, capitalism, and the struggle for socialism
---
We won't pay for capitalism's failings
Scrap tuition fees - end university marketisation
Returning to campus: Students need to fight
Campaigning for socialism at Oxford Brookes Uni
Youth Fight for Jobs launches campaign in Brighton
---
NSSN trade union rally reflects working-class anger to fight back
Oaks Park school: Redbridge Labour council backs strike-breaking bullies
Save jobs and services - nationalise rail
Weetabix - workers have had enough
Carmarthenshire Unison: 'Recognise our union!'
Goodlord dispute: Labour's leadership weasled out of backing strike action
---
Take the wealth off the super-rich to fund: NHS and social care, pay and benefit rises
Deaths of despair: Health crisis - capitalism in the dock
On the frontline, and still fighting for the NHS
Solidarity to the striking workers at Charité and Vivantes hospitals in Berlin
---
Putting socialism on the map in Chichester
Reclaiming Pride as protest in Nottingham
Fighting fund target reached: Help us continue to raise our banner and programme
---
Nuclear Folly: A New History of the Cuban Missile Crisis
TV review - Grenfell: The Untold Story
PO Box 1398, Enfield EN1 9GT
020 8988 8777

Link to this page: https://www.socialistparty.org.uk/issue/1147/33014
Home | The Socialist 15 September 2021 | Join the Socialist Party
Subscribe | Donate | Audio | PDF | ebook
Youth Fight for Jobs launches campaign in Brighton
Rob Somerton-Jones, Brighton Socialist Party
11 September marked the beginning of Brighton's role in the national Youth Fight for Jobs campaign. Ten members of the Socialist Party took part following our successful first in-person meeting the previous Tuesday - a hugely productive and energising experience!
Setting up at 11.30 at the main shopping centre in Churchill Square, we flyered with specific Youth Fight for Jobs leaflets, and asked people to sign petitions about low pay and casualised work. Nick, a Socialist Party organiser, spoke on the megaphone, explaining our purpose - a fight for a living wage of £15 an hour, secure contracts and decent working conditions.
At first, the response was muted, only a few stopped to chat and sign petitions. But as the morning turned into afternoon, the young people we wanted to reach began to appear and their interest in the stall was evident. Many took our flyers, stopped to chat and sign petitions.
A carpenter and his partner were new parents, and bemoaned the fact that his work took him away from home for days at a time. His self-employed partner is not allowed to claim maternity pay, a measly £90 per week for self-employed people, and do work in her business simultaneously without facing losing her maternity pay. So she must choose between the stress of raising a child and letting her business rot, an unenviable position for both of them.
Later we went 'guerrilla leafletting' staff in big chains with poor reputations for treating their staff like animals. In these shops we found people willing and interested in taking our flyers, while one of us distracted the manager by posing as a customer.
The day was a great launch, the Socialist Party raised over £60 in donations to the fighting fund, the most we have raised on any day yet this year. We have been seeking support for the campaign from local trade union branches and the trades council. But although important, it is not a prerequisite for our members to get stuck in and take effective action to further this vital campaign!