The Socialist 15 September 2021
Take the wealth off the super-rich to fund: NHS and social care, pay and benefit rises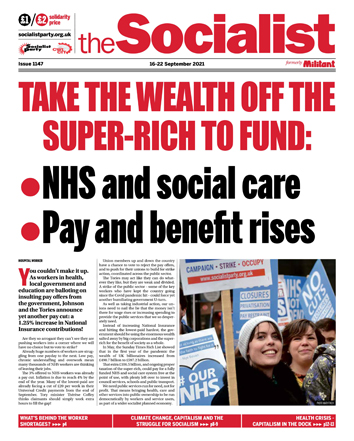 ---
We need a new political party for workers and youth
What's behind the worker shortages, and what can be done about it?
---
Social care plans: A sticking plaster instead of surgery
Hands off the Universal Credit uplift
Unite young and old to defend the pensions triple lock
---
Climate change, capitalism, and the struggle for socialism
---
We won't pay for capitalism's failings
Scrap tuition fees - end university marketisation
Returning to campus: Students need to fight
Campaigning for socialism at Oxford Brookes Uni
Youth Fight for Jobs launches campaign in Brighton
---
NSSN trade union rally reflects working-class anger to fight back
Oaks Park school: Redbridge Labour council backs strike-breaking bullies
Save jobs and services - nationalise rail
Weetabix - workers have had enough
Carmarthenshire Unison: 'Recognise our union!'
Goodlord dispute: Labour's leadership weasled out of backing strike action
---
Take the wealth off the super-rich to fund: NHS and social care, pay and benefit rises
Deaths of despair: Health crisis - capitalism in the dock
On the frontline, and still fighting for the NHS
Solidarity to the striking workers at Charité and Vivantes hospitals in Berlin
---
Putting socialism on the map in Chichester
Reclaiming Pride as protest in Nottingham
Fighting fund target reached: Help us continue to raise our banner and programme
---
Nuclear Folly: A New History of the Cuban Missile Crisis
TV review - Grenfell: The Untold Story
PO Box 1398, Enfield EN1 9GT
020 8988 8777

Link to this page: https://www.socialistparty.org.uk/issue/1147/33015
Home | The Socialist 15 September 2021 | Join the Socialist Party
Subscribe | Donate | Audio | PDF | ebook
Putting socialism on the map in Chichester
Christine Archer, Chichester Socialist Party
A new Socialist Party group has started in Chichester, which is, as anyone who knows the city would understand, a challenge to say the least! However, although starting with just four women, real progress is being made, and there is a lot of interest.
The group has set up a stall in the city centre on a Tuesday afternoon on a regular basis, attracting interest from socialist-minded people, some returning more than once to chat with us.
Many from all generations are very concerned about what is happening in this country run by this corrupt and asset-stripping Tory government. The younger generations are very worried about their future, and the middle age group have concerns about their children's future, as well as their own and often their elderly parents too!
The over-70 age group are perhaps a bit more set in their political views but have concerns about the future of the NHS and social care.
A lot of interest has come from Labour voters who are desperately worried about the Labour right-wing takeover of the party, and feel they need to stay true to their socialist values.
These people are searching for a new political party which can closely replicate the Jeremy Corbyn-era of Labour.
This is where we can pick up new members for the future, especially with furlough coming to an end and the country going into an even bigger slump. One man has already joined and will add further to the group.
Anybody interested in coming to chat or join us more permanently will be given a warm welcome. We are outside one of the closed shops near to the Cross in Chichester City Centre from 1-3pm on a Tuesday. At the current time we are campaigning for higher NHS wages and against privatisation, and on help for the people of Afghanistan. Future campaigns will be for social care and housing, reflecting very current social issues.